Using AI in the arts to promote COVID-19 vaccines
Sure, it is fun to see an avatar simulate your body movements in real time, but the interactive augmented reality art installation making its way around campus has a serious aim: educating participants about how COVID-19 impacts health and encouraging vaccination.
The Covid Reflections installation is one of seven projects funded by the Arts for UF Vaccine Confidence Program, an initiative sponsored by UF's College of Arts' Center for Arts in Medicine. The center has previously partnered with the Centers for Disease Control and Prevention to increase COVID-19 vaccine confidence.
On Monday, the installation was set up outside the Reitz Union near a UF Health van offering free COVID-19 vaccines. As hoped, the avatar attracted groups of students who were giving it a workout. As of noon, about 30 people had tried it out.
The art installation consists of a large display connected to an iPhone that uses body tracking software to display a 3-D virtual avatar of a person standing in front of the screen. The avatar tracks the user's movements and employs computer augmentation to present the impact of COVID-19 on the heart and lungs.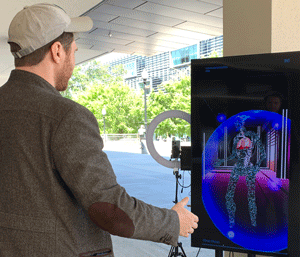 The installation also shows what happens to the avatar if vaccinated and ends with an FAQ section about COVID-19 vaccinations.
It was created by Ines Said, Austin Stansbury and Erica Del Hagen. Said is a software engineer who teaches in the Digital Worlds Institute; Stansbury and Hagen are graduate students in the institute's Masters in Digital ARts and Sciences (MiDAS) program.
The team wanted to explore how augmented reality could be used in a public health setting, Stansbury said. They used the Unity programming language, primarily designed for game development, to create an app that works on an iPhone, which Said describes as both innovative and "really hard."
"We thought it would be a novel way to provide information about COVID–19 and connect with students in a way the media hasn't," Stansbury said.
The installation will be set up at the Plaza of the Americas from 9 a.m. to 3 p.m. on April 12 and April 18. The trio also will present the project at this month's AI Symposium on April 14 and the Convergence Student Showcase set for April 18. They also plan to author a paper on using artificial reality in public displays to promote public health.
This event is in partnership with UF health officials to ensure that the information is accurate and up-to-date.
Natalie Rella, the Center for Arts in Medicine communications and marketing specialist, believes this project as well as the six others on arts and COVID-19 will result in more vaccinations in the community.
"This is a cross-sector integration of arts and medicine — and hearts and minds," she said. "Maybe through this avenue, we can make an impact."