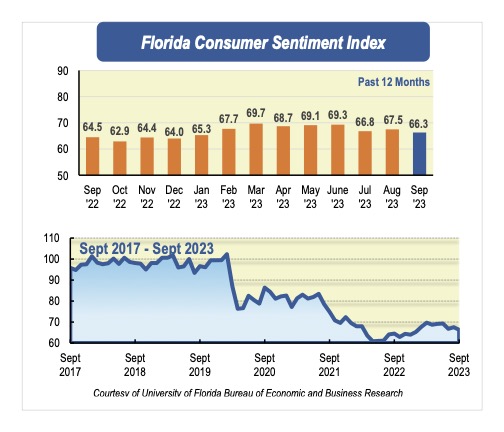 Floridian consumer sentiment retreats as perceptions of personal economic conditions decline
Consumer sentiment in Florida dropped 1.2 points in September to 66.3, down from a revised figure of 67.5 in August. Similarly, national sentiment declined 1.4 points.
"The decline in September is not unexpected, as this month's reading reflects the impact of Hurricane Idalia, which made landfall on August 30 in Florida's Big Bend region, resulting in business closures, agricultural production losses, and property damage. These economic disruptions are not expected to have a lasting effect on the economy and consumer sentiment, as the impact of such disasters on consumer sentiment, in particular, tends to be short-lived," said Hector H. Sandoval, director of the Economic Analysis Program at UF's Bureau of Economic and Business Research.

"It's worth noting that the drop in consumer sentiment was largely fueled by Floridians' views about their personal financial situation now compared with a year ago, which plummeted sharply in September. However, the effect of this drop on the overall index was muted by the changes in the other four components," Sandoval added.

Among the five components that make up the index, two showed an increase, one remained unchanged, and two decreased.
Floridians had mixed opinions about current economic conditions in September. Notably, views of personal financial situations compared with a year ago showed the steepest decline in this month's reading, plummeting 7.1 points from 63.2 to 56.1. This drop represents the largest month-to-month change recorded in this component since the pandemic hit in April 2020. Remarkably, these pessimistic views were shared by all Floridians but were particularly strong among men, people younger than 60, and people with an annual income above $50,000. On the contrary, opinions regarding whether now is a good time to purchase major household items, such as appliances, increased slightly by eight-tenths of a point from 55.5 to 56.3. These positive views regarding spending intentions were also shared by all Floridians.
Likewise, Floridians' opinions about future economic conditions were mixed. Expectations of personal finances a year from now remained unchanged at 79.9. However, opinions were divided among demographic groups, with women and people younger than 60 expressing less-favorable views, while men and people 60 and older held more-favorable views. Expectations about U.S. economic conditions over the next year dropped four-tenths of a point from 67.4 to 67, while expectations about U.S. economic conditions over the next five years rose seven-tenths of a point from 71.4 to 72.1. While outlooks on the country's economic conditions in the short- and long-run moved in opposite directions, opinions were consistently split by demographics across both components. Men, people younger than 60, and people with an annual income above $50,000 expressed more pessimistic views across both components, whereas women, people 60 and older, and people with an income below $50,000 expressed positive views.
In other economic news, the Federal Reserve voted to maintain interest rates at a 22-year high in September. The Fed began lifting interest rates in March 2022 in response to rising inflation. Despite the aggressive interest rates increases, the economy has performed quite well, and the labor market has shown remarkable resilience. Moreover, inflation reached 3.7% in August, with expectations of slower inflation by the end of 2023. However, for Floridians, particularly those in South Florida, inflation has remained persistently high, standing at 7.8% in August, which is twice the national rate. In the Tampa Bay area, though not as high as in South Florida, inflation continues to exceed the national rate, coming in at 5.9%.

"Over the past three months, oil prices have continued to rise. This not only challenges the Fed's battle against inflation but also burdens consumers who will face higher gasoline prices, putting a strain on their budgets," said Sandoval.
"The higher borrowing costs resulting from the Fed's aggressive rate hikes, along with the ongoing elevated inflation in some parts of Florida and the rising oil prices, are likely factors contributing to Floridians' pessimistic views regarding their personal financial situations now compared with a year ago," Sandoval added.
"Over the past six months, consumer sentiment has alternated between small increases and decreases each month, resulting in no overall improvement. As a result, it is currently on track to be one of the top 3 most depressed years since records became available in 1985. Looking ahead, we anticipate that consumer sentiment will continue to remain low in the months ahead," said Sandoval.

Conducted August 1 through September 28, the UF study reflects the responses of 227 individuals who were reached on cellphones and 303 individuals reached through an online panel, a total of 530 individuals, representing a demographic cross section of Florida. The index used by UF researchers is benchmarked to 1966, which means a value of 100 represents the same level of confidence for that year. The lowest index possible is a 2, the highest is 150.

Details of this month's survey can be found at bebr.ufl.edu/florida-consumer-sentiment/.