UF, FDOT renew commitment to traffic, pedestrian safety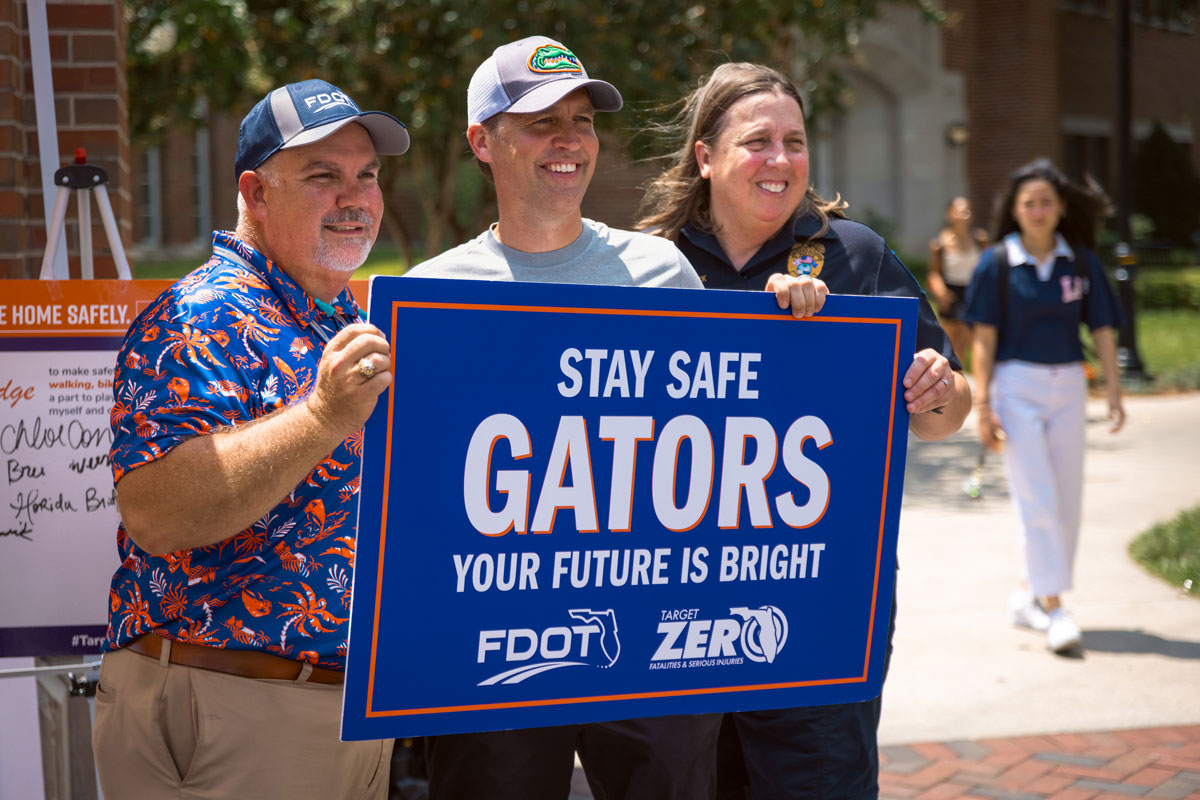 The University of Florida is kicking off the fall semester by renewing its commitment to traffic, pedestrian, and bicyclist safety through collaborative events that will continue for the next several weeks.

The UF Police Department and the Florida Department of Transportation set up tabling opportunities at the southwest corner of West University Avenue and Southwest 13th Street to welcome students, faculty, and staff (while addressing the ongoing construction along the city's main artery, University Avenue). Throngs of pedestrians shuffling across the busy thoroughfare picked up giveaways and information on the safest way to maneuver – whether on foot, on wheels, or behind the wheel.

UF President Ben Sasse, accompanied by his son, Breck, took the opportunity to lead by example, registering his own bike at the event while reinforcing the significance of taking personal responsibility for traffic safety.

"Educating our community about driving, pedestrian, scooter, and bicycle safety is essential," said UF Police Chief Linda Stump-Kurnick. "The safety of our community is of the utmost importance, and each year this event brings a much-needed focus to these issues. We thank FDOT for their partnership in this important work."

Now in its third year, this collaborative effort has helped create a safer traffic environment near and on campus. Incidents resulting in death and serious injury to students galvanized an extensive effort to create an improved University Avenue for vehicular and pedestrian safety.

Construction projects that began in 2021 along the major thoroughfare are also signature components of the partnership. One project, completed in June at the intersections of West University Avenue at Northwest 16th Street and Northwest 19th Street, now features signalization for vehicles and pedestrians. Both intersections also have new, striped crosswalks, as well as improved sidewalks and curb ramps on the corners.

Jordan Green, FDOT District Two Director of Transportation Support, said the ongoing FDOT safety improvement construction work along West University Avenue near Ben Hill Griffin Stadium will add raised crosswalks near Northwest 14th Street and Gale Lemerand Drive. The two raised crosswalks, which will replace speed tables, will add pedestrian mobility with additional spots for safely crossing University Avenue. The expected completion of the project is summer 2024.

"It takes good decisions by ALL of us - drivers, pedestrians, and bicyclists alike - following all state traffic laws, to help keep everyone safer on the roadways," Green said. 

The partnership between UF, the city of Gainesville, UFPD, and FDOT continues this week with additional tabling and bike registrations at West University Avenue and Northwest 16th Street, and West University Avenue and Buckman Drive.