Preparing Florida's youth for ever evolving 21st century
Thousands of high school students across Florida will embark on artificial intelligence coursework this coming school year, strengthening efforts by Florida public school officials and the University of Florida to equip the state's youth with the essential skills required for an AI-enabled workforce.
The UF-designed AI education program was piloted last year in three Florida public school districts with successful results, leading to the program's expansion to 12 districts beginning this month. Nancy Ruzycki, an instructional and associate professor at UF's Herbert Wertheim College of Engineering, is one of the architects of the three-year coursework called AI Foundations, which is delivered through the state's Career and Technical Education, or CTE, programs.
"We've been building out this supportive pipeline for AI and data science in the state of Florida with the ultimate goal of infusing AI throughout the state's public school curriculum, from kindergarten through 12th grade," Ruzycki said.
Development of the curriculum framework was led by UF's Christina Gardner-McCune, who modeled it after the Artificial Intelligence for K-12 initiative, or AI4K12. The initiative, a National Science Foundation-funded program, is developing national guidelines for teaching AI in elementary and secondary schools and is co-led by Gardner-McCune, an associate professor in the department of computer and information science and engineering.
The framework consists of four courses: Artificial Intelligence in the World, Applications of Artificial Intelligence, Procedural Programming, and Foundations of Machine Learning. The complexity increases with each course.
The first course, Artificial Intelligence in the World, helps students identify AI around them and how it works. In the second course, students begin to look at how AI is used in different fields to solve problems and can create their own AI systems to address issues they're passionate about. The next two courses dive deeper into the content, teaching the students how to build some of the AI applications they have become familiar with and to use those skills to get an entry-level job or continue their education.
Juan Tover, who teaches AI and cybersecurity at NeoCity Academy in Kissimmee, Florida, was one of the first three teachers in the state to implement the AI education program, and he is a believer.
"The job we're doing right now in this area is important for everybody," he said. "I feel we are writing history."
Most of Tovar's students last year were ninth graders, along with some sophomores and a couple juniors, and none had computer programming experience.
"They don't need a programming background because we're starting at the beginning. They're learning about concepts, ethics, and potential problems of AI," he said. "The point is that AI is happening so fast, and we must move fast as well. Everyone needs to learn a little bit about the basics to avoid the misconceptions and the fear of AI."
By the end of the first year of the coursework, Tovar said more than 20 of his students received certification for Microsoft Azure AI, a specialization normally held by engineering and computer science students and professional adults.
In addition to developing the new framework for the AI coursework, Ruzycki and her team designed and implemented a professional development program for teachers to prepare them to teach AI to their students. Summer training bootcamps that began last year served 30 teachers from seven districts in 2022 and grew to 150 teachers from 16 districts this summer.
The power of this professional development is helping teachers understand the system thinking and engineering that go into the design of artificial intelligence, so that they can help their students become ethical designers of the next generation of intelligent computers, Ruzycki said.
Florida is the first state to provide funding to train teachers ahead of implementing an AI curriculum framework, she said.
UF's engineering faculty received funding to develop the new AI framework and teacher professional development from the Florida Department of Education through the Cybersecurity and IT Pathways Expansion grant. With additional funds from the state as well as private industry, the team continues to expand the AI education program, a similar data science curriculum, and dozens of summer camps for students as young as middle schoolers, all in the hopes to empower the next generation with the knowledge and expertise required to navigate the technological frontier.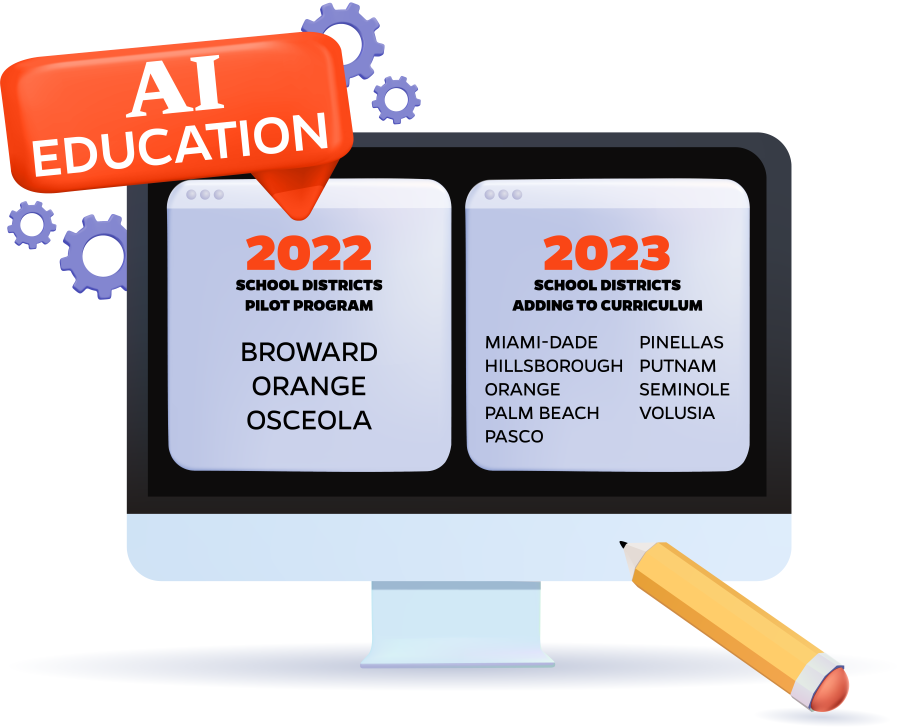 Ruzycki said principals from schools across the state are reaching out to learn how they can implement the program.
"Florida is way ahead of the curve in how the state is formalizing its AI education," she said. "AI should be infused throughout the curriculum, but it must be done correctly to prevent spreading misinformation.
"Our teachers are gaining a clear understanding of the technology before they pass it on to their students, so they can arm them with the skills necessary to thrive in an ever-evolving world."