Floridian sentiment ticks upward along with national consumer outlook
Consumer sentiment in Florida ticked up for a second consecutive month in June to 69.3, an increase of two-tenths of a point from a revised figure of 69.1 in May. Meanwhile, national consumer sentiment rose 5.2 points.
"The increase in June's confidence is largely driven by Floridians' anticipation of national economic conditions in the long run. Nevertheless, it is worth noting that Floridians' views on discretionary spending intentions have been trending upward and have reached their highest level since October 2021," said Hector H. Sandoval, director of the Economic Analysis Program at UF's Bureau of Economic and Business Research.
Among the five components that make up the index, three showed an increase, one remained unchanged, and one decreased.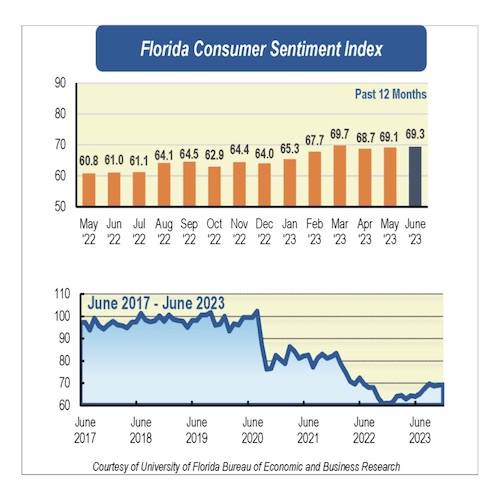 Floridians' opinions about current economic conditions were mixed in June. Views of personal financial situations now compared with a year ago decreased 2.6 points from 64 to 61.4. Notably, these views were shared by Floridians across all sociodemographic groups except for women who reported more-favorable views. In contrast, opinions as to whether now is a good time to purchase a major household item like an appliance increased slightly by four-tenths of a point from 61.9 to 62.3. However, these views were divided across sociodemographic groups with men, people 60 and older, and people with an annual income above $50,000 expressing less-favorable views.
"The latest changes in consumers' responses to whether now is a good time to buy a big-ticket item correspond with the easing of inflation in recent months as well as the Fed's unanimous decision to hold rates steady in mid-June. The Fed typically combats inflation by raising rates, which results in tighter financial conditions, including higher borrowing costs. However, improved spending intentions indicate consumers are willing to increase their spending, which is a promising sign for the economy," said Sandoval.
Future economic expectations portrayed a slightly improved outlook in June. Expectations of personal finances a year from now inched up four-tenths of a point, from 83.2 to 83.6. Meanwhile, expectations about U.S. economic conditions over the next year remained unchanged at 66.9. However, these views were divided across sociodemographic groups. Men and people younger than 60 expressed more pessimistic views to the latter component. Additionally, people with an annual income under $50,000 also expressed more pessimistic views towards the former. Finally, the outlook of U.S. economic conditions over the next five years showed the greatest increase in this month's reading, rising by 3.3 points from 69.2 to 72.5. Notably, these positive expectations were shared by all Floridians.
"Looking ahead and considering the positive economic conditions in Florida, including a strong labor market and an unemployment rate holding steady at 2.6% since January 2023, we anticipate further gradual improvements in consumer sentiment," Sandoval added.
Conducted May 1 through June 29, the UF study reflects the responses of 237 individuals who were reached on cellphones and 265 individuals reached through an online panel, a total of 502 individuals, representing a demographic cross section of Florida. The index used by UF researchers is benchmarked to 1966, which means a value of 100 represents the same level of confidence for that year. The lowest index possible is a 2, the highest is 150.

Details of this month's survey can be found at https://www.bebr.ufl.edu/florida-consumer-sentiment/.