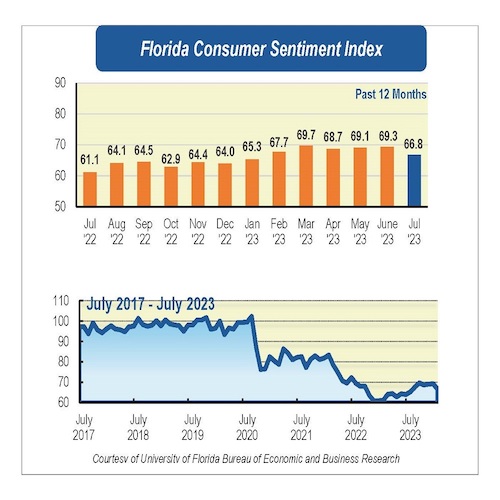 Floridian sentiment drops, in contrast with national consumer outlook
Consumer sentiment among Floridians dropped 2.1 points in July to 66.8, down from a revised figure of 68.9 in June. The decline contrasts with national consumer sentiment, which surged over seven points.
"Despite a resilient labor market in Florida with an unemployment rate holding steady at 2.6% since January and a labor force that surpassed 11 million workers for the first time in June, Floridians are more pessimistic in July. This pessimism stems from Floridians' spending intentions and their expectations regarding the national economic condition, suggesting that their economic prospects are uncertain. Moreover, these gloomy perceptions are particularly strong among Floridians with an annual income under $50,000," said Hector H. Sandoval, director of the Economic Analysis Program at UF's Bureau of Economic and Business Research.
Each of the five components that make up the index declined in July.
Floridians' opinions reflected pessimism over current economic conditions in July. Opinions of personal financial situations now compared with a year ago fell slightly one-tenth of a point from 59.9 to 59.8. However, these views were mixed across sociodemographic groups with women and people with an annual income above $50,000 expressing more-favorable views. Similarly, opinions as to whether now is a good time to buy a major household item like an appliance showed the steepest decline in this month's reading, down 4.5 points from 62.5 to 58. The last time this component dropped by more than 4.5 points was in October 2021. Notably, these pessimistic views regarding spending intentions were shared by all Floridians.
Likewise, Floridians' views of future economic conditions deteriorated in July. Expectations of personal financial situations a year from now fell eight-tenths of a point from 82.7 to 81.9. Outlooks of U.S. economic conditions over the next year dropped 3.1 points from 66.6 to 63.5. And expectations of U.S. economic conditions over the next five years decreased 2.1 points from 72.9 to 70.8. Remarkably, these downward readings were shared by all Floridians except for men and people with an annual income above $50,000, who reported more-favorable views.
"Inflation has declined steadily since peaking at 9.1% last summer, reaching 3% in June. This decline is positive news and increases the likelihood that the Fed will slow or even cease to raise interest rates soon. In turn, this increases the chances of avoiding a recession. The Fed's current tightening cycle has already driven interest rates to a 22-year high in July," said Sandoval.
"In spite of the downward trend in inflation, some parts of Florida continue to experience high levels of inflation. According to the latest figures from the Bureau of Labor Statistics, inflation in South Florida was 6.9% in June, and in the Tampa Bay area, it was 7.3% in May. While elevated inflation typically leads to reduced discretionary spending and a shift in consumption patterns as families prioritize essential items, persistent price rises could also lead to increased uncertainty," Sandoval added.
"Considering the current economic conditions, we expect gradual improvements in consumer sentiment in the months ahead as long as inflation moderates in Florida," said Sandoval.
Conducted June 1 through July 27, the UF study reflects the responses of 193 individuals who were reached on cellphones and 310 individuals reached through an online panel, a total of 503 individuals, representing a demographic cross section of Florida. The index used by UF researchers is benchmarked to 1966, which means a value of 100 represents the same level of confidence for that year. The lowest index possible is a 2, the highest is 150.

Details of this month's survey can be found here.