A Gator nursing legacy: Graduate follows in parents' footsteps
To the Bertulfo family, which spans two generations and soon-to-be three Gator grads, the UF College of Nursing is a second home.
Tara Fernandez Bertulfo (BSN 1992, MSN 1996) still has fond memories of when she and her husband of 26 years, Joseph (BSN 1993), first met and fell in love not too far from the college's walls.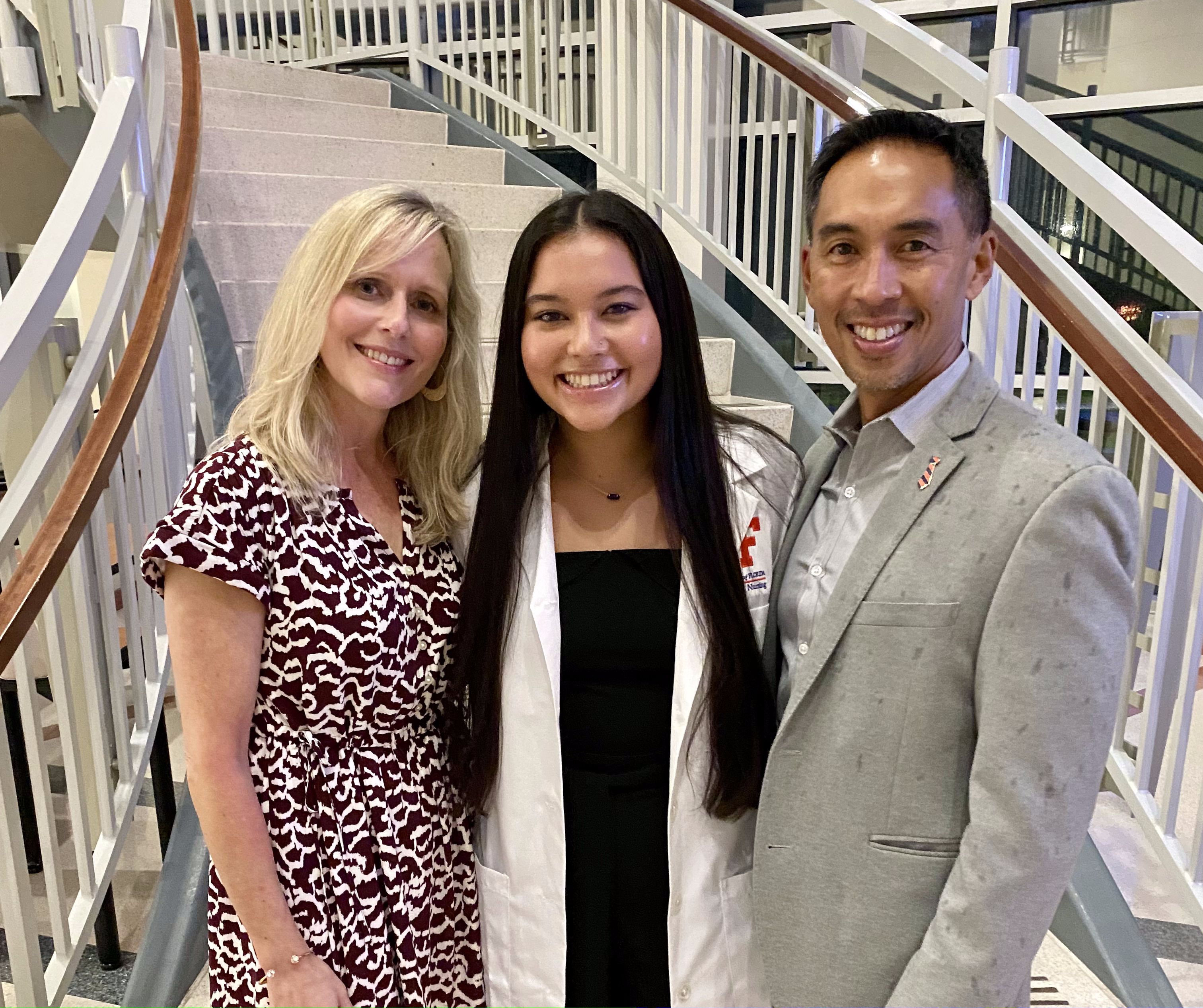 "Joseph and I met at Shands Hospital on the Labor and Delivery unit where we were both working as RNs after graduation," she said. "Not long after, he took a travel position in New York, so our relationship developed from a distance. However, rather than taking a second travel assignment as he had originally planned, he decided to come back to Gainesville, and the rest is history!"
Since that moment, both Tara and Joseph have considered the UF College of Nursing a key part of their lives because of its role in helping bring them together in Gainesville. According to the pair, the school's positive atmosphere also made the fun times, friendships and challenges especially memorable.
But almost 30 years after their graduation date, the pair are about to witness another family achievement: their daughter Jillian's graduation from their beloved alma mater.
For Jillian Bertulfo (BSN 2023), the path to becoming a Gator Nurse was already paved by her parents — whose footsteps she always hoped to follow.
"I always knew I wanted to be a nurse, but more specifically, I wanted to be a Gator Nurse," she said.
Even before enrolling at UF, Jillian visited the College of Nursing on multiple occasions, with memories of college events filling her childhood. Her 'homecoming' after becoming a UF nursing student allowed her to observe firsthand the mark her parents had already left on the college.
Soon after enrolling, she discovered that professors remembered her family's accomplishments in the BSN program just from hearing her last name, and she learned that some of her own professors graduated in the same class as her parents.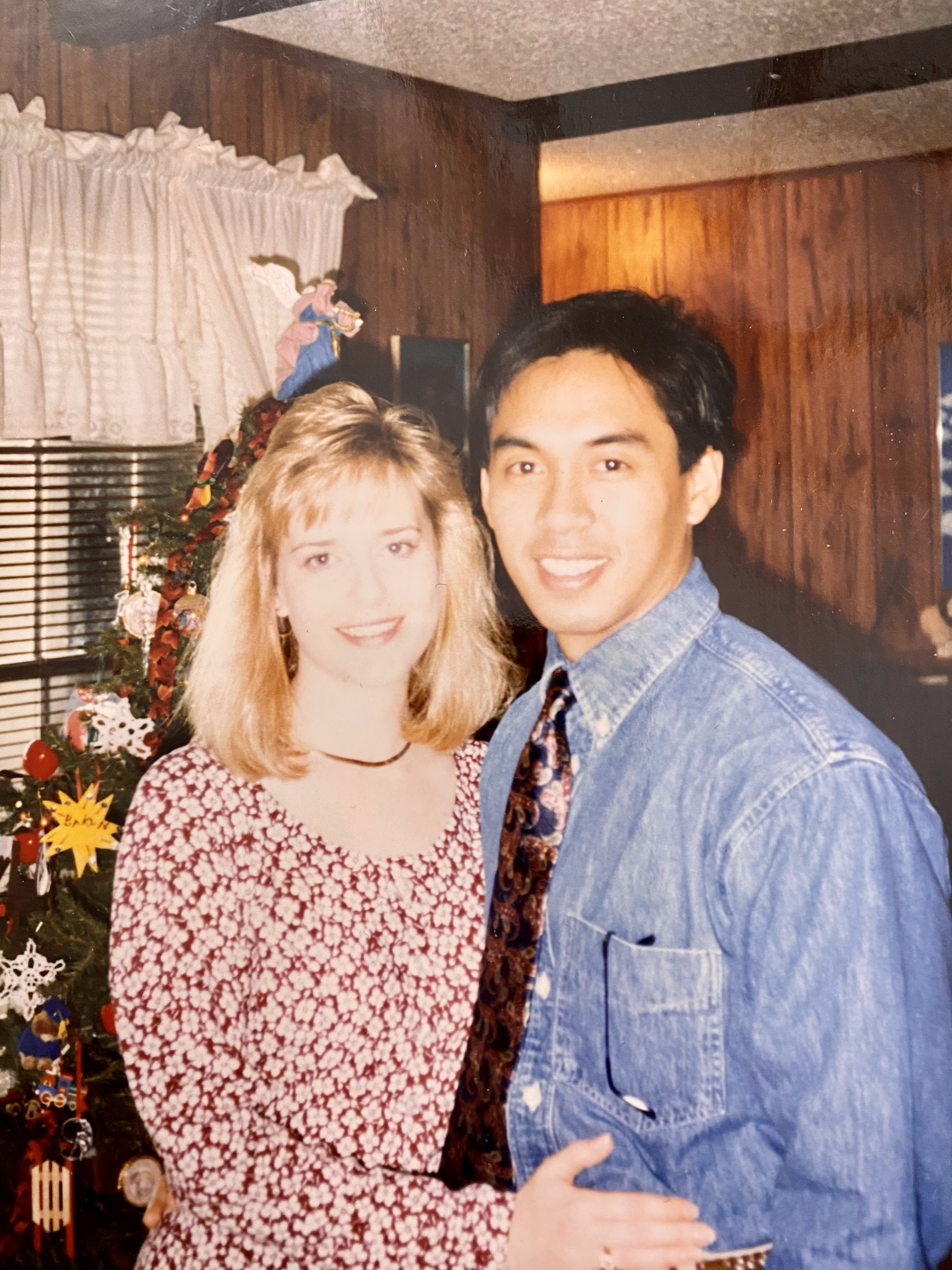 "It was surreal to see them recognized, which showed me just how much they have achieved and the impact that they have made," Jillian said. "They are my biggest inspirations."
Even after graduating in 1992, the Bertulfos have continued to remain some of the college's strongest supporters, joining the College of Nursing Alumni Council and supporting the college's mission to educate the nurses of tomorrow by mentoring Gator Nursing students and encouraging their professional development.
"UF has always been an anchor in my life," Joseph said. "The College of Nursing is part of my identity, and I'm glad to contribute to the positive impact it has on nursing students every year."
Thanks to their nursing knowledge, the Bertulfos have also become leaders in nursing practice and scholarship. Tara is now a clinical associate professor at Mercer University and Joseph is the Director of the Occupational Health and Safety Office at the Centers for Disease Control and Prevention — the newest milestones in their accomplished, three-decade-long health care careers.
As a graduating senior in the college's Bachelor of Nursing Science program this spring, Jillian's dream will soon become a reality. She plans to return to her hometown of Atlanta after graduation for a staff nurse position in the emergency department at Children's Healthcare of Atlanta and hopes to represent the college well as she begins her nursing career.
But to her parents, she already embodies what it means to be a Gator Nurse.
"As a nursing professor, I have seen the tremendous growth that students have as they proceed through the BSN program. Experiencing this journey with my daughter has been amazing!" Tara said. "Jillian has grown so much in her knowledge and skills, and it is so much fun to talk with her as a new colleague about health care topics. I am so happy to have another Gator Nurse in the family."
As proud parents of a newly minted Gator Nurse, Joseph and Tara are eager to offer words of wisdom to Jillian and her classmates.
"The college has changed over time — we did not even have internet access! — but some things always remain the same," Joseph said. "Rely on the nursing process to guide your practice. It will take time to find your rhythm, but stay confident in your ability, knowledge and skills. The UF College of Nursing prepared you well!"