Graduate Highlight: Two first-generation college graduates look to the future
More than 10,500 students are graduating from the University of Florida this spring. Among these graduates are two Machen Florida Opportunity Scholarship recipients who have big plans following graduation. The Machen Florida Opportunity Scholarship assists historically low-income first-generation college students in meeting their college costs.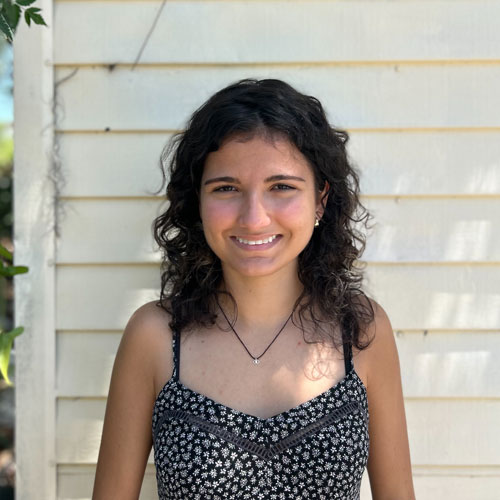 After Lucia Papadopulos' father passed away on a business trip when she was 8 years old, she watched her mom make sacrifices to provide for her and her older brother.
Affordability was at the top of Papadopulos' list when applying for college. Being awarded UF's Machen Florida Opportunity Scholarship made the decision to attend UF much easier.
"The support given to me by the Machen Florida Opportunity Scholarship goes beyond granting me with the financial assistance that I am immensely grateful for," she said. "This scholarship has allowed me to pursue invaluable experiences and form meaningful relationships that I will cherish for the rest of my life."
The West Palm Beach native said overcoming early adversities in life requires focusing on who you want to be.
"During difficult moments of my undergraduate career, I found reassurance and strength in visualizing goals that I found meaningful," she said.
Papadopulos will be graduating with degrees in biology and anthropology. After graduation this spring, she will spend the next two years performing biomedical research and preparing for medical school.
She works as a research assistant for Miguel Acevedo in the Wildlife Ecology and Conservation Department. Her most fond memory as an undergraduate was conducting fieldwork with Acevedo at El Yunque National Forest in Puerto Rico.
At Acevedo's lab, researchers analyze Puerto Rican lizards in search of the malaria parasite (Plasmodium) in Puerto Rican lizards and use microscopes to identify which of the three individual malaria parasites are present in them, she said.
All this hard work has paid off: Her honors thesis allotted her recommendation for summa cum laude.
Papadopulos has applied to a Postbaccalaureate Research Education Program with the National Institutes of Health that provides biomedical research training to participants who are interested in pursuing research-focused biomedical doctoral degrees.
"To me, being a Florida Gator means that I have had the honor of forming part of a community that has given me the chance to receive an outstanding college education and pursue my life-long ambitions."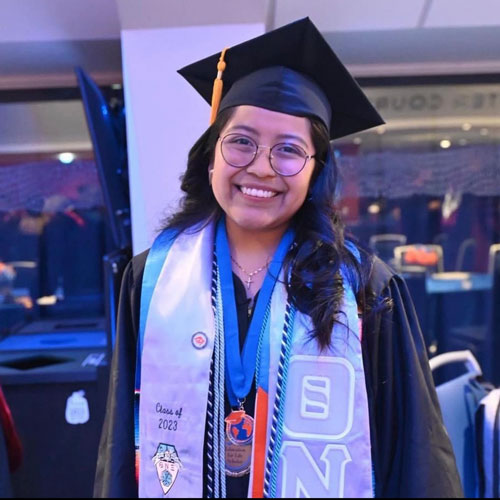 Viridiana Lopez-Lugo, from Clearwater, Florida, is a first-generation college student. She chose to attend UF because of the support of the Machen Florida Opportunity Scholarship program, which paved the way for additional experiences during her time as an undergraduate.
"I was given the opportunity to get involved in various activities and organizations due to the financial stability Machen Florida Opportunity Scholarship brought me."
Lopez-Lugo's involvement included being a Preview staffer, peer leader, student government senator and member of the Theta Nu Xi Multicultural Sorority.
Lopez-Lugo attributes her success to the sacrifices she made as a teen: being a caretaker, student, sister and oldest daughter to an immigrant mother.
"I would not trade this struggle for the world because it has made me into the resilient and caring person I am today," she said.
After she graduates with degrees in family, youth and community sciences and education sciences this spring, Lopez-Lugo will continue her educational journey next fall when she pursues a graduate degree in educational transformation with a concentration in advocacy and policy at Georgetown University. Her goal is to go into education policy.
Serving as a role model goes far beyond the UF community; Lopez-Lugo takes pride in motivating her younger sisters to one day graduate from a university as well.
Her advice to future Gators, and her sisters, is simple: "Take that leap of faith, even if you think you're not qualified, or you won't get the role or position and step into the uncomfortable. This is the time to explore and try new things so don't waste it always wondering 'what if.'"