Erin Jackson's university-wide commencement speech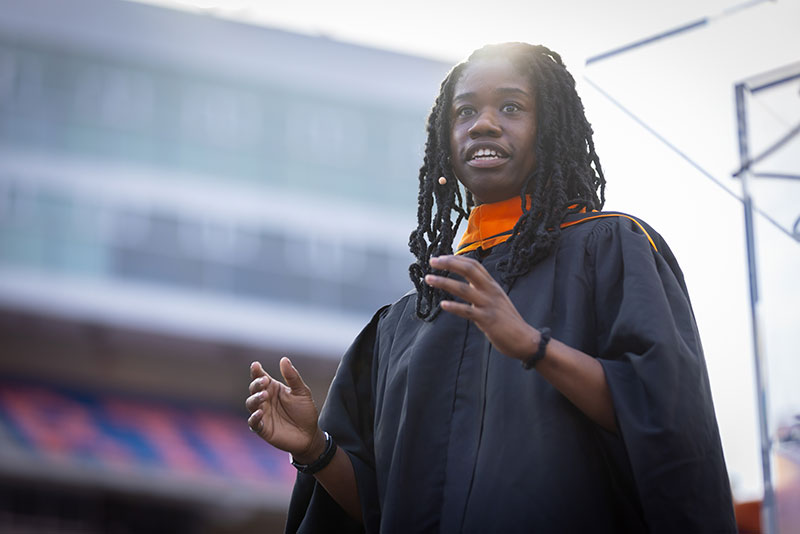 Erin Jackson is an Olympic gold medalist, a history maker and a Gator. Her story shows the type of grit, adaptability, and steadfastness UF graduates should be known for.
Jackson won the women's 500-meter race in the 2022 Olympics in Beijing, becoming the first American to win that race since 1994 and the first Black American woman in history to win a Winter Olympic gold medal in an individual sport.
Additionally, she graduated UF cum laude in 2015 with a bachelor's degree in materials science and engineering. Her undergraduate research focused on the fracture mechanics of dental ceramics.
Her speech for the University-wide, Spring 2023 Commencement is below:
Eight years ago, I sat in a chair much like the one you're sitting in now, at my own UF graduation ceremony. I never, in my wildest dreams, imagined that someday I would be asked to return to this stage as the commencement speaker for a future class for you.
Today, I'd like to share how that happened; how I came to be standing on this stage right now and a few of the things I've learned along the way.
I'm originally from just down the road. My story begins under the hot, humid, Ocala sun. Anyone else from Ocala? Anyone? If you know anything about Ocala, you might know that it's pretty famous for horses. But what you probably don't know is that Ocala is also a bit famous for roller skating. And THAT is where I got my start racing around on wheels for most of my childhood.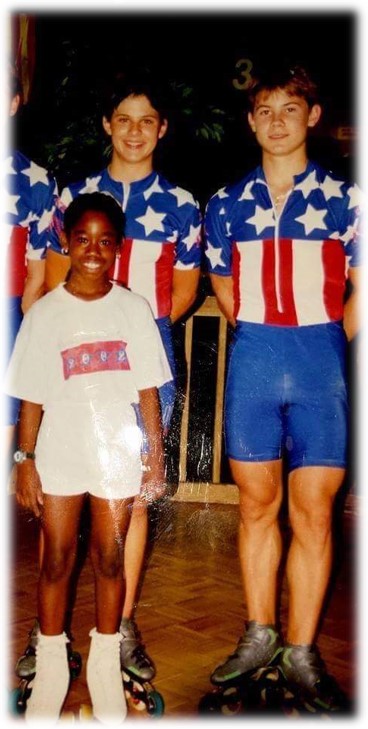 Here I am as a little kid, and behind me are two members of the USA Roller Speed Skating Team. The woman on the left is Brittany Bowe, and next to her is Joey Mantia. Brittany, Joey and I are all from Ocala; we all had the same coach, we grew up skating together, and the three of us won speedskating medals at the last Olympics. Imagine that. A hotbed for American speedskating in Central Florida, of all places.
Remember the name Brittany Bowe. She was my idol at the time; a few years older than me. She comes back into my story many years later in a really significant way.
Now, when I was a kid, my mom had dreams of me someday representing this great country in competition — though for her it had nothing to do with sports. You see, I was a beauty pageant kid and my mother had visions of me someday becoming Miss America.
Here's a picture of me in all my pageant glory.
I'm sorry to share that my mom passed away when I was in high school, but not before instilling in me a strong belief in myself. It was an enormously difficult time, but I know now that it taught me to pick myself back up when life knocks you down. And there is no greater lesson in perspective than losing a loved one. You, quickly and clearly, understand the things in life that matter the most.
So once I retired from my beauty pageant pursuits, I put all of my extracurricular energy into skating. And I began to race around the world and went on to become a World Champion.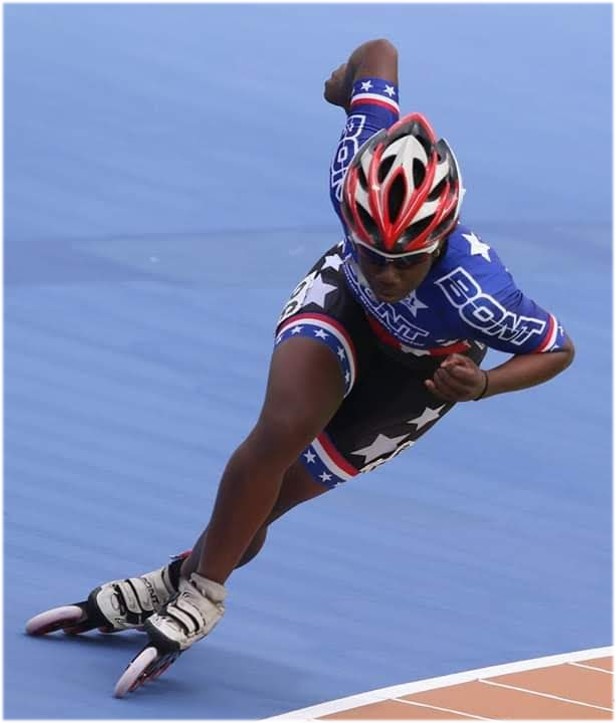 I'm sure my mom would have been proud. The problem was, that was the end of the road in the sport of roller skating, which is not an Olympic sport.
I dreamed of more. I dreamed of Olympic gold.
There had been other former roller skaters who had switched over to ice skating and had success, so I decided to see if I also had what it takes.
And let me tell you, I didn't. At least, not at first.
Picture little baby Bambi from the movies, just a few minutes after being born. Except, this time, picture her wearing ice skates, trying to stand up. Bambi would have made me look bad. To say my first few steps on ice were impressive would be like saying FSU is the best school in Florida. It was pretty bad, as you can see here.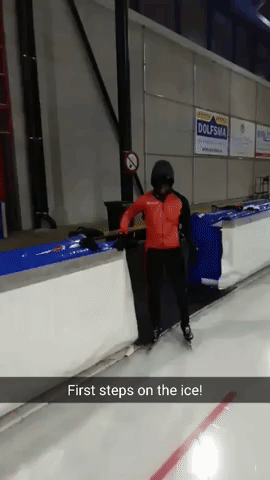 But, as I said before, the loss of my mom taught me to pick myself back up. I kept after it, day after day after day. I had a big goal, to someday make it to the Olympics, but I knew the only way to make that far-away dream a reality was to put my focus on each single day, each small step along that way.
Graduates. Small steps. Small steps will get you to big dreams.
Slowly, I began to work my way up through the ranks, grinding out small steps of progress, all the way up to the fall of 2021 when I had become No. 1 in the world. I was now winning competitions against the best of the best. My dream of a gold medal no longer seemed so far-fetched.
In January of 2022, I competed in the U.S. Olympic Speedskating Trials — the competition from which the U.S. Olympic Speedskating Team would be selected. That team would go on to compete in Beijing, China.
My main event was the 500 meters, which is the shortest of all the speedskating events. Because this race is so short, if you make a mistake, there is no time to make up for that error. The competition is so strong that oftentimes the margin of victory is a tenth of a second or sometimes even hundredths of a second. You need to be just about perfect to win.
My first 100 meters down the straightaway, my opener, was solid. I entered the first turn feeling good, and I could feel myself building speed. As I came out of the turn and began to skate down the backstretch, I still felt good. But suddenly, I slipped. It's possible that the smallest bit of ice broke away under my blade, I don't know. I kind of flailed my arms to catch my balance. It all happened so fast, and then I got back to skating. But the damage had been done. In a race that rewards micro-fractions of a second, there was no place to make up precious time. I finished third; one spot away from making the team. I was out. My Olympic dream was over. If I wanted another try, I would have to wait for 2026.
The rink was buzzing. People were shocked, and in fact, news spread around the world almost instantly, as is so often the case in our social media crazed world.
Now, earlier, I mentioned Brittany Bowe. My friend from Ocala. Brittany had preceded me in switching from roller skating to ice speedskating by a few years and, by this time, she was a longtime veteran member of the U.S. Speedskating Team.
If you ever want to learn a lesson about selflessness, about leadership, about being a good teammate, I'll suggest you take a good look at Brittany. Brittany was one of the two women who had beaten me that day. She had earned one of the two coveted Olympic Team spots in the 500-meter event. But after I failed to make the team, as my head was spinning, Brittany came to me and said, "You deserve to go to the Olympics. One little slip shouldn't negate your whole season of winning, you're our best shot at winning a medal in the 500."
She then went to the race officials and declined her spot on the team. And by doing so, it moved me into the No. 2 spot and, most importantly, it put me on the Olympic Team. What kind of person does that? The kind of person who is Brittany Bowe.
To say it was an emotional rollercoaster of a day for me would be the biggest understatement of my life.
And for those of you who believe in Karma, you'll be happy to know that Brittany went on to qualify for the Olympic Team in other distances, and she went on to win an Olympic bronze medal of her own.
Graduates, I hope you'll strive to associate yourselves with your own Brittany Bowes. Great people. The best people you can be around.
A few weeks after the trials, I went to the starting line at the Olympic Games. And on that day, there would be no slips, no stumbles. I had the race of my life; the race I had been training for, for all those years. The race I had dreamed of when I left Florida to take a chance on the ice.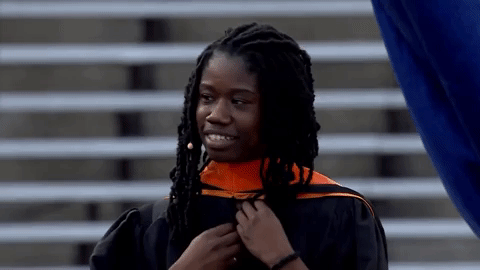 And when it was all over, they gave me this:
Thank You.
I will end with this.
There are a lot of reasons why I believe this medal happened. Here are the big ones:
It happened because I was willing to take a chance on myself; to take a risk, to leave the comfort and familiarity of roller skating and get uncomfortable on the ice. As you leave here today, be willing to take a chance on yourself. Be willing to get uncomfortable. Be willing to fall down. But most importantly, be willing to get back up, over and over again.
This happened because I was willing to look for opportunities in unusual places. Of course, I'm incredibly proud to have won this medal. But I'm also proud to have become the first Black woman in history to win an individual event gold medal at the Olympic Winter Games. As you leave here today, keep an eye out for opportunities in unusual places.
This happened because I was able to surround myself with good people; people who believed in me as much as I believed in myself. Surround yourself with good people and they will pave the pathway to your dreams.
And finally, it happened because I was willing to dream big and execute small.
Today, we celebrate your great accomplishment: Your graduation. And while we celebrate, it's also a time to dream of what's next. And I hope you'll dream big.
Tonight, when your head is on the pillow, when it's quiet, and it's just you and your thoughts, THAT is the time to dream. To dream of what you want, of what you believe you are capable of, of what you believe is inside of you. And I'll tell you this, if your dream doesn't scare you, at least a little, you're probably not dreaming big enough.
When you wake up in the morning, THAT is the time to execute. That is the time to figure out what you need to do that day, and that day only, to take one tiny step toward whatever you dreamed of the night before. Dream big, execute small. Break it down into what needs to happen right now, in tiny, bite-sized pieces, to take one step, one stride toward that goal. Dream big, execute small.
If you do that, over and over and over again, I believe it will lead you to your own golden moment.
Thank you, and congratulations to the Class of 2023.