The most successful WrestleMania of all time? Florida sports professors saw it coming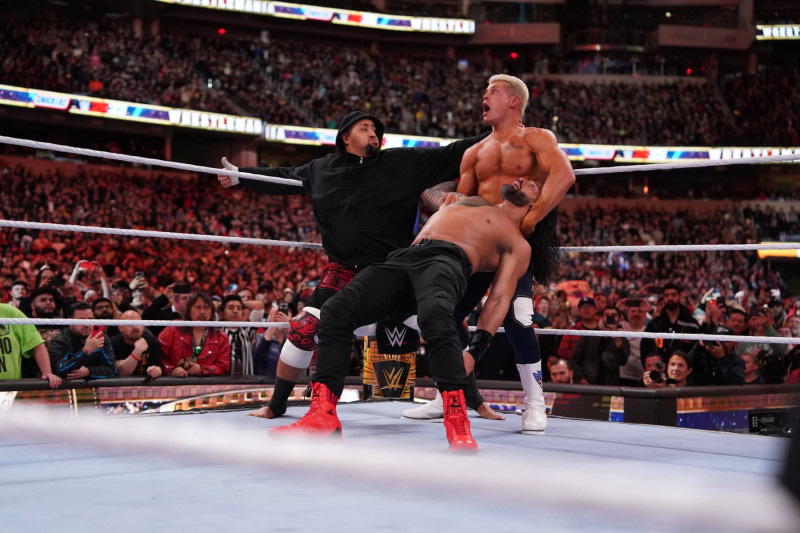 Over the weekend, WrestleMania 39 became the highest-grossing and most successful event in the history of World Wrestling Entertainment (WWE), with more than 500 million views in two days.
One of the spectators was Professor Kyriaki (Kiki) Kaplanidou, Ph.D., director of the Graduate Sport Event Management Certificate at the University of Florida (UF), who co-authored a piece last year entitled Then. Now. Forever. Together. Strengthening Consumer Engagement with WWE.
She and her fellow researchers recognized the resilience of the WWE brand, documenting just how successfully the company bounced back from the height of the pandemic. The researchers predicted that the snowballing effect would only continue, and the sold-out, record-breaking WrestleMania 39 at SoFi Stadium in California was proof positive.
"During the COVID-19 pandemic, when national and international sport properties paused or canceled their events, WWE continued producing its weekly programming and pay-per-views," Dr. Kaplanidou and her co-authors (Artemisia Apostolopoulou, Ph.D.; Michelle L. Patrick, Ph.D.; and Dimitra Papadimitriou, Ph.D.) wrote in the 2022 book, Case Studies in Sport Business Marketing.
This observed tenacity paid off and, in January 2021, WWE Network content moved to Peacock (NBCUniversal's streaming service) in a five-year deal worth more than $1 billion.
"For WWE, transitioning to Peacock puts the brand in a better position to grow by showcasing its events and superstars to a broader audience," Dr. Kaplanidou and her co-authors wrote. "Could this most recent partnership with Peacock be the move that propels WWE to mainstream status in a crowded sport and entertainment landscape?"
To answer their question, it certainly didn't hurt. That same spring, WWE launched its "Then. Now. Forever. Together" tagline to express appreciation for the devout consumers who supported the brand mid-pandemic. Former WWE Chief Brand Officer Stephanie McMahon was quoted as saying, "We are all about bringing people together, putting smiles on people's faces, and creating moments and memories that last a lifetime."
That sentiment was undoubtedly evident at WrestleMania 39, when more than 160,000 fans gathered on April 1 and 2 for the live event. The gate generated $21.6 million, sponsorship revenue reached more than $20 million, and a total of 11 million hours of video were watched on both days (breaking last year's record by 42%). Headliner Roman Reigns, assisted by The Bloodline, retained the WWE Undisputed Universal Championship against Cody Rhodes.
"In the world of entertainment, WWE is a frontrunner, a global entity, and a leader in the production and dissemination of sports entertainment content," Dr. Kaplanidou and her co-authors wrote. "Support for WWE worldwide is strong and passionate, evidenced by the high number of international fans and media representatives who, each year, attend WrestleMania."
As the brand continues to evolve (it just made headlines for its recent status as a publicly-listed company), WWE will only grow. And every city that is chosen to host WrestleMania (next year, it will be Philadelphia, Pennsylvania) will experience an economic boon.
"Irrespective of where WrestleMania is happening, you have an influx of people taking over the area. With that, there is the economic impact that the city enjoys with regards to dining expenditures and hotels and entertainment dollars," Dr. Kaplanidou said. "The event brings with it so many opportunities for business legacy development. WrestleMania is unique because it is quite theatrical, and spectacles serve as a networking ground for major clients who support the event (but also want to expand their business wherever the event is taking place)."
In 2021, WrestleMania took place in Tampa, which Dr. Kaplanidou and her co-authors referred to as a major milestone event.
"It was the first WWE show during the pandemic that included a live audience, albeit restricted in numbers, and the first pay-per-view event delivered on Peacock," they wrote, signaling the revival of the brand. "World Wrestling Entertainment was back in business."
Where will the business go from here? Dr. Kaplanidou and fellow researchers will be watching.