Battling treacherous wilderness for the sake of science
UF water scientist Dr. Tracie Baker becomes first nonindigenous woman to cross Florida Everglades

As a former NCAA Division I competitive swimmer, Tracie Baker is no stranger to water, and with years of Ironman triathlon training, she's more experienced than most at pushing her body to its physical limits. So, it was a good thing a group of seasoned explorers chose her to serve as the team's scientist during its history-making canoe trek deep into the Florida Everglades.
Growing up near Lake Erie in Lindsey, Ohio, and swimming competitively since she was 5 years old, Baker has always had a love for the water, which blossomed into an academic career studying environmental impacts on water quality and its effects on fish and human health.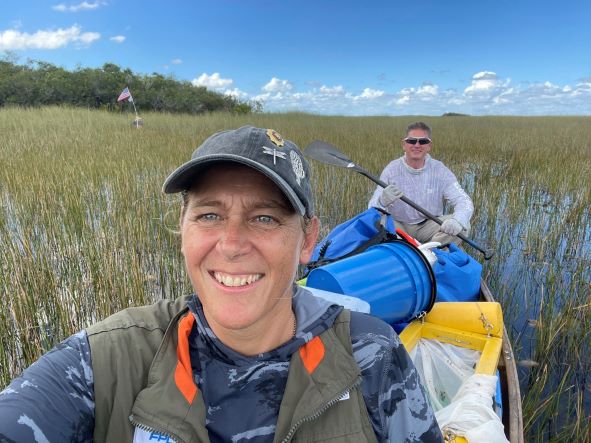 From Oct. 28 through Nov. 2, Baker and three others made the 130-mile coast-to-coast journey through the Everglades to assess human impact on the world's largest subtropical wilderness. The 2022 Willoughby Expedition team retraced the canoe trip that was first completed by explorer and scientist Hugh de Laussat Willoughby 125 years ago in 1897.
How did she describe her experience?
"Exhausting," she said, once back in her lab at the University of Florida Aquatic Pathobiology Laboratory.
As the project's lead scientist, Baker, DVM, PhD, an associate professor of environmental and global health at the College of Public Health and Health Professions, collected water samples along the way to test for the same water constituents that Willoughby did more than a century ago as well as for those he couldn't have foreseen, including microplastics and perfluoroalkyl and polyfluoroalkyl substances (PFAS).
"We will document the changes in water chemistry that have taken place due to human impact on the Everglades ecosystem over the last 125 years," said Baker, a member of the UF Water Institute.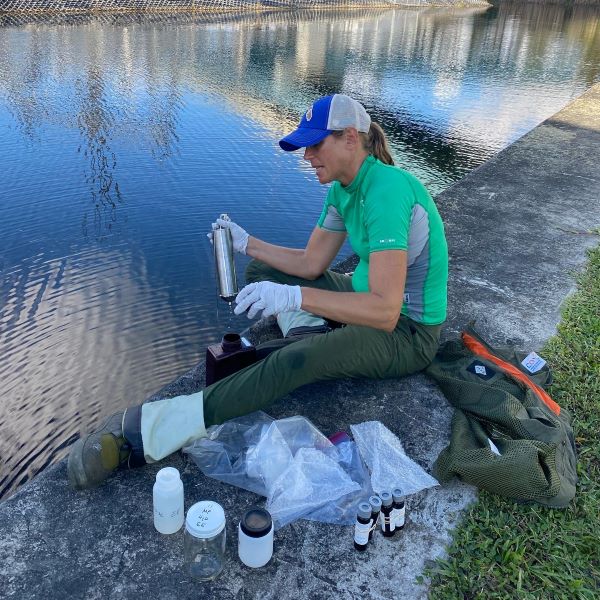 Starting at the mouth of the Harney River, the explorers traversed the saltwater of the Gulf of Mexico, the brackish water of inland rivers, freshwater sawgrass, canals in suburban Miami, and ultimately, through the maze of Miami skyscrapers in Biscayne Bay.
The 2022 Willoughby Expedition comprised more than 50 partners that helped organize and fund the undertaking, including UF, the National Park Service, Everglades National Park, Florida Power & Light Company, South Florida Water Management District, Marine Industries Association of Palm Beach County, Palm Beach International Boat Show and Cox Science Center and Aquarium.
In addition to collecting scientific data, organizers hoped to build awareness and increase educational programming around human impact on the Everglades and partnered with school districts and cultural institutions in South Florida to share live feeds from the journey.
"Public education and the live broadcasts were some of the most exciting and important aspects of the expedition," said Harvey E. Oyer III, the 2022 Willoughby Expedition's co-leader, who is also an author, archaeologist and a fifth-generation Floridian. "We wanted to share our passion for the natural world by giving the public an inside look at our work and igniting their passion to preserve the natural world."
Baker first heard about the expedition when Oyer and others reached out to the UF Water Institute for advice on water sampling.
"When I heard what they were planning, I volunteered to go. It might be one of the most physically strenuous things I'll ever do in my life, but I'm glad I did it," she said.
By completing the trek, Baker became the first nonindigenous woman to cross the Everglades from the Gulf of Mexico to the Atlantic Ocean.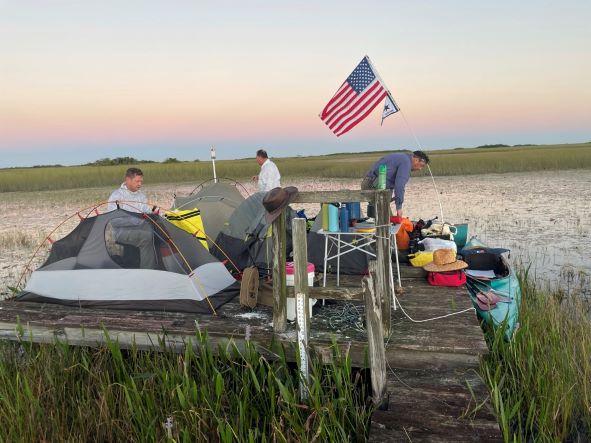 She isn't sure what was the hardest part of the journey: the lack of privacy when traveling for seven days by canoe, sleeping on a wooden platform in the middle of the river, or relentless mosquitos that can bite through protective tents.
But one treacherous 12-hour day stands out, when they paddled through the swampy water, first under a hot sun and then in the deep, murky darkness of night, using machetes and their hands to pull the tangled mangroves and endless seagrass out of their way.
"That was brutal," she said. "We were looking for the airboat trails to find the right path and had to turn around and retrace our course a few times. At one point, it took us three hours to go 900 feet. I don't ever want to do that again."
Hundreds of containers of water samples are currently being analyzed in UF laboratories, with a comprehensive report expected this spring.
"I think we will find contaminants as well as microplastics and a lot of endocrine-disrupting chemicals," she said. "Very low levels of those chemicals can affect our endocrine system and our hormones.
"It will be interesting to see how the water has changed compared to Willoughby's original samples, how chemicals are flowing through the system and if the mangroves and seagrass are able to take some of these contaminants out."
Baker explained the project has provided data for several other areas of research at UF, including those that are analyzing the samples for antibiotic-resistance genes as well as for eDNA to learn about the endangered and invasive species within the Everglades that are not easy to spot visually.
"I'm hoping other scientists around the globe can use this as a jumping-off point, so we can move this science forward," she said. "People don't realize how many places there are still to explore and how many things we can do to help our planet and to help each other.
"We also hope to inspire future generations of scientists, explorers and all citizens to be better stewards of our shared environment."