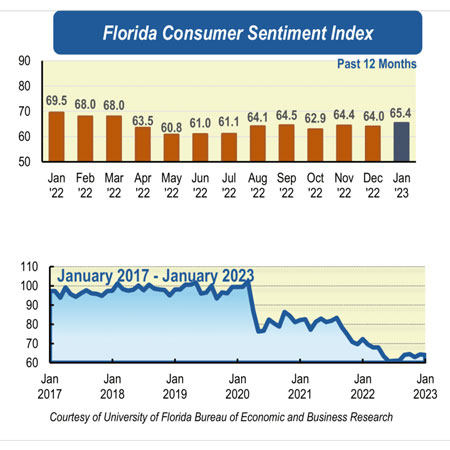 Florida consumer sentiment creeps higher, as inflation rates continue to drop
Consumer sentiment among Floridians increased 1.4 points to 65.4 from December's revised figure of 64. At a national level sentiment increased over five points.
"The increase in consumer sentiment in January stems from improvements in Floridians' expectations about the future, particularly their expectations of a year from now. These views are consistent with a falling inflation outlook. After peaking at 9.1% in June, inflation has steadily declined to 6.5% in December. It is expected that price pressures will continue to ease over the next few months, preventing households from experiencing further hardships," said Hector Sandoval, director of the Economic Analysis Program at UF's Bureau of Economic and Business Research.
Among the five components that make up the index, four increased and one decreased.
Floridians' opinions about current economic conditions were mixed in January. Views of personal financial situations now compared with a year ago increased 1.1 point from 54.6 to 55.7. However, these views were mixed across sociodemographic groups with women and people 60 and older expressing less-favorable views. On the contrary, opinions as to whether now is a good time to buy a major household item like an appliance decreased three-tenths of a point from 55.2 to 54.9. Once again views varied across sociodemographic groups with men and people 60 and older reporting optimistic viewpoints.
Outlooks about expected economic conditions were positive. Expectations of personal finances a year from now increased 3.3 points from 76.5 to 79.8. Similarly, expectations about U.S. economic conditions over the next year increased 1.6 points from 62.9 to 64.5. Finally, views of U.S. economic conditions over the next five years increased 1.1 points from 70.9 to 72. Future outlooks were split by demographics with no discernible patterns except for people 60 and older, who consistently expressed pessimism across the three components.
Meanwhile, the Florida labor market continued to strengthen in December, with more jobs being added statewide. According to the latest Florida jobs report, the unemployment rate ticked down by 0.1 percentage point in December, reaching 2.5%, only one-tenth of a percentage point above the lowest rate on record. In line with this, the number of Florida workers seeking unemployment benefits is hovering around pre-pandemic levels, indicating a tightening labor market.
"Prices have been declining over the second half of 2022 as the Fed swiftly increased interest rates. Despite this, the U.S. economy grew at an annual rate of 2.9% in the last quarter of 2022. Inflation, however, remains well above the target of 2%. Making it likely that the Fed will continue to raise interest rates at its next meeting in February, albeit at a slower pace. Yet, continued increases in interest rates will ultimately slow down the economy and trigger a recession," said Sandoval.
"Looking ahead, with the assumption the labor market remains robust, we expect consumer sentiment to improve slowly as inflation pressures continue to ease," Sandoval added.
Conducted December 1 through January 30, the UF study reflects the responses of 268 individuals who were reached on cellphones and 306 individuals reached through an online panel, a total of 574 individuals, representing a demographic cross section of Florida. The index used by UF researchers is benchmarked to 1966, which means a value of 100 represents the same level of confidence for that year. The lowest index possible is a 2, the highest is 150.
Details of this month's survey can be found at https://www.bebr.ufl.edu/florida-consumer-sentiment/