There's no love like Gator love
Happy Valentine's Day from the University of Florida. Here's how these Gator duos found their matches in the heart of The Gator Nation.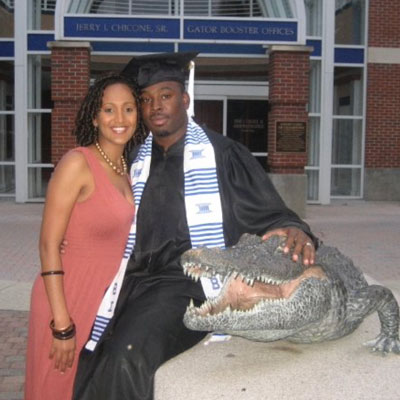 A few weeks into her Haitian Creole language course at McCarty Hall in 2001, Heaven saw the face of a classmate she didn't recognize. The classmate, Ran, was a football player who hadn't shown up to the class before.
Ran took a seat next to her and made a point to introduce himself by touching her hair, an act which ignited an immediate sense of animosity between the pair.
"I was disgusted and gave him a few choice words," she said, looking back on their initial meeting.
In the semesters that followed, the two ignored each other in passing and avoided eye contact at all costs in the next class they shared.
One night during her third year at UF, Heaven was sitting alone on the hood of her car waiting for her friends to scope out a party. As she waited, something caught her by surprise. Ran – the same jock that she hated – and who she assumed hated her equally, was standing beside her.
This time, he seemed different. The two had a nice conversation and shared laughter as he waited with her so she wouldn't be alone.
A few days later, he called her, and they spoke for hours, even though she had no idea where he got her phone number from. Now, the couple who once shared hatred has shared 20 years together.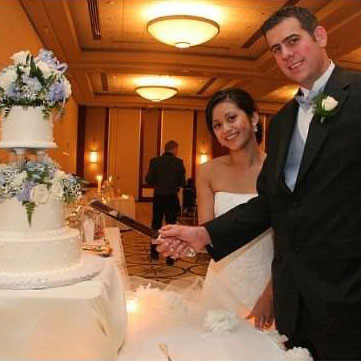 Patty and Alex met in their Copy and Visualization class as advertising students at UF in 2001.
The pair bonded over crossword puzzles found in publications of The Independent Florida Alligator and a shared love for peanut M&M's.
While Patty and Alex cultivated their friendship, a mutual friend "helped move their connection from "friend zone to end zone" by inviting them to an end of the year party, where they further grew their relationship. The couple's first official date was at the Harn Museum of Art at UF.
When they graduated in 2002, they met each other's families and began dating long distance. The couple eventually got married and moved back to Gainesville soon after, where they immersed their two daughters in The Gator Nation.
The couple has since left Gainesville, but UF still holds a special place in their hearts, as it is where they found each other.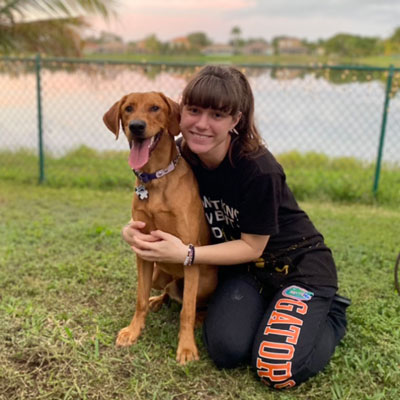 UF student Sera and her service dog, Mars, a Field Line Labrador with a reddish coat, were connected after numerous people at UF helped Sera fundraise during her first year at the university to get Mars.
Mars attended UF alongside Sera for the first semester of her second year, and Sera says he will continue to be her partner in crime until her graduation from UF and beyond.
"The bond between a service dog and their handler is one of the most special types of love; nothing could have prepared me for the magnitude of our relationship," she said. "Mars allows me to operate at my full potential, and he has changed my entire world for the better. We take care of each other; it is life-saving mutualistic bond."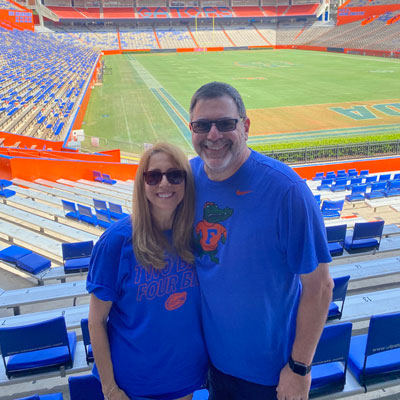 During her second year at UF in November 1983, Lori's friend invited her to hang out with the people who lived on his floor in Jennings Hall. She thought it could be fun and decided to go.
At the gathering that night, Lori was introduced to her now husband, Robert, and a group of people who are still friends with the couple today.
Lori later introduced the friend who acquainted her and Robert to her best friend, and they are now married too.
Lori and Robert now have two kids, one who is a double Gator, and another who is starting her second degree at UF this fall.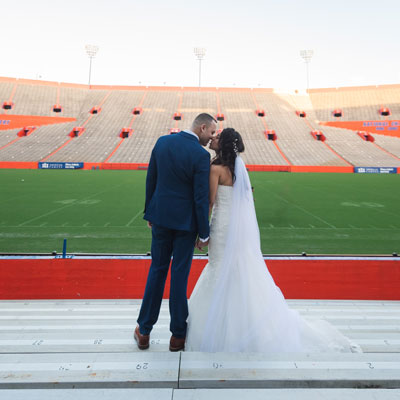 David and Ashley spent their freshman orientation in July 2007 finding their way around UF's campus while also finding love.
David and Ashley were members of the same orientation group, which toured campus and socialized over icebreakers as a unit.
The night of their orientation party in the Broward Hall basement, the two tried to hide their interest as they stared across the room at one another. They eventually gathered the courage to talk to each other, and the conversation turned out to be one of many.
"Sixteen years later, we have grown together, supported each other, moved across the country together and experienced what it's like to be rolling down the streets of California together," Ashley said. "Over the years, we've always considered Gainesville our home."
The couple got engaged in Gainesville and held their wedding at the Baughman Center on UF's campus, just a short distance away from where they began their journey together.