UF's Go Greater campaign creates 4.6 billion+ opportunities
Eight-year campaign largest ever in state, among most successful in public higher education history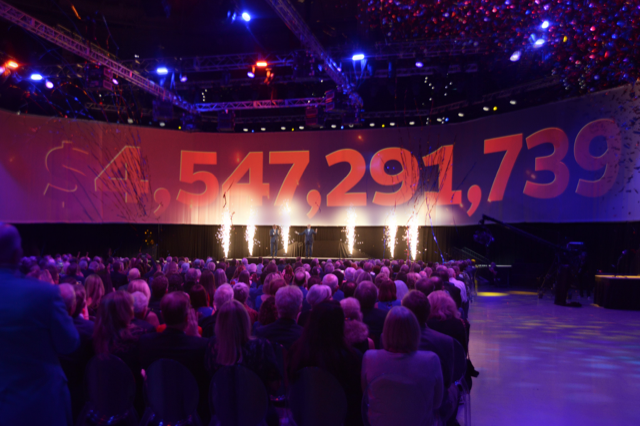 The University of Florida's record-setting Go Greater campaign topped $4.6 billion when it concluded on Dec. 31, 2022, making it one of the most successful campaigns in all of academia, the university announced this week.
Almost 300,000 donors and close to 2,000 campaign volunteers invested in students, professors, initiatives and discoveries. Go Greater's grand total is among the most ever raised at a public university, the largest in the history of the state of Florida and highest among SEC schools.
Go Greater's success is a major factor in UF's unprecedented climb in national rankings — from No. 14 on U.S. News and World Report's list of best public universities in 2014, when the campaign began, to No. 5 now. During the campaign, research awards to the university increased to $1 billion, 600 new faculty positions were created and applications from students wanting to be Gators set record highs.
The campaign also launched life-changing initiatives, including national summits, in areas such as brain research and treatments, early childhood education and well-being, and advancing artificial intelligence to enhance how people learn, work and live.
"Time and time again alumni and friends have rallied for this university," President Kent Fuchs said. "It's not just out of loyalty or love or appreciation. It's because they believe in the University of Florida's potential to change lives for the better and to address the grand challenges all of us are facing."
Go Greater ended with a flurry in 2022, with more than $684 million contributed that year, marking the fourth consecutive year that annual giving to the university surpassed $500 million. Investments throughout the campaign helped grow the university's endowment to $2.4 billion, a $1.1 billion increase from 2014, and provided funding for scholarships, professorships, research and other life-enhancing initiatives. Fundraising for Go Greater was organized around five broad pillars: leadership, health and wellness, the environment, innovation and global impact.
"These past eight years are a springboard for the next decade," said Anita Zucker, chair of the UF Foundation's executive board. "Because of this campaign and the alumni and friends who supported it, the University of Florida is one of the world's truly great universities. And because of our university, we can all look toward the future with more optimism."
Among the campaign's notable gifts:
The Dr. Herbert and Nicole Wertheim Family Foundation provided the largest gift from an individual donor in university history to accelerate the pace of biomedical discoveries at UF Scripps. The Herbert Wertheim UF Scripps Institute for Biomedical Innovation and Technology is named in their honor.
Al and Judy Warrington's leadership gift in 2014 kicked off the Go Greater campaign. At the time, their pledge was the single largest gift in UF history.
Chris and Melody Malachowsky's pledged to make UF a global leader in artificial intelligence innovation and training. Their investment named the campus Data Science and Information Technology building and is helping to integrate A.I. into teaching and research across academic majors to solve society's most formidable challenges.
A separate investment in the College of Engineering from Dr. Herbie and Nicole Wertheim launched a $300 million initiative that is revolutionizing engineering education and research. Their gift was the catalyst for the largest expansion in the college's 100-year history. In recognition, the college was renamed in Dr. Wertheim's honor.
Elisabeth DeLuca's gift of 27,000 acres of pristine land in Osceola County is protecting one of the last natural areas of its kind and serves as a living classroom and laboratory. It is among the largest gifts of real estate ever to any university in the nation, and includes cattle ranchlands, a citrus grove, ponds and forests.
Bill Heavener provided the leadership gift for UF's new $85 million football training center, named in his honor. The 142,000-square-foot center includes meeting rooms, a strength-and-conditioning center, a dining hall and recreation space for student-athletes.
The $4.6 billion in Go Greater far surpassed the $3 billion goal set when the campaign launched in 2014. The record amount also shatters UF's four previous campaign totals: $1.7 billion in Florida Tomorrow (2005-2012), $851 million in It's Performance that Counts (1996-2001) and $392 million in Embrace Excellence (1985-1991).
In all, Go Greater garnered more than 1 million unique gifts, while UF's annual alumni giving rate — a major factor when calculating overall rankings — climbed to 20 percent, one of the highest in public higher education. Along the way, UF's donors established 159 new endowed faculty positions, added 847 scholarships and created 15 new teaching and learning centers.
As a result, the University of Florida is positioned to address things that are important to Floridians and others across the world: health care, energy and sustainability; climate change and biodiversity; economies, entrepreneurship and innovation.
Go Greater facts and statistics:
$4.6 billion raised.
293,410 donors, including:

168,450 new donors;
148,479 alumni; and,
14,209 faculty and staff members.

Almost 2,000 volunteers.
Donors were from all 67 Florida counties, all 50 states and 119 countries.
UF is the first university in Florida to raise $4.6 billion in a single campaign.
"The Go Greater campaign was about creating opportunities and impact," said Tom Mitchell, vice president for UF Advancement. "Making a difference in the lives of our students, faculty, staff and communities within the state, the nation and the world is, and will continue to be, our ultimate goal."
The University of Florida, the state's flagship university, serves more than 61,000 students from throughout the United States and 100 countries. With five professional schools and 200 research, service and education centers, bureaus and institutes on a 2,000-acre central campus, UF offers educational opportunities matched by only seven universities worldwide. UF is currently ranked No. 5 on U.S. News and World Report's annual list of best public universities.