UF community invited for Holiday Gator lighting celebration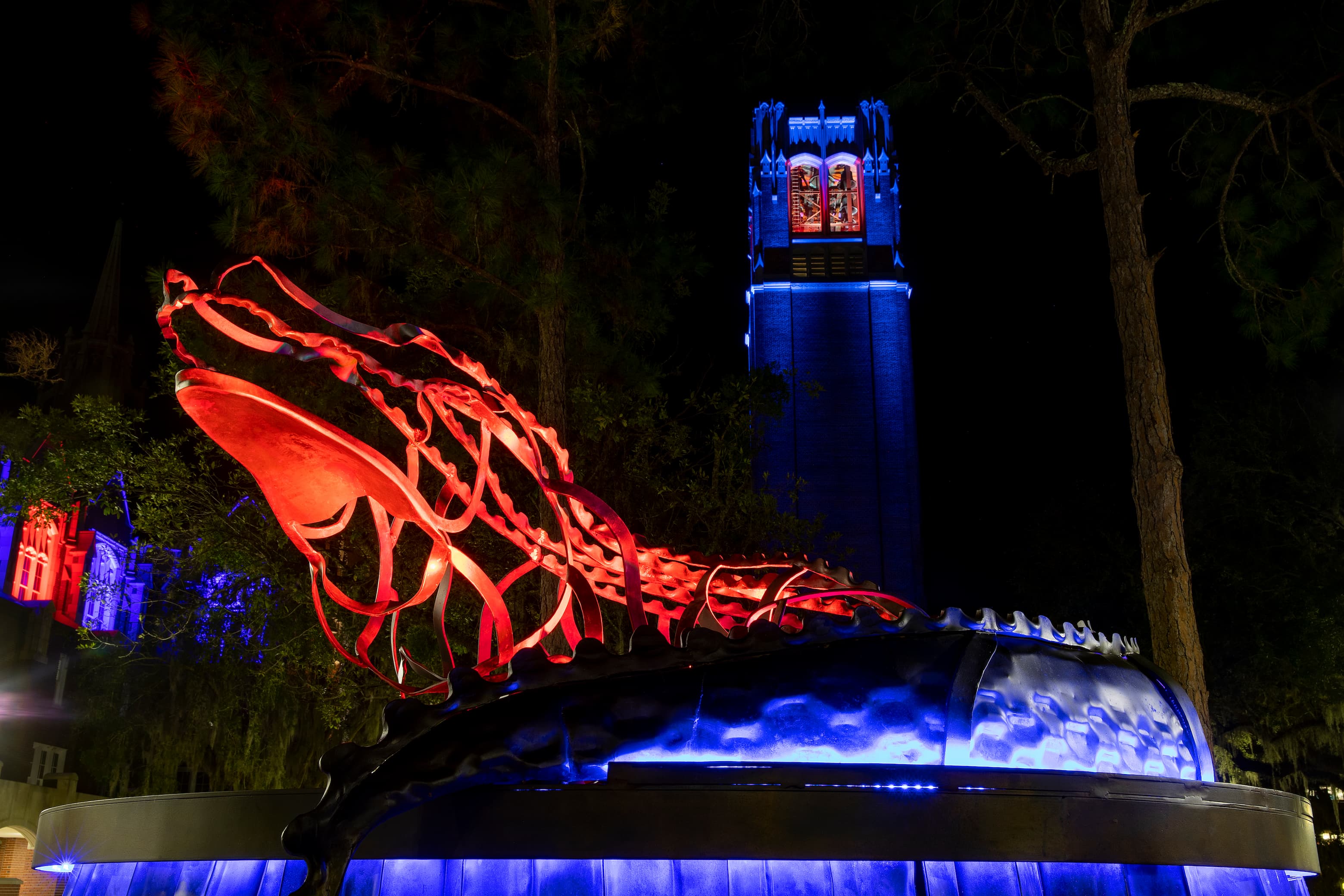 Students, faculty, staff, families and friends are invited to the "Lighting of the Holiday Gator" starting at 5 p.m. Thursday, Dec. 1 on the lawn of the University Auditorium near the corner of Newell Drive and Union Road.
The Holiday Gator is the large, forged steel alligator sculpture that has been placed on the lawn in celebration of the coming holiday season each year since 2019.
This year's festivities, set for 5 to 6 p.m., will feature performances by members of three UF student groups—the Gator Marching Band, the UF Sunshine Steelers and the UF Concert Choir—as well as hot chocolate, apple cider and other holiday treats.
President Kent Fuchs will welcome guests and lead the countdown to the ceremonial lighting of the alligator statue, which will glow with orange and blue LED lights throughout the remainder of the academic year.
"The annual 'Lighting of the Holiday Gator' provides a welcome encouragement at this time of year, when students are so busy with papers, projects and preparing for exams," said Fuchs. "It's also a fun way to celebrate the start of the holiday season, with lights, music, cookies, cocoa and other treats to be enjoyed by everyone in the UF community and their families and friends."
The steel sculpture – which is about 8 feet tall and 8 1/2 feet in diameter – was created by Gainesville artist and blacksmith Leslie Tharp, a UF College of the Arts alumna. The Holiday Gator will be on display through Fall commencement weekend Dec. 16-17.