Hurricane Ian – Final Update – 9/30/2022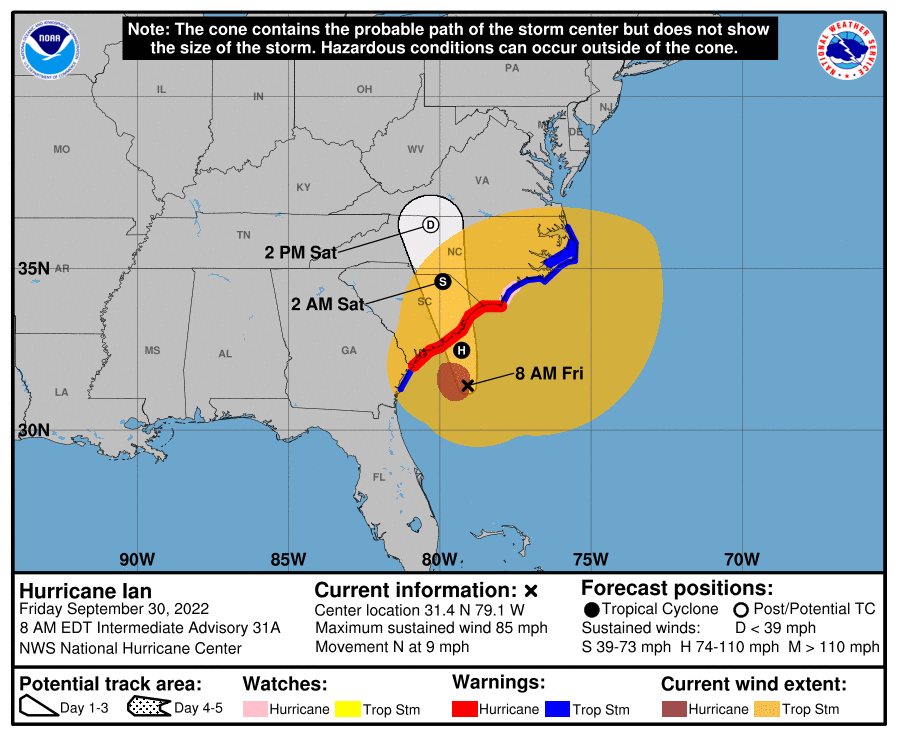 University of Florida officials are monitoring Hurricane Ian. Here is what we know today:
The National Hurricane Center canceled all hurricane and tropical storm watches and warnings for the Florida peninsula as Hurricane Ian continued to move north on Friday toward South Carolina.
Forecasters expect for some gusty winds to continue across North Central and Northeast Florida, and gradually decrease as the day continues. As Hurricane Ian moves away from Florida, cloud cover will decrease as well, leaving mainly clear skies through the weekend.
UF units around the state should continue to follow guidance from local officials.
The University of Florida campus in Gainesville will remain closed today. Only essential university personnel should report for work.
The university expects to reopen and resume classes and normal campus operations on Saturday, Oct. 1.
UF will suspend providing regular updates regarding weather conditions due to Hurricane Ian after this message unless conditions warrant. Later today, check https://www.ufl.edu/ for details regarding the resumption of operations.
Additional information:
President Fuchs' message regarding Ian's aftermath
UF classes canceled Wednesday - Friday
Commonly asked questions regarding UF campus closure
UF/IFAS Disaster Preparation & Recovery
This story was posted at 8:30 a.m. on Friday, Sept. 30.