The New Worlds Reading Initiative is working to increase children's reading skills, one free book at a time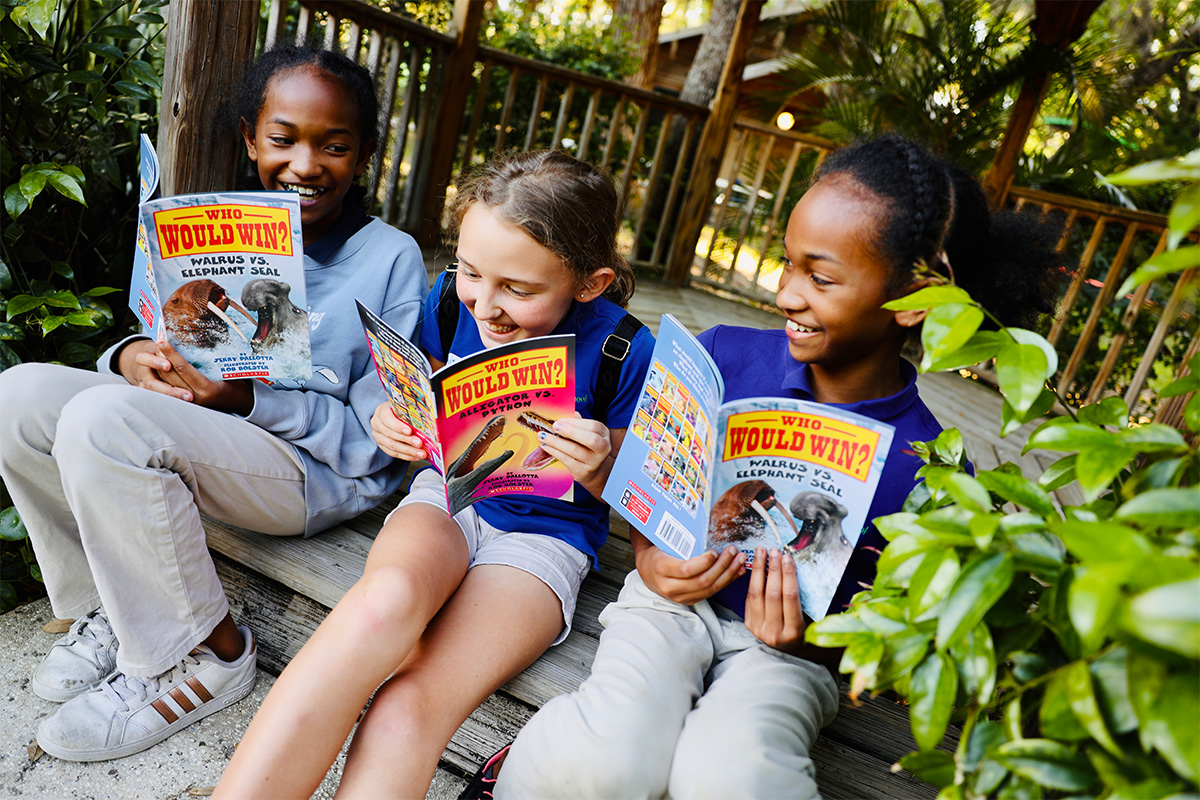 Welcome to From Florida, a podcast that showcases the student success, teaching excellence and groundbreaking research taking place at the University of Florida.
If a child is unable to read on level by third grade, there's a good possibility they'll struggle throughout the rest of their school years – and may be on track to not finish high school. In this episode, Shaunté Duggins talks about Florida's New Worlds Reading Initiative, based at the Lastinger Center for Learning at UF, and how it hopes to change that trajectory – one book at a time. Produced by Nicci Brown, Brooke Adams, Emma Richards and James L. Sullivan. Original music by Daniel Townsend, a doctoral candidate in music composition in the College of the Arts.
Nicci Brown: The New York Times recently reported there has been an alarming drop in math and reading skills of nine-year-old children across the nation. But there is hopeful news here in Florida as our state may be a step ahead in adopting measures to ensure children are reading on grade level.
Today, we're going to talk about the New Worlds Reading Initiative and how it's helping families to boost children's literacy skills. It's not the only action the state is taking, but the initiative may be a national model for proactively addressing this problem.
Our guest today is Shaunté Duggins, who is the assistant director for the initiative, which is based in the University of Florida's Lastinger Center for Learning. Welcome, Shaunté!
Shaunté Duggins: Thanks for having me.
Nicci Brown: Can you tell us how the New Worlds Reading Initiative came about?
Shaunté Duggins: Of course. So, the New Worlds Reading Initiative was created by House Speaker Chris Sprowls and it received unanimous bipartisan support in the Florida Legislature, and it was signed into law in June of 2021. And so House Bill 3 created the New Worlds Reading Initiative and it's a statewide program that's designed to accelerate reading and advance literacy for K-5 students in our state who are not yet reading on grade level.
Nicci Brown: So, The New York Times reported earlier this month that newly released national test scores showed math and reading skills of nine-year-olds fell by the largest margin in more than 30 years. The students were tested earlier this year with scores compared to those taken in 2020, which, of course, was just before the pandemic. First of all, why are the literacy and math skills of nine-year-olds, students who are generally in third or fourth grade so important?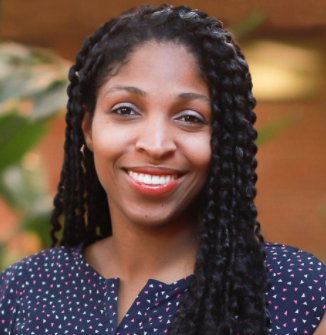 Shaunté Duggins: So, we know that the most basic responsibility of schools is teaching children how to read. And reading impacts all other academic areas, yet many children actually fail to develop as proficient readers. So, teaching reading effectively has received a lot of attention because children often struggle in this area and there are implication not only academically, but also economically, and further on in life.
So, researchers have found that students who are identified as poor readers by the end of their first-grade year rarely obtain average-level reading abilities. And so data show that children who are not reading on grade level by third grade are more likely to not graduate from high school. And so effective reading instruction and intervention is really important for young children. And there's this critical transition from learning to read to reading to learn. And for most children, this typically happens by the end of third grade when children are around eight or nine years old. And if children are not reading fluently, and that's understanding what they're reading, by the time they enter fourth grade, then they're less likely to utilize the skill of reading to actually learn.
Nicci Brown: So, the data that The New York Times cited, have we seen a similar decline in Florida?
Shaunté Duggins: We have, actually. So nationwide, according to the National Center for Education Statistics, in 2019 only 34% of fourth-grade students were at or above proficient in reading. And just for some context, proficient represents solid academic performance. So these are students who are reaching this level, they're competent in reading. And so again, nationwide, only 34%. In 2019 for our state of Florida, 38% of fourth graders were at or above proficient in reading. And that's compared to 41% in 2017 and 39% in 2015. So we have seen a decline, even though Florida is relatively doing a bit better than the nation.
Nicci Brown: Could you share with our listeners how the New Worlds Reading Initiative works and who is eligible, how families can get involved, can sign up?
Shaunté Duggins: Sure. So, our state is investing in literacy teaching and learning and the New Worlds Reading Initiative is one of those opportunities. And so the vision of the New Worlds Reading Initiative is to create at-home libraries for K-5 students who attend public or publicly-sponsored charter schools who are not yet reading on grade level. And so that's our eligibility criteria. And so, families can go to our website and they can apply and once eligibility is determined, book delivery begins for most students in October. And regardless of when eligibility is determined, students will receive nine books from October typically through June. And so, the goal is to, again, build that at-home library for kids who are not yet reading on grade level.
During the enrollment process, children have the opportunity to select topics that are of interest to them and then we match titles to those topics. And so, they have an opportunity to select something that is of interest to them.
Along with the books that we send, we also provide literacy resources to caregivers to build their own confidence and their capacity to support their kids at home, right, because we want it to be engaging and fun. We recognize the value in partnerships and so we're partnering with a number of organizations locally and throughout the state to increase awareness and to support children and families. And then we've also recently added teacher professional development. And so, we're providing professional development to teachers based on the science of reading through our micro-credentials and teacher professional development to create that home and school connection in literacy.
And we are very thankful to the state that we are a Scholarship Funding Organization, which means that corporate taxpayers can make monetary contributions to the University of Florida and receive a dollar-for-dollar tax credit against select Florida taxes. And so this really sustains the initiative beyond the initial investment that the state has made. And so we're super excited that families have the opportunity to get books and that we're able to provide resources to families as well. And I'll add that our resources are available in English, Spanish and Haitian Creole, and then we've added braille this year statewide.
Nicci Brown: Wonderful. Can we talk a little bit more about the criteria that makes people eligible for this resource?
Shaunté Duggins: Of course. So, at this time, the program is available to students who are in kindergarten through fifth grade who attend a public or publicly sponsored charter school and they're not yet reading on grade level. And so you think about these as students who typically are struggling readers.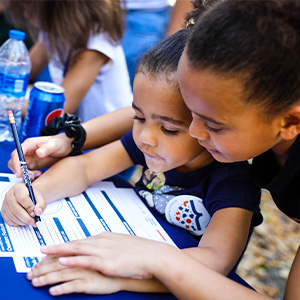 Nicci Brown: I love the fact that you are allowing students to have some say in the matter in terms of what subjects they're interested in. Can you share with us what some of those subjects are?
Shaunté Duggins: Of course. And so some of our topics include STEM, humor, nature, animals and so students can select three topics that are of interest to them and then we match those books to the topics that they select.
Nicci Brown: And how do they get the book? Are they are sent them in their home or do they pick it up?
Shaunté Duggins: This is the beautiful part of it. They get delivered directly to their homes. And so what we've heard from families and from kids is they love that aspect of it. And so they're addressed to the child, they get to go to the mailbox every month. They get their package, they tear it open and there's a book and resources for them. And so, one child said, "It's like having a gift every month in the mail."
Nicci Brown: That excitement . . . yeah, it's really great! And I think the thing, too, about normalizing reading in the house and creating your special reading kind of nook and really making that a part of the home life as well. You recently said in an opinion column published in the Miami Herald that families should create this kind of home learning program. Can you tell a little bit more about why that is so critical?
Shaunté Duggins: Of course. So though children spend most of their awake hours at school, caregivers are still the child's first and most important teacher. And so we know from research that what parents do in the home environment, it matters. And this is especially true for young children's literacy and language development. And so young children benefit the most when they have parents model reading practices and actually engage them in literacy activities.
And so for example, when children are provided with lots and lots of opportunities to engage in literacy-related activities, they have a more positive view about reading. They engage in reading more just for pleasure and they have higher reading achievement. And so we know that every child brings some type of literacy knowledge to the classroom and so teachers can partner with families to create and ensure that all children have opportunities to leave school with a complete set of literacy skills and so partnering with families is huge in ensuring that students have all of the supports that they need to be successful readers.
Nicci Brown: In addition to the books being delivered, it sounds like there are a lot of other aspects to this program.
Shaunté Duggins: That's right. And so I mentioned the micro-credentials, which is our teacher professional development aspect of the initiative as well and so providing teachers with resources around the books that we provide to students. We also have an engagement aspect because it is an opt-in program and so in order for families to take advantage of the opportunity, they have to go to our website and apply. And so we have an engagement team and they're out and about in communities, partnering with schools, with school districts, with a number of community organizations locally as well as at the state level. And so we want to get the information out there. We want to work with communities, partners, community organizations, who have existing partnerships to leverage those relationships to support children and families.
Nicci Brown: And are these teams made up of teachers or just regular volunteers?
Shaunté Duggins: So these are people that are on our team, the New Worlds team. And so they are situated across the state. So we have someone in the Panhandle, someone in Jacksonville, someone who lives in Pinellas County, and we're hiring a number of positions in South Florida as well. And so these are people that are a part of the New Worlds' team. And so their everyday relies on partnering with organizations and with schools and with school districts.
Nicci Brown: This is a model program. Have you received any interest from other states?
Shaunté Duggins: We have. And so we mentioned some of the national statistics earlier and so we know that students who are struggling readers, students who are not yet reading on grade level, we're not alone in the state of Florida. And so we have received some interests from other states. Louisiana just reached out to us last week just asking us a little bit about how we operate here in Florida with the New Worlds Reading Initiative. And so we're hopeful that this initiative will be helpful to other students across the nation as well.
Nicci Brown: What are some of the tips that you might be able to share with our listeners who have young readers in their homes?
Shaunté Duggins: I can spend all day on this! So, No. 1, we want it to be fun for kids and for families. And we know that families are busy. I'm a busy mom of two young kids myself and I have an older child. So we want it to be fun and we want it to be engaging. We want to engage children in activities that will support the development of skills such as letter knowledge and letter sound, right? And so you think about a game like I Spy. So if you're at home in the house, I Spy something that starts with the /l/ sound. And so they can figure out, okay, it's the lamp or maybe it's the light. And so just giving children opportunities to manipulate sound, to listen to sound. Fun rhyming games, that's another popular one where, again, children are working on foundational knowledge, but they're having fun and they're engaging with it.

Also, I tell parents to talk, talk a lot to their children. Oral storytelling is huge and think about different aspects of sharing culture and stories, also vocabulary development. And then ultimately students are picking up on things like the elements of the story, right? There's a beginning, a middle and an end, there's a sequence here. And then children can develop their own stories that they want to tell. And you can make it fun with props and with music and puppets and movement and even technology. And so there is just lots that can be done to engage children in literacy learning. And parents should talk to their kids rather about what they're reading both in school and outside of school and to extend the discussion. So what this could look like is reading a recipe to bake cookies and then at the end you have cookies.
Nicci Brown: That's a nice payoff!
Shaunté Duggins: Yes. I think so and kids will love that! I do, too. Or reading directions to build some kind of a model, right, and so at the end they have something and they've learned that reading gets them to that end product.
Nicci Brown: It sounds like, too, it evolves as the child's reading level does increase. So, for example, with the little ones, you'd be doing those sounds and everything else, but then asking kids, what does that story mean, can you tell me what you got from that?
Shaunté Duggins: Of course, right? Having kids make connections. Can you tell me about a time when this happened to you? Or does this remind you of something that happened in your life or does this make you think about something? And you can even do that with very young kids but, definitely as kids get older, you can spend more time really digging into having them talk and have them make connections through reading.
Nicci Brown: And looking at your face now, it also shows that this is fun for you and it can be fun for the family members. This doesn't have to be a burdensome kind of lesson and work for the family, this is an engaging activity for people to connect over something that in the end is going to be beneficial for the children.
Shaunté Duggins: Of course, I mean, all of this is fun. I think it's totally fun and we want it to be fun for kids and families.
Nicci Brown: Earlier you mentioned Chris Sprowls. It sounds like he was a true champion for this program. How important is it to have that kind of support and understanding within people who are at the state government level and also in policy development?
Shaunté Duggins: Great question. It's hugely important to have policy that aligns with ways that support not only literacy teaching and learning, but just education in general. And so with the New Worlds Reading Initiative, specifically, having that policy in place, having the support from Chris Sprowls and from the Legislature to support the initiative is huge.
And to think about other ways that this could impact other policy and so we think about math, right? That's another area that the Lastinger Center is engaged in. And so we've done a ton of work in literacy, both for educators, expanding that with the New Worlds Reading Initiative for families and students, but we also envision other opportunities through math, for example, to support mathematics teaching and learning. And so we are very grateful for the support that we have from Chris Sprowls and others to support teaching and learning.
Nicci Brown: Caregivers and families have a lot on their plates these days. What kind of advice can you give them so this doesn't seem like another burden, another thing that they have to get through?
Shaunté Duggins: Really great question. We don't want this to be a burden for children or for families. We want it to be, again, engaging and fun and meaningful. And so families can start by thinking about their own daily routines. We know that differs from family to family. Think about opportunities to engage in language and literacy during that typical routine and then build on things that they are already doing to support children. So, for example, if you are taking the kids to school, right, you spend some time in the car, that's a wonderful opportunity to engage in rhyming activity or an I Spy activity or to have conversation about a book that you read the night before or to talk about their favorite book that they read in school the day before. And so, car rides are a great opportunity to talk and engage in conversation with kids.
You think about the bedtime routine. And so, lots of families use the bedtime as an opportunity to read a book. And again, it doesn't have to be this long, drawn-out thing, they can read a portion of the book, a few pages or chapter for older kids and use that opportunity of the bedtime routine, which is already established to put reading in there as well. Cooking with kids, I do this a lot with my own kids. Have them support in the kitchen and they could read portions of the recipe to find ingredients or they can even engage in math. And so, I do this a lot with my younger one, counting all the eggs. We eat a lot of eggs in our home. Counting all the eggs in the carton and how many are left, how many did we use? And so you can build on the routines that are already established and to think about ways that you can integrate language and literacy into those already existing routines.
Nicci Brown: You mentioned rhyming and one of the things that it reminded me of was, when our children were a lot smaller, making up songs and pairing that love of music with also the words and the rhyme and even using that to get them to remember the phone number of the house, just all those little tricks that we have.
Shaunté Duggins: Sure. Yeah. I mean, song, music, it's huge, right? And think about whatever connects with your child and build on that. And so there are, again, lots of opportunities so it's not a burden for families, but they can integrate it into what they're already doing and add on to it. You go to the grocery store, we look for things that are buy one, get one at Publix, right? Can you spot those signs? Can you help me to find this thing that's on the shopping list? And so those are just all opportunities, again, where kids can use their skill, you could build on their skill to integrate language and literacy.
Nicci Brown: And empower them at the same time.
Shaunté Duggins: That's right. And it's fun!
Nicci Brown: Yeah, absolutely!
Shaunté Duggins: And they're helping.
Nicci Brown: Yes, indeed! The New Worlds Reading Initiative, as you've mentioned, is targeting kids in K-5th grades. Do you also have resources for families with older children?
Shaunté Duggins: Of course. So, we're developing a number of literacy resources that will be housed on our website, newworldsreading.com. We have videos, we have reading guides. We are developing and adding a resource clearinghouse. And so the resource clearinghouse includes information regarding local, state, even national organizations and resources to help increase caregiver's access to literacy supports. And so that's a great place to start.
Nicci Brown: And you mentioned the micro-credentials a little bit earlier and we have heard so many really troubling stats about the lost learning because of the pandemic. Are they also available for teachers who may be engaging with younger children like preschool?
Shaunté Duggins: Yes. We are actually developing online micro-credentials to support educators starting with our early educators. So early learning all the way up through 12th grade. And so you think about these micro-credentials as being competency-based. And so educators are able to engage in the science of reading so they could support our students who need additional support — really all kids, but really providing additional support to students who are struggling readers, students who might need some additional intervention or instruction to help them.
Nicci Brown: And how do teachers access those resources? Do they need to go through any particular mechanism? Are they online?
Shaunté Duggins: They're being developed as we speak.
Nicci Brown: Okay!
Shaunté Duggins: So, they're not yet available, but they will be available by really the beginning of the 2023 year. And so we're developing those resources again with educators in mind, starting with early educators all the way up. And so that information will become available soon.
Nicci Brown: And you mentioned that a lot is in progress. I would imagine that at the same time as we have this outward reaching out to students with these programs, we're also gathering information that will inform future programs as well.
Shaunté Duggins: That's right. We administered a survey to families at the end of June to get their feedback and we have received so ... I mean, we get it through social media as well, but we've heard just remarkable feedback from families about the positive impact that the New Worlds Reading Initiative is having on their children and on themselves, right?
And so, one that comes to mind that someone just forwarded to me the other day was a family of . . . the mom sent the email, her child has dyslexia, and she has shared that her and her husband were just spending so much money on providing additional supports to him and from the outside, it would not appear that they couldn't afford to buy books, but in reality, that was their situation. And so she just shared how impactful it is just to receive the books and to receive the support. You think about all of the information that we send to her to empower her as well to support him. And so it was this long, beautiful email about just how grateful she was for the opportunity to receive these resources because her son really needs the help and she really needs the help to support him.
Nicci Brown: It sounds like, too, the other thing is that this young man, this boy, is really getting a love for reading where otherwise this could have been something that was so traumatic for him.
Shaunté Duggins: Right. I mean, we hear so many instances of children who were not into reading. That's what parents said, "They just weren't into it." But being able, again, to select those topics that are of interest to them. And so when they get the book at the mail, they're like, I wanted to read about animals and here's this book about animals. And so parents shared that they never observed their child reading a book from beginning to end. And now they share the book with their child and they're rereading it because again, it belongs to them. They can read it, they can reread it and that's what we want them to do.
Nicci Brown: Speaking of favorite topics, you must have your own favorite children's book. What are some of the ones that really helped to nurture your own lifelong love of reading?
Shaunté Duggins: I loved reading as a child, just loved, loved, loved it. I spent lots of time in the library. My parents took me to the public library. I remember as a child being very fond of the "Baby-Sitters Club "series. Those books were among my favorite. I mean, I had a lot. As a classroom teacher, I enjoyed integrating children's books in math instruction. So, you think about measurement and patterns and shapes and counting books, just finding opportunities to integrate literacy into math and science and so on and so forth. And so I loved looking at books and reading books and sharing those books with my students.
And as a parent, I love to share all sorts of books with my own kids. It's hard for me to identify a favorite because we have so many that we really enjoy reading, but one of our family favorites now is "Ron's Big Mission." My kids could also spend hours reading the "Who Would Win" series by Jerry Pallotta. Yeah. And those are just a few of the ones that we enjoy a lot, at least today.
Nicci Brown: At least, today, keeping that window open for more enjoyment! Shaunté, thank you so much for joining us today. It's been a real pleasure.
Shaunté Duggins: Thank you so much. I appreciate it.
Nicci Brown: Listeners, thank you for joining us. Our executive producer is Brooke Adams. Our technical producer is James Sullivan and our editorial assistant is Emma Richards. I hope you'll tune in next week.