UF bat colony relocates to newest house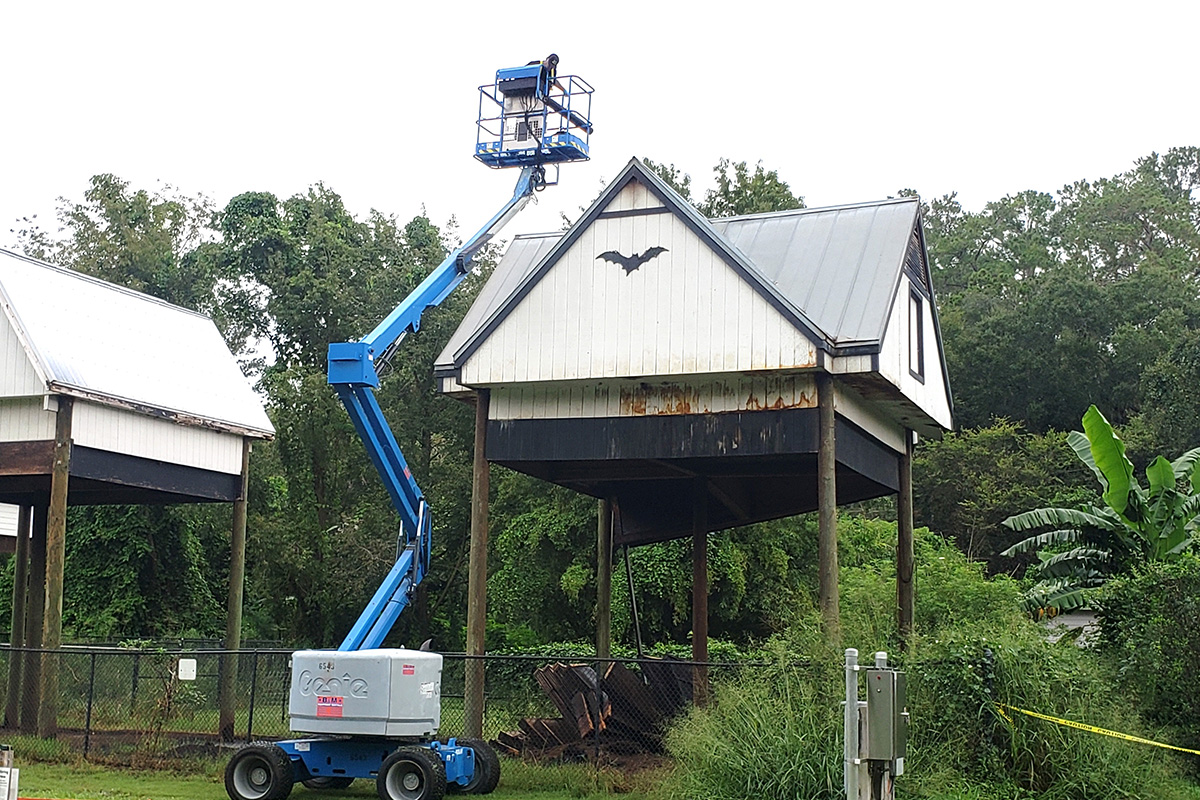 UPDATE: The University of Florida's facilities staff took down the deteriorating bat house this week ahead of Hurricane Ian. Debris will be removed after the storm passes. Exclusion efforts to relocate the bats to the newest barn were successful.
Good news, bat fans: An estimated 350,000 bats have safely relocated to the newest University of Florida bat barn. Their migration will allow UF staff to dismantle the oldest of the university's three bat houses, which is in danger of complete collapse.
In late August, bats began to move into UF's roomiest bat barn, which had remained devoid of bats since its construction in 2017. It is one of three structures on campus that together comprise the largest occupied bat houses in the world. By mid-September, the southernmost barn was two-thirds full, leaving an estimated 50,000 occupants in the oldest bat house, erected in 1991.
This week, UF Environmental Health & Safety staff are working with a company to gradually exclude the remaining bats from the old house. If all goes according to plan, these holdouts will join their fellow colony-mates in the newest barn.
"We want to make sure the bats relocate to the place that's designed for them," said Chris Carlson, associate director of EH&S' Facility Support Services. "We're happy to have them. We want to make sure they get to a place where they can safely stay as a colony and will continue to provide space for them."
Notoriously finicky about their choice of roost, bats had long spurned UF's newest bat barn – to the bewilderment of UF scientists and staff. The majority of the campus bat colony, which at an estimated half-million bats may be the largest east of the Mississippi River, continued to reside in the original bat house.
Wear and tear from the bats and weather have taken a heavy toll on the house. UF scientists and staff feared the structure would fall, potentially killing bats and sending survivors toward other campus buildings in search of a new home.
After a consultation with nonprofit organization Fly By Night, Inc., UF EH&S staff modified the newest bat residence to make it more hospitable. They increased ventilation in the barn and added landing boards, holes and climbing ropes. Their efforts worked: On Aug. 25, staff noticed about 1,000 bats bunking in the barn. More soon followed, especially after unoccupied sections of the old house, soaked with urine, guano and water, plummeted to the ground after a recent rainy weekend. No bats were harmed in the incident.
A company has attached a special screening material to the underside of the dilapidated house to begin excluding bats. The material allows bats to emerge without tangling themselves but prevents them from re-entering. Staff will monitor the house's occupation level each day and make adjustments accordingly. The final step in the exclusion is the installment of one-way doors. The process of gradually emptying the house of bats will take one to two weeks. After it is completely vacant, staff will dismantle the structure.
They hope to raise funds for a new bat house to replace the old one.
"It seems to take a couple of years for the bats to want to actually start to occupy a house," Carlson said. "We want to make sure we have a house ready to go if something were to happen to one of the other houses."
In the meantime, UF's massive bat colony has likely grown: Pupping season ended in mid-August, with young bats now ready to take flight. The twilight spectacle of bats streaming from the houses includes a new generation of bug-hunters. You can catch the show on any given night about 15 minutes after sunset.
Note: If you spot an uninjured bat on UF's campus, whether in a building or on the ground, contact EH&S at 352-392-1591 during normal business hours or the University Police Department 352-392-1111 afterhours.