Here's what $1 billion in research spending does for UF and for Florida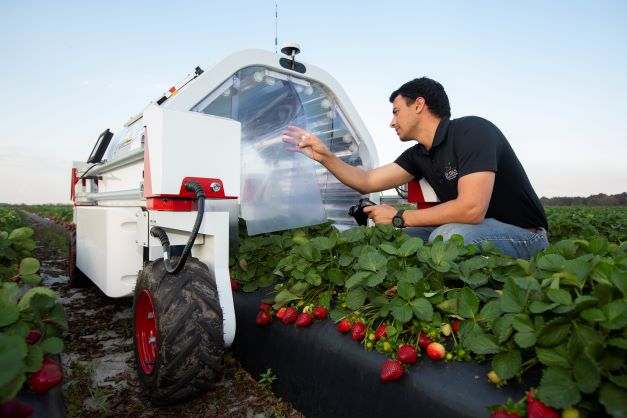 Welcome to From Florida, a podcast that showcases the student success, teaching excellence and groundbreaking research taking place at the University of Florida.
The University of Florida has achieved $1 billion in research spending, an historic milestone that puts UF in a select group of about 15 public universities with expenditures of this magnitude. In this episode of From Florida, Vice President for Research David Norton explains what that means for UF, Gainesville and for the state. Produced by Nicci Brown, Brooke Adams, Emma Richards and James L. Sullivan. Original music by Daniel Townsend, a doctoral candidate in music composition in the College of the Arts.
Nicci Brown: The University of Florida has achieved $1 billion in research spending, a historic milestone that puts UF in a select group of about 15 public universities with expenditures of this magnitude. I'm your host, Nicci Brown and today on From Florida, we're going to talk about this achievement in research spending and what it means for our university and our state. Our guest today is David Norton, vice president for research at UF. Welcome, Dr. Norton.
VP David Norton: It's a pleasure to be here.
Nicci Brown: One billion dollars in research spending. Can you put that in context for it? What does it actually signify?
VP David Norton: What it represents really is the national competitiveness of the researchers here at the University of Florida. It was just 35 years ago where we crossed the $100 million mark for the first time.
Nicci Brown: Wow. So a lot of progress?
VP David Norton: A lot of progress. A lot of progress. Today, we are just one of a handful of universities that have crossed the $1 billion mark. What that really represents is agencies and companies that want to fund the research that we do here. As a sort of measuring point, that represents, at present, nearly 700 projects that are active, are funded by the National Institute of Health to do research and medical research for the world. Around 500 projects active are National Science Foundation awards.
Those are all competitively secured through a proposal process. It really represents the competitiveness of our researchers but, also, it means that we have the staff and infrastructure — and I'll go back to the staff — who are just remarkably professional, who can support all of that activity in such a way that those agencies have confidence to fund the researchers here. So, it really is a remarkable achievement for the entire university, for the community.
Nicci Brown: And we talk about funds, but in a way, really what they're doing is investing in us. They see that we are a good investment for what we are doing and for them and their projects. Does that sound correct?
VP David Norton: It says two things. One is that the ideas that we are proposing are interesting, are potentially groundbreaking. But it also says that the University of Florida is a great steward of resources, of funding. Much of the resources that we secure is public funds, federal or state. And we take that very seriously, as we're doing research to the benefit of the state, of the nation and of the world, that we do that with the highest degree of integrity. But we are pursuing activities and pursuing ideas that are worthy of that investment, so it is really a good thing for the university.
Nicci Brown: And I think that's an important point for people to recognize, too, that this is a place where we're a land grant institution. We recognize that we're working quite often with public funds. And so there are a number of rubrics in place that keeps track of what we're doing, correct?
VP David Norton: Absolutely. We have a great deal of accountability to our federal funders, to the state. But the impact of the research that we are doing, that it is making a difference for those who are funding it, is really the measure, at the end of the day, of why we get funded here and why we were able to achieve this milestone.
Nicci Brown: Let's talk a little bit more about that research. We've got 16 colleges and we've got other entities that are leading in our research. Can you tell us who are the ones that are really at the forefront?
VP David Norton: So, the largest by number is clearly the College of Medicine. And the funding that we get to do research in biomedical and health-related activities, they are the largest. It is around $350 million when we combine what's going on in Jacksonville with the Gainesville campus here. The strengths within that college, there are many. A few are neuroscience, we are very good in that space with the McKnight Brain Institute. Aging, diabetes, cancer, gene therapy. That's just a few of the things that we have significant strengths, really world-class researchers here.
When we look at the research across the campus, the one area where, relative to our peers, we're better than the rest of them is in agriculture research. IFAS [Institute of Food and Agricultural Sciences] is the No. 1 funded research engine at any university in the U.S., in the area of ag. The farmers here in the state of Florida really have the most powerful research engine in the country, trying to work on their problems to make them more competitive in a remarkably diverse group of commodities that the state of Florida is very competitive in. So that's really one of our other strengths, really, compared to others.
When we look at other areas, engineering, cyber security to AI to transportation, we have some significantly well recognized researchers here at the University of Florida. And then to science, whether it's climate on earth or trying to figure out whether there was life on Mars at some previous time, our researchers are answering those questions. And it is remarkably rewarding to be at an institution that has researchers, students, postdocs, who are really trying to unravel those important questions for humankind.
Nicci Brown: And I guess the other impact that we need to talk about is the impact that is on our local and state economies as well.
VP David Norton: Yep. So, it turns out that there are only around 30 cities in the U.S. that have research universities that have $1 billion research enterprises. Gainesville, Florida, is one of those 30. That's remarkable. For the local and state economy, just directly in terms of that type of churn, that type of activity, clearly that has an impact on our local economy and in bringing in folks. But it really is about that impact of the research and how it is moving forward, answering the questions that are relevant to Floridians, to people in this country.
For our agriculture industry, solving problems for them, giving them access to the technologies that are really cutting edge is really, really key. And as we move forward with new technologies, we create companies, it really lays the foundation for future generations to have economic security here in the state of Florida, through the development of high-tech industry.
Nicci Brown: You noted in a column in the Tampa Bay Times that when it comes to university research and the impact on the state, UF does not stand alone. We have a lot of partner universities and organizations. Can you talk a little bit more about the 12 institutions that belong to the state university system and that robust contribution that they're making to the whole state? And compare it on maybe a national scale, because there does seem to be a lot of collaboration going on.
VP David Norton: So, it is remarkable that most people in the state don't realize that the State University System of Florida is the No. 1 ranked system in terms of education and higher ed. That's not by our ranking, that's through U.S. News & World Report. In addition, we are No. 5 in terms of the amount of research that we do as a system compared to any other system in the country. And being a part of that, part of the ecosystem, is really a cool thing for the universities within the state.
At Florida International University, doing research on hurricanes. The University of Central Florida, doing research for space science and technology. Cyber security research at University of South Florida. Quantum technologies at Florida State. And coastal studies at FAMU [Florida A&M University], at Florida Atlantic and other institutions. We really have a robust research community among the institutions, not just individually, but we do a lot of things collectively.
The MagLab is a collaboration between the University of Florida and Florida State. We have other interactions that involve each and every one of those universities, working on health issues, working on climate issues, working on coastal issues. So, it really is being part of a network where we are out there doing really remarkable things of importance for people within the state, within our country and across the globe.
Nicci Brown: And I can only imagine that that is also attractive for people when they're looking on about which universities to fund. The fact that if you're going to fund one of those Florida universities, you are, in many ways, funding a collection of universities.
VP David Norton: Well, I think it's not lost on funding, whether it's from a company or from federal agencies, that Florida is the third largest state by population with a significant diversity in the people that are here. And so, when they fund researchers here at the University of Florida, any of our institutions across the state, they're really making a significant impact on populations.
That can translate across the country. So, yes, I do think that Florida has some strategic advantages. And it's rewarding to see those payoff as we see each of the institutions move forward in both their education and their research portfolios.
Nicci Brown: So, of course, when you are successful, people are always looking for you to build upon that success. So, how are you going to build upon that milestone going forward? It's a great achievement, but we're looking for the next step.
VP David Norton: Well, we worked really hard. When I started 10 years ago, $1 billion was a goal for us. We were shy of $700 million at the time. Quantitative goals are useful, important. It's really what's behind that that makes a difference, the research, the impacts. But milestones are important, but once you hit one, the first thing that you're asked is, okay, how much longer until you hit $2 billion? So, I was like, okay, hold on. Let's enjoy $1 billion for just one second. But I think that at the University of Florida, we are always looking forward, looking at how we are going to leverage the successes we've had today and yesterday into better things tomorrow.
And we are already seeing that take place here on this campus. The acquisition of the Scripps campus in Jupiter has been just a remarkable achievement for us. And we are just beginning to really create this collaboration between the researchers here in Gainesville and those outstanding researchers that are at the Jupiter campus at UF Scripps Research. So that's something that's happening today that's going to set us up to go forward.
You can't be here at the University of Florida and not hear about artificial intelligence. We have new faculty arriving this semester, brand new, who are going to be a part of that AI initiative, both in the workforce development education and the research. Again, it's us moving forward. We see other areas where we do see significant opportunities for growth. Biomedical life sciences is the largest component of our research portfolio. And we see opportunities for UF to be even more competitive.
Nicci Brown: UF is also highly regarded for its success in tech transfer, so moving those innovations and discoveries from lab to market. And you touched upon this a little bit earlier, but can you tell us about some of the highlights of our success in tech transfer?
VP David Norton: So that is something that University of Florida has been good at for quite some time. We've got incubators that have been internationally recognized as the best in the world, three times, with the Sid Martin Biotech Incubator. This year, an organization on this, Heartland Forward, issued a report where they basically scored institutions at how well they do at moving science and research into the marketplace through various means. Whether it's through the transfer of the technology in companies or in the graduates that you have and their impact.
And the University of Florida was the second best overall. Not second best in publics, not second best in the Southeast, second best in the country at moving science and technology into the marketplace. That's a tremendous recognition for the impact and the value that this institution has on the country and on the state. It's not easy, because it's really taking research science, where typically you're done when you publish your paper and you graduate your students, but taking it and saying, is there an idea here that we could use to actually move into the market for impact? And we have the infrastructure and the capability to do that. And that is just very, very rewarding.
We had the director of the National Science Foundation visit with us back in May. And while he was here we featured some companies that were really good in that space, recent companies. We've got a number of successes in the area of biomedical research. Our transition from a research laboratory that was here known as Florida Biologix to Brammer Bio, to eventually getting acquired by Thermo Fisher Scientific for $1.7 billion, is a remarkable achievement for the campus.
But in terms of other type of activities where we've seen success, Sinmat, which was a company started by Deepika Singh here in Gainesville with her husband, Rajiv, who was a faculty member in the College of Engineering, was acquired by a company for several tens of millions of dollars, in semiconductor manufacturing. Rapid Genomics is in the ag school. Again, a very successful company. Satlantis is launching satellites in space, using launches from Cape Canaveral just this past May.
So seeing that success, seeing that translation of ideas and science into things that have impact on people, not just in the state, not just here in Gainesville, but across the globe, again, is a part of this job that's just remarkably rewarding. And being a part of a community that does that and does it well, is just a really cool thing.
Nicci Brown: You mentioned that we recently had a visit from the director of the NSF, Dr. Panchanathan. Did I pronounce that correctly?
VP David Norton: I hope so. You'll have to ask the director.
Nicci Brown: I hope so, too. Can you tell us a little bit more about that? I know that was a really remarkable visit, both for the director, but also for everyone here at UF.
VP David Norton: So, we were real excited to have him here. I knew Dr. Panchanathan — he goes by Panch to those that know him — he was the vice president for research at Arizona State University. A great colleague there and was named to be the NSF director recently. Getting him here to campus to show what we have was really a remarkable opportunity. Both myself and President Fuchs, really knowing Panch and his energy and his vision for the National Science Foundation, was a great opportunity to get him here to Gainesville to show him what we do and do well.
We showed him two really focused things. We showed him a lot of stuff, because he's high energy and you couldn't wear him out if you tried. The first was focusing on our successes in tech transfer and the companies that we have been able to develop, to nurture, to see them emerge onto the marketplace. Again, this is an important part of our mission as a public university, as a land grant university, and showcasing that to the director was very rewarding.
The second was the artificial intelligence initiative. We were fortunate to have some of our colleagues from the state college, from FAMU, join us here. Because again, we were collaborative with them in bringing them into this. And they've been tremendous partners with us in that space. And we were able to highlight how we are taking artificial intelligence, moving it into curricula across the entire university, moving it into workforce development outside the university and doing cutting-edge research where we are applying artificial intelligence to solve problems.
And again, it was a great chance for us to get in front of the director. The National Science Foundation is important for the country in terms of what it does. It really does fund that initial basic science, curiosity-driven, where we're trying to answer questions that are out there in the science. And it has the highest level of peer review. So for us to get him here, to feature some of our best researchers, young and old, was a really good thing.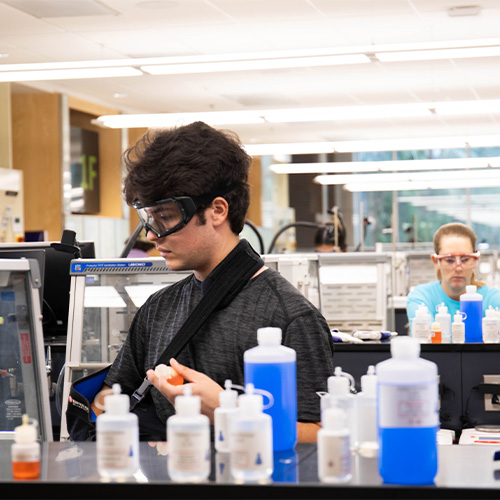 Nicci Brown: You mentioned young and old researchers. One of the things that we often hear about during our conversations on From Florida is some of the students who are undergraduates, who are involved in research, and that must be rewarding for you as well.
VP David Norton: Well, having just turned 60, it seems that the students get younger and younger every year. And I think it's me, that I'm getting older every year. I think that's what's happening. When I came to the University of Florida in 2000 as a faculty member, one of the things that really struck me was how good our undergraduate students are. The graduate students are fantastic. They are people who have gone through their undergraduate experience. They have enlisted to be at that next level. But our undergraduates, the majority of them here from the state of Florida, are just tremendous in terms of their energy, of their idealism and their capacity to learn, to contribute.
At a big place like the University of Florida, one of the opportunities for undergraduates is to become engaged in the research at various levels. Whether it's in the medical area, whether it's in engineering, whether it's field studies, where it's computational studies, the capacity, the ability to engage with world-class researchers, side-by-side with graduate students, is something that enriches the experience for students here. It engages them in seeing what it looks like. Not just to learn the book knowledge that's there, but to actually ask questions that are unanswered and see if we can create maybe one or two lines that might be used in a future textbook to say, "And this is the answer to this particular question."
That's a lot harder than just reading the answer because you don't know what the result of your research will be. Having undergraduate experience that is really good and something that we do here at the University of Florida, across the colleges. Having all 16 colleges on the same property really gives that opportunity for that cross-disciplinary activities, where you're interfacing with people within the discipline you're studying, but also outside. So, I think it really enriches the educational experience, certainly for the graduate students that are the most important component of the educational part of the research. They're incredibly important. But the undergraduates as well, as they get into that mix.
Nicci Brown: And we're about to welcome a new president. This has all got to be, I guess, a cornucopia I guess, for any new president that's coming in, to see all of these incredible achievements — the undergraduate research, the AI, the funding that you've been able to attract. How irresistible for someone to — how could they resist?
VP David Norton: So, I think that as you look at the opportunity for those in leadership in higher education, to be at a place that is educating close to 60,000 students every year, to be at a place that's making an impact on all counties in a large state like the state of Florida, to be at a place that has a research portfolio that is answering the most important questions about climate, about health, about agriculture. That's a great opportunity. I suspect that the person coming in will look at it and a large part of coming here will be a desire to be a part of an institution that is making that type of impact.
But at the same time, it should be someone who looks to see, well, how can we take that next step? What questions are out there that we need to address that are even better? How can we be better at educating our students? How can we better at serving the needs of the state of Florida? And really leveraging the successes that we've had here.
It's a big state. The university has seen significant advances in recent years in our ranking in U.S. News and the research, but with more recognition comes more expectation. And more responsibility to lead, not just within the state, but nationally and internationally. You want a president who wants to take on that challenge.
Nicci Brown: And to build the momentum.
VP David Norton: I think we're well positioned to recruit that kind of person. I look forward to seeing who that will be, she or he.
Nicci Brown: Well, it sounds like we've got a lot to be proud of, as you said, not just here at the University of Florida, but in universities throughout the state and throughout our public in the state and the nation, and for all of our partners around the globe as well. So, thank you.
VP David Norton: Thank you. It's a privilege to be here.
Nicci Brown: Listeners, thank you for joining us. Our executive producer is Brooke Adams. Our technical producer is James Sullivan and our editorial assistant is Emma Richards. I hope you'll tune in next week.