Historic first as Mary McLeod Bethune statue installed at the U.S. Capitol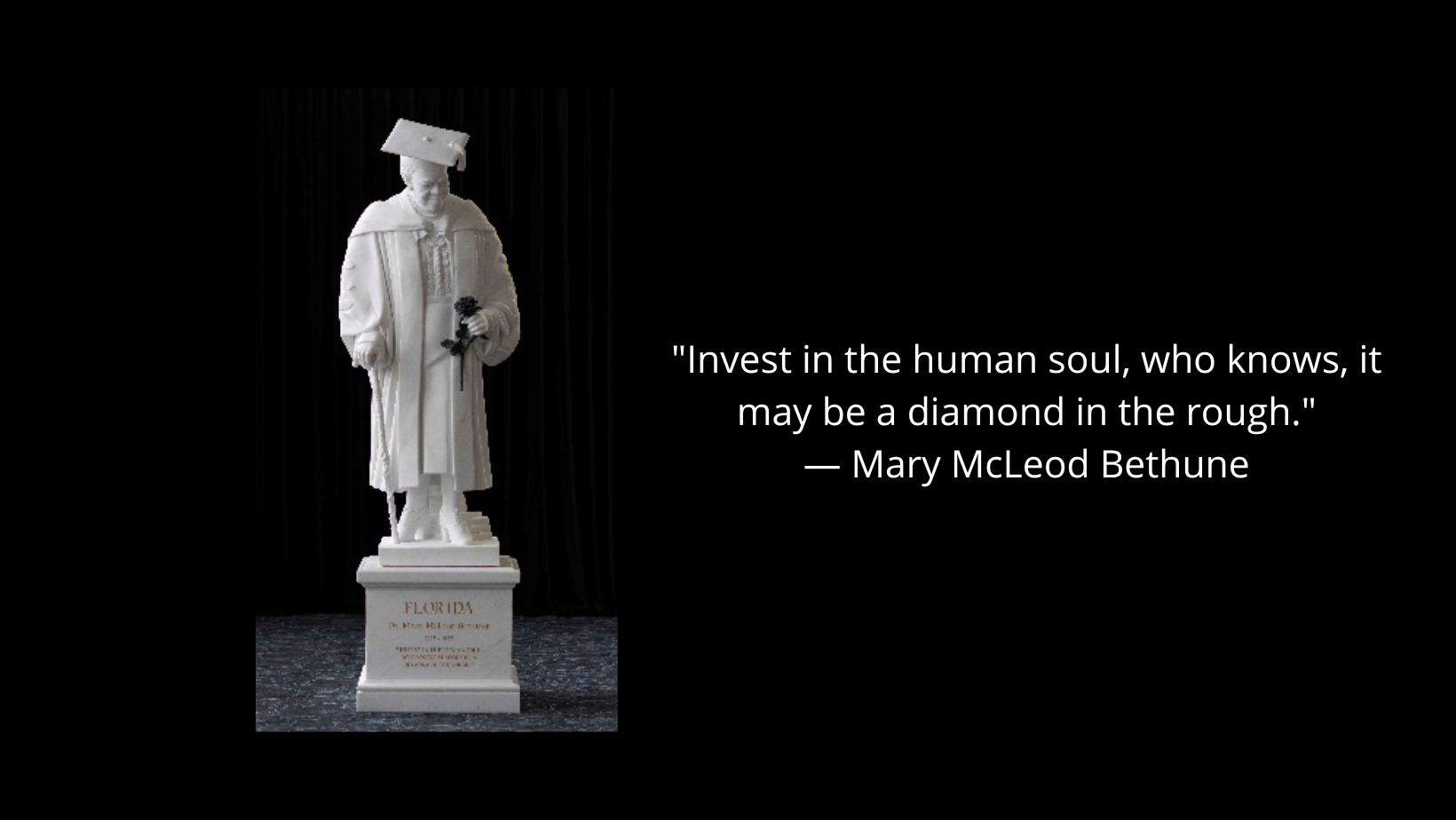 A monumental step in history took place July 13 as a statue commemorating world-renowned Florida educator, pioneer and activist Mary McLeod Bethune was unveiled at the U.S. Capitol's Statuary Hall.
Bethune's statue will represent Florida, making her the first Black person selected by a state for National Statuary Hall. Florida's other statue is of John Gorrie, the inventor of an air-cooling machine.
"Dr. Mary McLeod Bethune was an accomplished Floridian whose efforts as an influential leader, educator and civil rights activist made her one of our nation's most notable figures," said Nancy Rae Lohman, who led fund-raising efforts for the statue. "Dr. McLeod Bethune's statue will represent the best of who we are as Floridians."
The statue of Bethune is intended to embody her passion for education and admiration for people. The sculpture depicts Bethune with a stack of books, a graduation cap and gown, a cane, a black rose and a gentle smile. She is standing atop a marble slab engraved with the state of Florida, her full name, her birth and death dates and a quote of hers that captures her essence: "Invest in the human soul, who knows, it may be a diamond in the rough."
Bethune's statue was created from the last piece of statuario marble taken from Michelangelo's cave in Italy. It was crafted by Nilda Comas, the first Hispanic American woman to sculpt a piece for Statuary Hall.
UF alumna Yolanda Cash Jackson, a lobbyist for Bethune-Cookman University who joined the statue project in 2016, was in Washington, D.C., for the unveiling.
"During this journey to get Mrs. Bethune to Statuary Hall it really helped me realize no matter your situation in life you can make an impact," Jackson said. "She was able to bring women together, she was able to bring people from different places together, she was able to bring people who did not look like each other together. She created things where there was a need, and she used the resources she had."
Statuary Hall is home to 100 statues of influential figures in American history, with each state contributing two statues for the display. The Bethune statue replaces one of Edmund Kirby Smith, a Confederate general, that was removed in 2021.
Paul Ortiz, a professor of history and director of the Samuel Proctor Oral History Program at the University of Florida, says Bethune's courage and legacy make this statue selection remarkable.
"Mary McLeod Bethune is one of the greatest individuals in the United States," he said. "I think in terms of her contributions to education, politics and democracy, she really was a person before her time."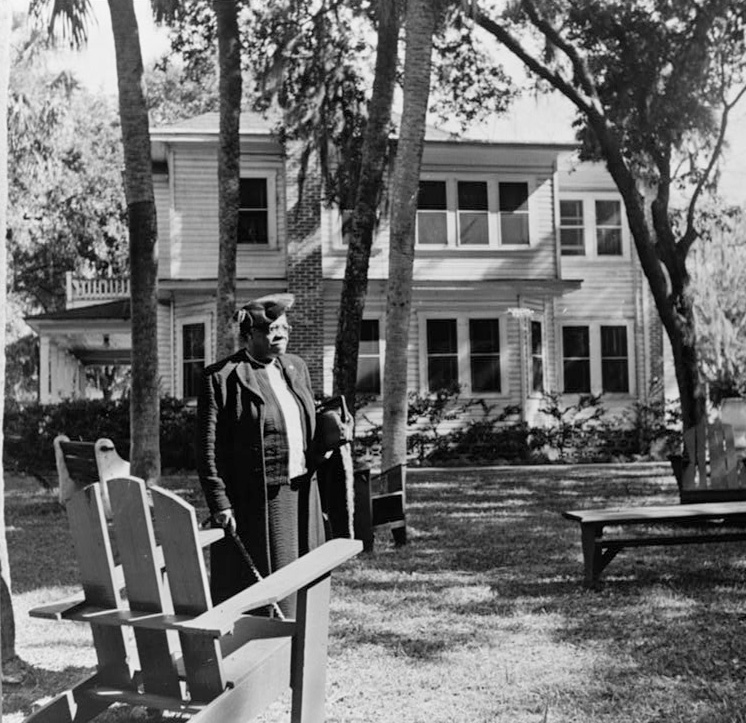 Bethune was an avid activist and educator who was committed to advancing civil rights for all, with a focus on Black Americans, women, people in colonized nations and children. Bethune was an advocate for women's suffrage years before the ratification of the 19th Amendment and advocated for civil rights long before the Civil Rights Movement. Her ambition and dedication to change landed her a role as an adviser to five U.S. presidents and a seat at the founding of the United Nations.
Her ties to Florida lie in Daytona Beach, where she opened a school for young Black girls, which eventually merged with another academic institution to become Bethune-Cookman University. Ortiz says students from Bethune-Cookman and people across the world hope to continue her legacy.
"She passed away in 1955 and there's still this presence that she has," Ortiz said. "Not only in Daytona, but really in American history."
Several Florida universities, including UF, are participating in a statewide summit hosted by Florida International University on equality in education July 13-14 in Washington, D.C., to celebrate the statue's unveiling and unite college student leaders with the potential to follow Bethune's lead in educational advocacy. Bethune-Cookman University and Florida Agricultural and Mechanical University are also scheduled to take part in the summit.
At the symposium, students — including five from UF — will attend seminars, tours, round table discussions and idea exchanges. They will also reflect on Bethune's legacy.
Learn more about Statuary Hall at this link: https://www.aoc.gov/explore-capitol-campus/art/about-national-statuary-hall-collection