When animals are injured during storms, this team is there to help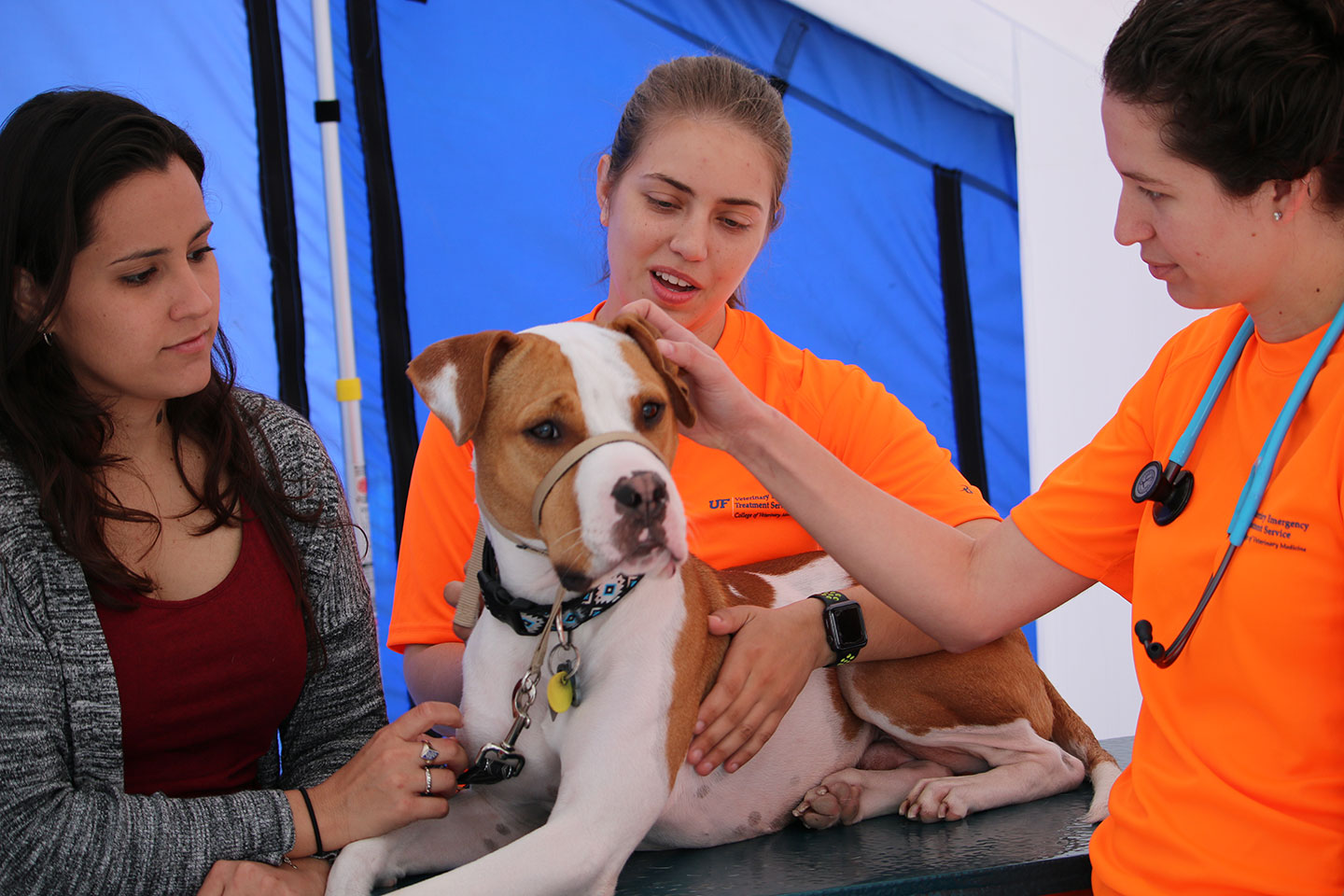 The urgent pleas for veterinary treatment still haunt Lawrence Garcia, a University of Florida clinical assistant professor and veterinarian.
Hurricane Irma had swept through Key West in 2017. The Category 5 storm left unevacuated pets, strays and livestock that escaped from destroyed fences or barns, injured and defenseless.
But the UF Veterinary Emergency Treatment Service (VETS) disaster response team, made up of veterinarians, emergency responders and students from the UF College of Veterinary Medicine, mobilized quickly to help those animals with emergency care using triage, gas anesthesia and basic surgery.
The team's charge is to assist animals stuck in sinkholes, mud, water, gorges, overturned trailers and other difficult-to-reach places. In extreme cases, the team stands up tents or trailers to create veterinary field hospitals, bringing ropes and rigging equipment, generators, fuel, medication and other supplies. In the event that weather conditions make a field hospital not feasible, UF VETS partners with local organizations to treat animals in temporary shelters.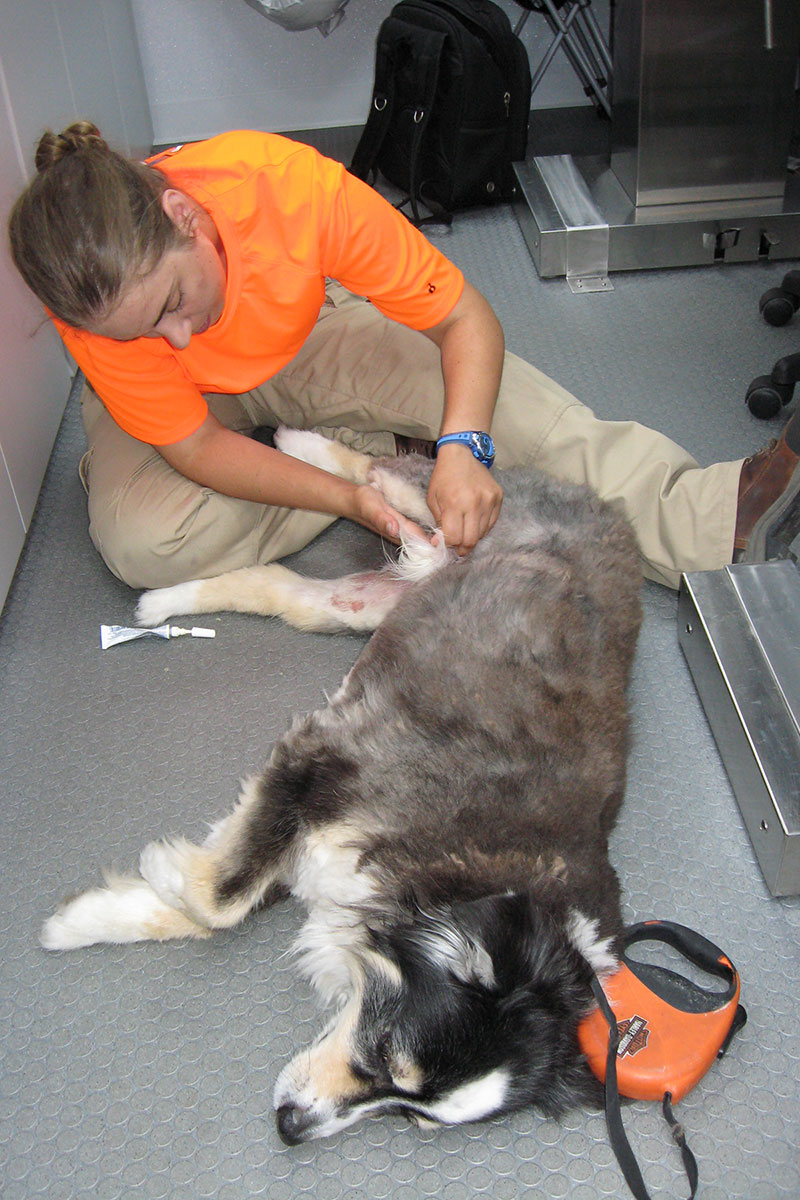 This year, as forecasters predict a busier-than-usual hurricane season for Florida, Garcia, the team's medical director, says the team will be ready.
"Once June 1 hits, the go-bag is either in the car or at-the-ready," he said. "If I'm at work, I can load up and go."
UF established the program after a series of severe storms swept through Florida consecutively in 2004 and 2005. Hurricanes Charley, Frances, Jeanne, Wilma and Katrina devastated communities and injured animals, drawing attention to the need to create a deployable veterinary disaster response team.
Since then, the group has responded to several types of animal emergencies, including hoarding cases, fires, disease outbreaks, oil spills and, once again, hurricanes like Irma and Matthew. UF VETS can be requested to deploy out-of-state in emergency cases, although it mostly operates in Florida.
To prepare for disasters, the team runs mock drills on campus that expose trainees to potential scenarios and test the existing procedures and protocols. Students also train for large animal technical rescue, which could include rope rescue, confined space rescue, vehicle/machinery rescue or structural collapse rescue.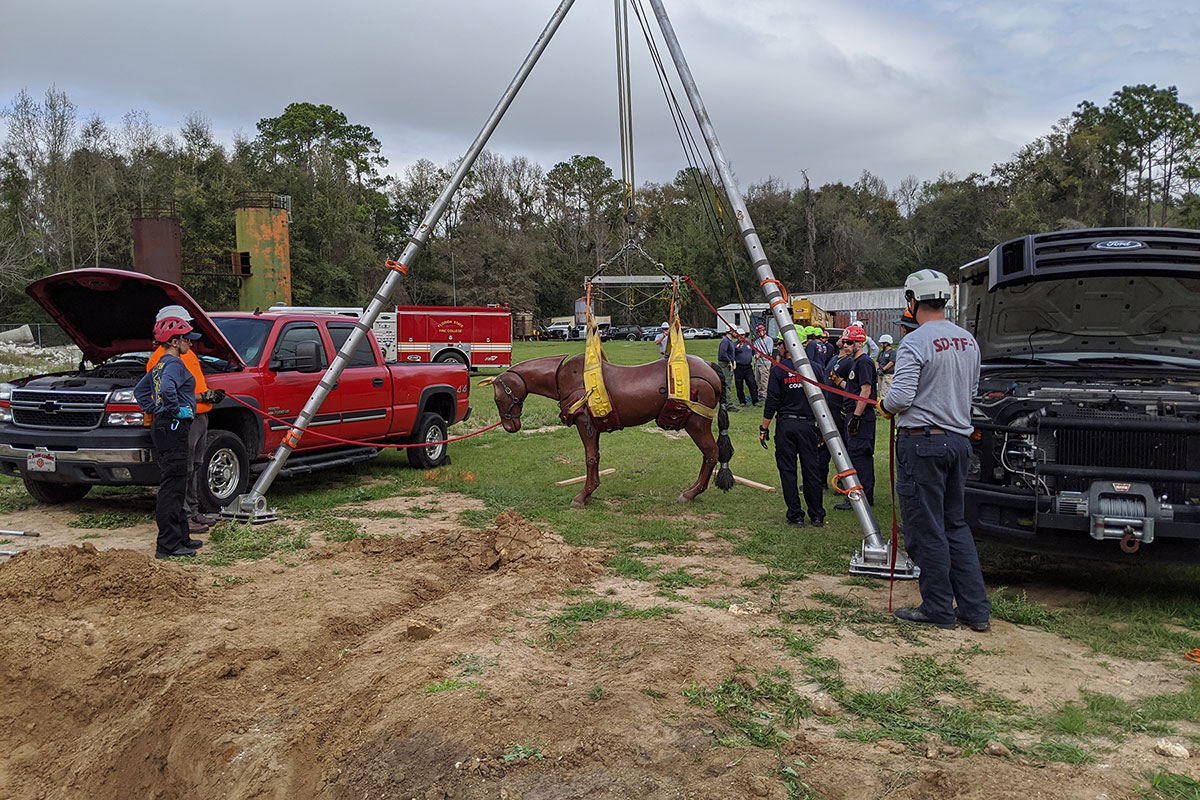 "It's really good for the students, because they get the opportunity to see and think through a case," he said. "An actual disaster is not going to be straightforward and simple." Members also train with resources available for local disaster response teams and test their own supplies to ensure they will work during an emergency. In unpredictable environments, preparation is important, Garcia stressed.
"We are always in a dynamic state of updating and improving so that we are most ready for what comes," he said. "Because you just never know."