Why this businessman returned to UF for an online master's — after almost 50 years
It's never too late to go back to school. At least that's what 79–year-old Charles Roberson believes.
Roberson is the oldest graduate of the University of Florida's Spring 2022 class. He received a Master of Science in Entrepreneurship from the Warrington College of Business.
"When I began my graduate studies, I had not been in a college classroom for almost fifty years, though I have been in numerous similar settings while in the corporate world," he said.
Roberson founded a company in 2001 that used computer gaming tools and techniques to develop operator training programs for pharmaceutical equipment, such as using equipment to make vitamin C tablets. The company went under in 2016.
"The reason why I pursued this master's was to understand the mistakes I made and why the company went out of business. I found my answers," he said. "I learned that I was promoting a technology; I was not managing a company."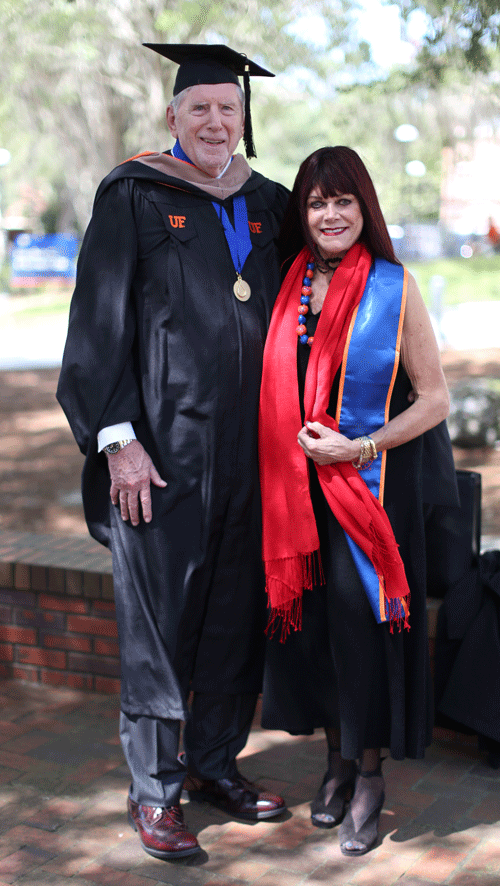 Roberson was one of 13 students who graduated with the Thomas S. Johnson Master of Science in Entrepreneurship this spring. He received a Bachelor of Science in computer sciences in 1973 and chose UF for his master's degree because he is a life member of the UF Alumni Association and a Florida resident.
Roberson pursued this degree online while residing in The Villages — 60 miles south of the Gainesville campus. His favorite part of the program was that most of his professors presented their classes asynchronously, meaning Roberson could study on his own schedule.
He has three children, eight grandchildren and four great-grandchildren. His wife of more than 40 years, Donna Gaines Roberson, attended the ceremony.
Roberson doesn't think this will be his last time in a virtual classroom.
"I have enjoyed the experience of learning during the past two years pursuing my master's degree and intend to continue learning either by pursuing another master's degree or another bachelor's degree," he said.