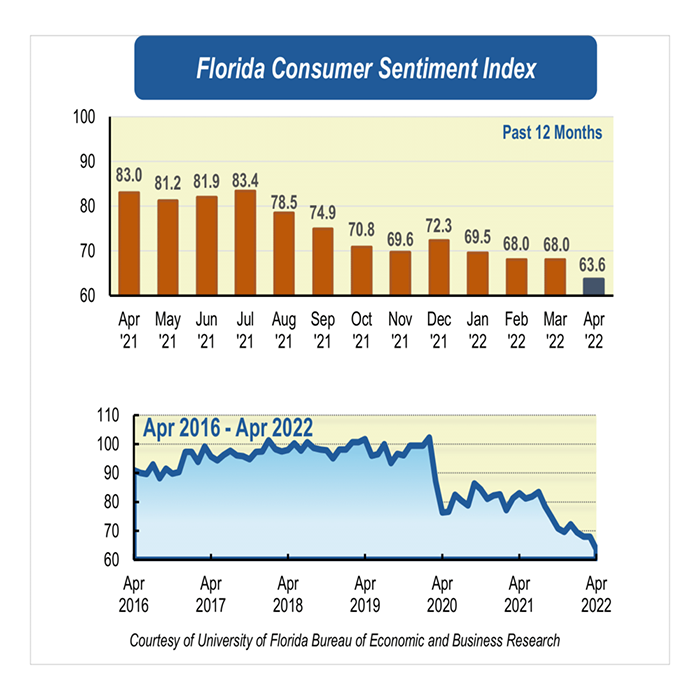 Inflation drives April consumer sentiment down to record low level
GAINESVILLE, Fla. — Consumer sentiment among Floridians plummeted 4.4 points in April to 63.6 from a revised figure of 68 in March, reaching its lowest level in the last 10 years.
"April's drop is not surprising considering that prices have risen sharply for several consecutive months, straining household budgets and decreasing purchasing power. However, it is noteworthy that consumer sentiment is nearly 10 points lower than when the pandemic struck two years ago," said Hector H. Sandoval, director of the Economic Analysis Program at UF's Bureau of Economic and Business Research.
All five components that make up the index decreased.
Floridians' opinions about their personal finances now compared with a year ago dropped 3.1 points from 62.2 to 59.1. Similarly, opinions as to whether now is a good time to buy a major household item like an appliance decreased 3.7 points from 55.5 to 51.8. Notably, these downward readings were shared by all Floridians across sociodemographic groups; however, they were particularly strong among people older than 60.
"Floridians' views regarding current economic conditions deteriorated in April. Surprisingly, responses to the question of whether now is a good time to buy a big-ticket item, which captures consumer spending intentions, hit their third lowest level since the series began tracking consumer sentiment in 1985. The lowest level for this component was recorded in April 2020, as a result of the uncertainty and economic damage brought by the pandemic, and the second lowest level was recorded in June 2008 during the Great Recession. Currently, spending intentions have been trending downward over the last few months as inflation has risen consistently, reaching record levels and prompting the Fed to increase interest rates in the short run," Sandoval said.
Likewise, the three components on future economic outlooks declined among Floridians in April. Expectations of personal finances a year from now dropped 6.4 points from 80.6 to 74.2, the steepest decline in this month's reading. Similarly, expectations about U.S. economic conditions over the next year decreased 5.6 points from 68.7 to 63.1 and expectations of U.S. economic conditions over the next five years dropped 3.6 points from 73.2 to 69.6. These negative expectations were shared by all Floridians except for women and people with an annual income above $50,000, who reported slightly more favorable views regarding the nation's economic outlook over the next five years.
"Overall, Floridians are more pessimistic in April. Looking ahead, considering the Fed's planned increments in the interest rate, which will raise borrowing costs and slowdown actual spending, along with the war in Ukraine and the recent supply chain disruptions caused by China's pandemic lockdowns, both of which will push prices up in the short term, we expect consumer sentiment to remain depressed in the months to come," Sandoval added.
Conducted March 1 through April 28, the UF study reflects the responses of 201 individuals who were reached on cellphones and 294 individuals reached through an online panel, a total of 495 individuals, representing a demographic cross section of Florida. The index used by UF researchers is benchmarked to 1966, which means a value of 100 represents the same level of confidence for that year. The lowest index possible is a 2, the highest is 150.
Details of this month's survey can be found at https://www.bebr.ufl.edu/florida-consumer-sentiment/.