College of Nursing's first African American graduate honored at pinning ceremony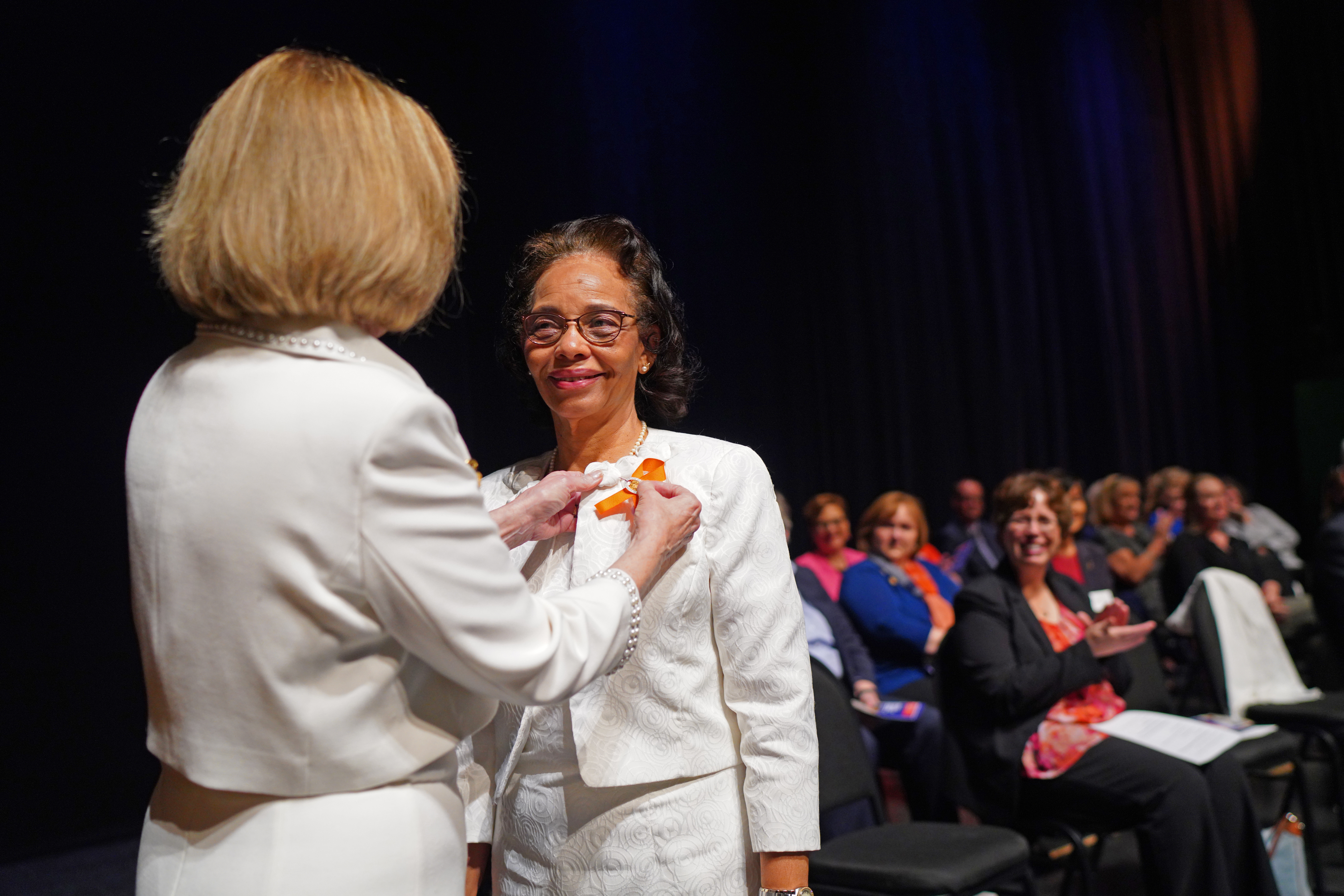 Evelyn Moore Mickle, the first African American nursing student to graduate from the University of Florida, was honored as the 2022 College of Nursing Alumnus of the Year at the college's recent pinning ceremony.
One of five African American students invited to the College of Nursing after UF decided to integrate in 1965, Mickle was the only one who managed to complete her degree at UF – graduating in 1967.
Mickle described her early life in her speech after winning the award as "a case study of an unsuspecting farm girl. To quote Charles Dickens, 'It was the best of times, it was the worst of times.'"
She chose to become a nurse after her brother got sick when they were children and was taken to a hospital in Live Oak, where she lived. He was placed in a ward meant for African American patients with little care and staff, which meant Mickle took on the role of caring for her brother and others when she visited.
Her brother's condition worsened to the point where he was transferred to a UF hospital. There, she knew better care existed not only for her brother but for other African Americans as well. She desired to make a difference for them.
On her first day of classes at UF, Mickle remembered being nervous about finding her classes and having the right school supplies. She never thought to be nervous about how she would be treated.
A couple of the College of Nursing faculty during Mickle's time tried to discourage her from finishing by giving her more patients and more difficult cases than her peers. She was also encouraged by faculty to transfer to Florida A&M University, a historically Black university, and called an embarrassment to the nursing profession after failing an exam.
The nursing pinning ceremony is a symbol of the nursing students' hard work and dedication towards their coursework and clinicals and is designed to welcome students into the nursing profession. Mickle did not attend her pinning ceremony as a student because she felt so disconnected. This Spring 2022 ceremony was her first official UF Nursing pinning ceremony.
"The pin has become a public symbol of excellence worn on the nurse's uniform and is first put on at a nursing ceremony. I love that it signifies each nurse's alma mater," she said. "This time-honored tradition is even more meaningful."
In 2016, Dean Anna McDaniel of the College of Nursing was honored to officially pin Mickle during a UF ceremony honoring Black History Month.
Mickle's late husband, retired federal judge Stephan Mickle, was UF's first African American undergraduate and second African American law school graduate, first African American judge in Alachua County, first African American federal judge in Florida and UF's first African American Distinguished Alumnus Award recipient.
"I am a nurse. I am a UF gator nurse," she said. "And no amount of adversity can change that. No more than I can change my race or origin."