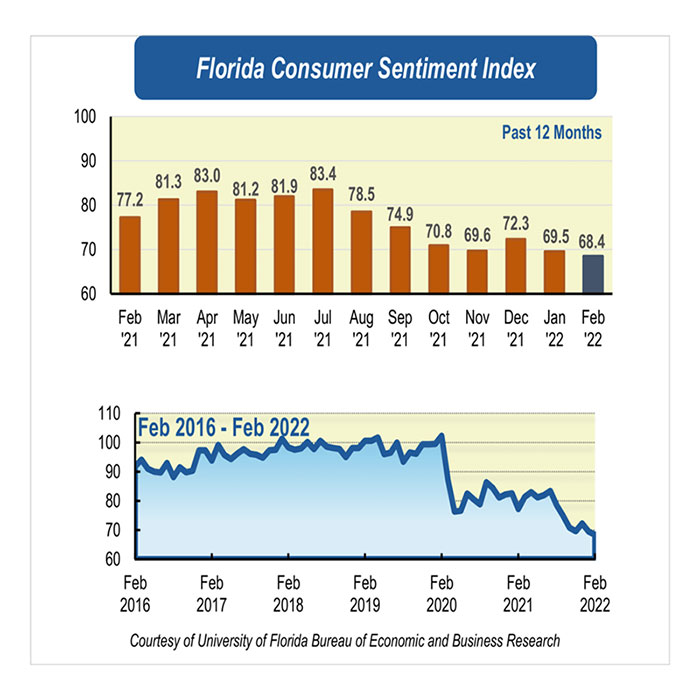 February consumer sentiment slides to lowest reading in a decade
GAINESVILLE, Fla. — Consumer sentiment in Florida slipped for a second consecutive month in February to 68.4, down 1.1 points from a revised figure of 69.5 in January and reached its lowest level in the last 10 years.
Among the five components that make up the index, one increased and four decreased.
Floridians' opinions about their personal finances now compared with a year ago decreased 1.5 points from 65.1 to 63.6. Similarly, opinions as to whether this is a good time to buy a major household item like an appliance dropped 3 points from 57.3 to 54.3, the largest decline in this month's reading. These downward readings were particularly strong among people younger than 60, though these pessimistic views were shared by all Floridians with the exception of people 60 and older, who reported more favorable views to both components.
"Floridians' views regarding their current economic situation deteriorated in February. Particularly, opinions about personal finances now compared with a year ago have fallen to the lowest level in the past eight years. This is not surprising given that consumers are paying more for necessities such as food, energy, and housing. Last month, the annual rate of inflation reached a four-decade high of 7.5%. While job creation has been strong and wages have risen due to a tight labor market, higher consumer prices are absorbing some these gains," said Hector H. Sandoval, director of the Economic Analysis Program at UF's Bureau of Economic and Business Research.
Floridians' expectations about future economic conditions were mixed. Expectations of personal finances a year from now decreased 1.1 points from 82.5 to 81.4. Similarly, expectations about the U.S. economic conditions over the next year decreased slightly one-tenth of a point from 68.8 to 68.7. However, outlooks of U.S. economic conditions over the next five years increased six-tenths of a point from 73.5 to 74.1. While the expectations in each component were split across sociodemographic groups without any discernible pattern, people with an annual income over $50,000 consistently reported negative expectations across these three components.
Florida's economy has continued to improve, especially in terms of employment. Initial unemployment claims in Florida, an indicator of layoffs, are comparable to the period before the pandemic, suggesting that labor demand is strong. "Despite the robust gains in employment, except for the spending intentions component of the index, the four remaining components are all below the levels recorded during the worst point of the COVID-19 recession in April 2020," Sandoval said.
"Since the global economy is still recovering from the supply shocks associated with the pandemic, we expect consumer sentiment to remain low in the months ahead. In addition, Russia's invasion of Ukraine could disrupt energy supplies and exacerbate inflation in Europe and elsewhere, which would adversely affect the economic recovery," Sandoval added.
Conducted January 1 through February 24, the UF study reflects the responses of 284 individuals who were reached on cellphones and 285 individuals reached through an online panel, a total of 569 individuals, representing a demographic cross section of Florida. The index used by UF researchers is benchmarked to 1966, which means a value of 100 represents the same level of confidence for that year. The lowest index possible is a 2, the highest is 150.
Details of this month's survey can be found at https://www.bebr.ufl.edu/florida-consumer-sentiment/