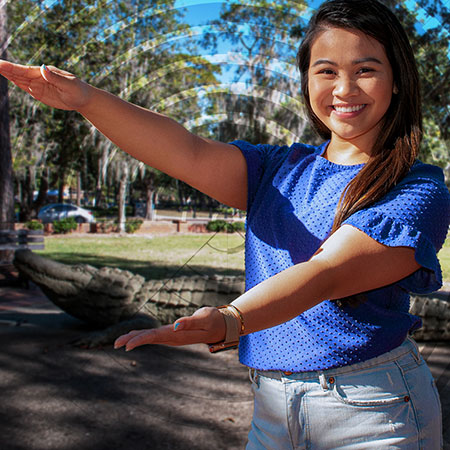 UF Online announces partnership with Amazon's Career Choice program
GAINESVILLE, Fla. – UF Online, the University of Florida's top-ranked online bachelor's degree program, announced an education partnership with Amazon's Career Choice program today in which the company will fully cover tuition and fees for its Florida hourly employees that gain admissions to and enroll in one of UF's 25 bachelor's degrees via UF Online. The partnership will go into effect for Amazon's hourly Florida employees starting in the fall semester.
Recently ranked the No. 1 online bachelor's degree program in the nation by U.S. News & World Report, UF Online frequently leverages new partnerships to increase Floridians' access to higher education. This year, UF launched the UF Online Gator Pathways program, which is designed to welcome and support students as they pursue their own best path to the University of Florida to earn their bachelor's degrees. The partnership with Amazon is one component of the UF Online Gator Pathways strategy focused on industry partnerships that remove barriers for employees and allow them to earn degrees while in the workforce. Participants in the program are subject to the same admissions standards as all UF applicants.
"By covering UF Online tuition and fees for their admitted workers, Amazon is giving its employees an opportunity to earn a degree from a top-tier university in programs that are designed to provide flexibility for people in all stages of life,' said Joe Glover, UF's provost and senior vice president for academic affairs. "By removing the barrier of cost, this partnership will give Floridians another avenue to advance their careers and prosper in a fast-growing workforce,"
Today's announcement is a testament to UF Online's increased leadership in education both nationally and statewide. Given its exemplary standing in online education, UF Online has earned recognition and trust from one of the world's largest and most influential companies.
"We're looking forward to the University of Florida coming on board as an education partner for Career Choice, adding to the hundreds of best-in-class offerings available to our employees," said Tammy Thieman, global program lead of Amazon's Career Choice program. "We're committed to empowering our employees by providing them access to the education and training they need to grow their careers, whether that's with us or elsewhere."
"UF Online is the national leader in online bachelor's education," said Andy McCollough, UF's associate provost for teaching and technology. "Joining Amazon's Career Choice program enables UF to extend new educational opportunities statewide and is reflective of the value of a UF degree."
Since its inception, more than 50,000 Amazon employees have benefited from the Career Choice program to advance their education and careers, with minority groups making up more than half of all participating employees. The most popular fields of study among Career Choice participants include healthcare, transportation, and information technology.
Amazon team members across Florida should contact their employer to learn more about how to join the Career Choice program. Employees must apply to UF Online by May 7 to be considered for Fall 2022 admission.
UF, ranked No. 5 in the list of best public universities by U.S. News & World Report, launched UF Online In January 2014.