UF research spending at record $960 million in 2021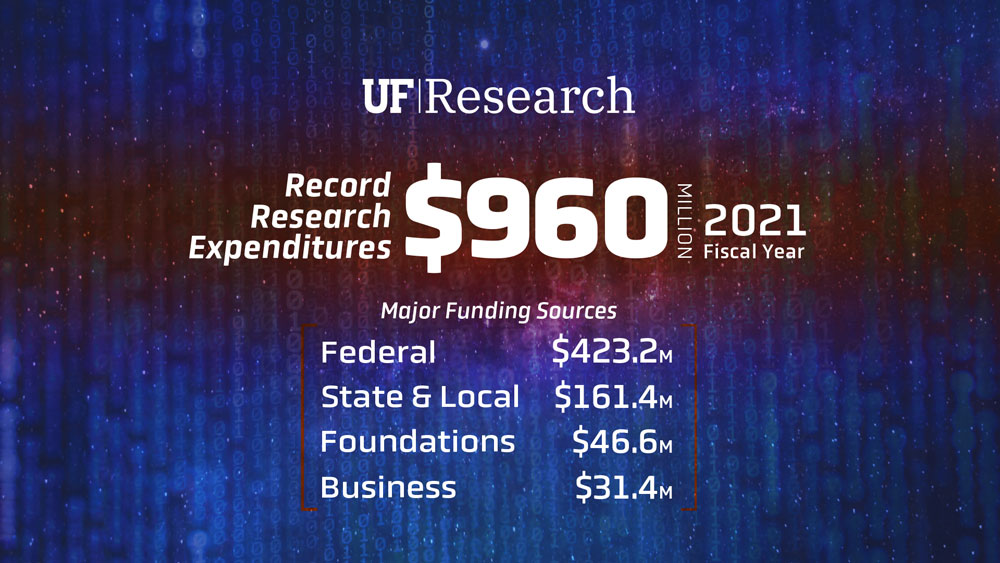 University of Florida faculty conducted a record $960 million in research during fiscal year 2021, according to data submitted to the National Science Foundation last week.
UF's submission to the NSF's annual Higher Education Research and Development, or HERD, survey reported a $17.8 million increase over the previous record of $942.2 million set in 2020.
"Even amid persistent uncertainty about the pandemic, which plagued everyone last year, UF researchers continued to pursue new insights and discoveries that will impact the lives of patients, farmers, entrepreneurs and countless others for years to come," said David Norton, UF's vice president for research. "The University of Florida has built a research enterprise that is superbly equipped to tackle the problems of today and tomorrow."
The university had almost 7,800 active awards in 2021. The federal government accounted for $423.2 million of the total; state and local governments, $161.4 million; foundations, $46.6 million; and industry, $31.4 million. Other sources include institutional funds and gifts for research.
Life sciences research — including health and agriculture — totaled $707 million. The U.S. Department of Health and Human Services, including the National Institutes of Health, is UF's largest funding source, followed by the U.S. Department of Agriculture (USDA). Engineering and computer sciences accounted for $137.9 million, while earth and physical sciences — like geology, astronomy, chemistry and physics — and mathematics accounted for $44 million. Many of these are funded by NSF. Psychology, the social sciences and humanities accounted for the balance of the funding.
"UF's research enterprise is a jewel in the crown that is Florida's State University System," said Mori Hosseini, chair of UF's Board of Trustees. "The UF research powerhouse brings incredible value to the entire state of Florida as our talented faculty members and students solve the most vexing issues we face. They never run away from a challenge."
NSF collects expenditure data from universities around the country and compiles it into a report that will be released later this year. In its last report, based on fiscal year 2020 data, UF ranked 16th among public universities in research expenditures.
Major projects currently underway include:
A $15 million study through UF's Institute of Food and Agricultural Sciences to determine if carinata, a variety of mustard whose seeds are a promising biofuel, can be established as a winter crop in north Florida, giving farmers another income source while providing a sustainable fuel. The project is funded by the USDA's National Institute of Food and Agriculture.
A collaboration with NVIDIA, a Silicon Valley-based technology company and key partner in UF's artificial intelligence (AI) initiative, to use AI to quickly draw insights about diseases and treatment effectiveness from tens of millions of electronic medical records.
A $9 million effort led by cybersecurity researchers from UF's Herbert Wertheim College of Engineering and The Ohio State University to make computer chips more secure and to provide a comprehensive workforce training and education program in areas related to microelectronics design and security.
UF research expenditures account for about 40% of the 12-institution State University System of Florida's $2.3 billion annual research enterprise.
"I'm grateful to our faculty for their continued dedication and excellence in growing our research enterprise," said UF President Kent Fuchs. "Thanks to them, we are not only creating new knowledge and new technologies, but also supporting unique learning opportunities for UF students and helping to spur economic development statewide."
Source: David Norton, dpnorton@ufl.edu
Writer: Joseph Kays, joekays@ufl.edu