U.S. News & World Report names UF No. 1 in the country for online bachelor's degrees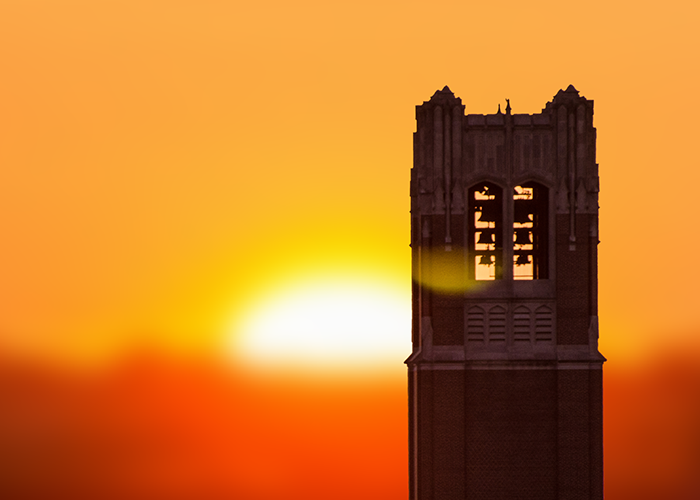 GAINESVILLE, Fla. — UF Online, the University of Florida's online bachelor's degree program, is No. 1 in the nation, according to the latest rankings released today by U.S. News & World Report, recognizing UF's excellence in delivering world-class educational opportunities across platforms.
The announcement, which comes at the heels of UF being named the No. 5 public university in the country, marks the first time UF has earned the top spot for online bachelor's degree programs. Several of UF's online master's programs also ranked among the top in the country, including Education (No. 2), Master of Business Administration (No. 5), Engineering (No. 12) and UF's non-MBA Business programs (No. 21). Additionally, U.S. News recognized UF's online programs as among the top in the country for veterans, with the MBA program earning the No. 1 spot nationally. UF also ranked No. 2 in the list of best online bachelor's degree programs for veterans.
Across categories, the rankings symbolize UF's upward trajectory as well as year-over-year gains in metrics such as student-teacher ratio, graduation and retention rates and the value of each student's degree after graduation. Embry-Riddle Aeronautical University, in Daytona Beach, tied with UF for the top spot, acknowledging Florida's leadership in the area of online education.
"Due to a sustained state investment as well as institutional focus, UF provides a high level of excellence in online education for students that is recognized by our comprehensive national rankings," said Joe Glover, UF's provost and senior vice president of academic affairs. "Online education is not simply a matter of transferring in-person classes to an online format. Rather, our nationally recognized faculty and staff have established an impactful, fulfilling and supportive online educational environment that results in exceptional student outcomes."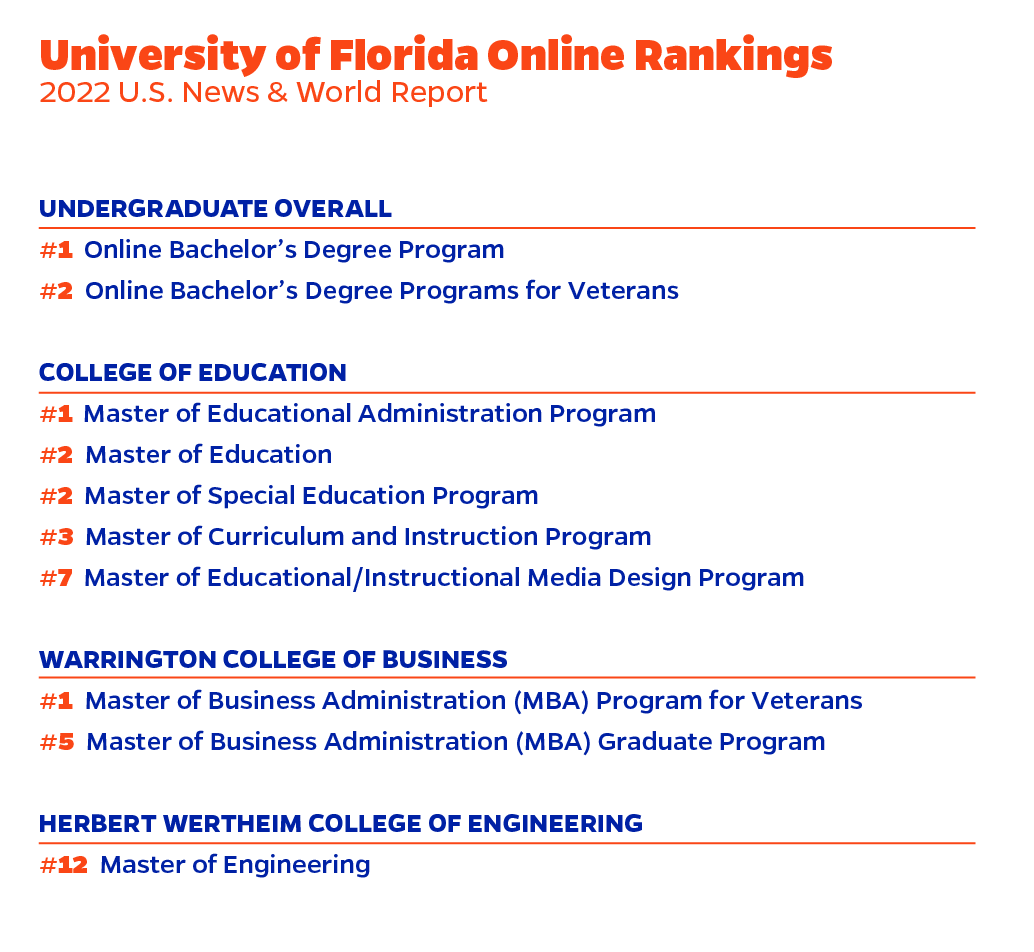 The No. 1 ranking for online bachelor's degrees is largely a testament to the success of UF Online. Offering 25 degree options from 10 colleges with several academic specializations, the program provides pathways for traditional and non-traditional students, including veterans, mid-career professionals, and people with a variety of life circumstances who benefit from the flexibility and access available online. Nearly 4,300 students are enrolled in UF Online and more than 3,900 have graduated since the program was founded in 2013.
"Online education is an incredible opportunity for individuals like myself in the military spouse community. Our lives are constantly on the cusp of change -- whether it's a move, a deployment, a child, a family emergency or any other life-altering moment, said Tori French, a public relations major. "One of the most important things we need is flexibility without the sacrifice of quality. In UF Online, I found my flexibility, quality and opportunity."
Further, the success of UF's online master's degree programs exemplifies the university's commitment to high-quality graduate offerings. Metrics for those rankings include student engagement, peer opinion, faculty credentials and training, student excellence, and student services and technology. "High-quality online opportunities can be of particular importance for students who work full-time or have children and other family responsibilities," said Andrew McCollough, UF associate provost for teaching and technology. "During a time when the economy is fast-changing, online education plays a very important role meeting students where they are and helping them be successful in their lives and careers."
Today's announcement is additional recognition of the excellence of the university's undergraduate, graduate and professional degree programs, as well as its focus on providing a comprehensive and engaging educational experience, whether residential or online.
In September, U.S. News ranked UF the No. 5 public university in the country, joining a list of elite public institutions. The public university ranking also parallels UF's rise in other rankings. U.S. News ranked UF No. 9, tied with Stanford and Brown, for the best student outcomes among all public and private institutions.
The recognitions symbolize an era of dramatic achievement for the university, which has tripled its research volume over the past two decades and is on the cusp of its goal to generate $1 billion in research expenditures annually. UF also is moving forward with an ambitious plan to advance research and teaching in artificial intelligence and is the first university in the country to integrate artificial intelligence across its curriculum, serving as a model for universities, community colleges and K-12 schools in Florida and nationally. The plan involves hiring 100 new faculty focused on AI, in addition to the more than 500 faculty UF has hired in the past two years – the most aggressive hiring plan in the nation – to bring preeminent faculty to teach and discover.