Mariel White was just a little girl when she started attending Gator athletic events at the University of Florida. It didn't matter the sport, and it didn't matter the day or time of year. Her family would drive down from Atlanta to visit her grandma. But also — and just as important — to go see the Gators.
Sometimes, her mom, Jill Olney, would pick up White and her siblings from school on a Friday and drive straight down Interstate 75 to Gainesville so they could see a football game on Saturday. Other times, especially around holidays, aunts and uncles would come along — like to the basketball game the family attended together at Thanksgiving.
On Friday night, White's family came together once again, but this time to celebrate her strength and courage. After an emotion-filled tribute from UF Provost Joe Glover and with a standing ovation from the audience at the Stephen C. O'Connell Center, White's little brother, Weston, and her service dog, Lassie, crossed the stage at commencement in White's place in recognition of her dream of graduating from UF.
White completed her degree in sports management from the College of Health and Human Performance after being diagnosed with a rare vascular disease, experiencing a series of strokes, partially losing her vision and becoming paralyzed below the waist.
She died from complications from an infection on Dec. 5 at just 23 years old, surrounded by family at home.
For White, UF went from being a family affair, a dream school and a place where she found her people, to the motivation behind her drive. After her diagnosis of the incredibly rare Churg-Strauss/EGPA and a series of strokes in her sophomore year in 2017, White told everyone she would come back to school. She was determined.
"I was nervous," Olney said. "How was she going to go back? How was she going to take care of Lassie? How accessible would things be?"
But in 2019, White moved into the fully accessible Cypress Hall, and her Phi Mu sorority sisters banded together to help her maneuver events and hang out at the house. She had internships with the UF Athletic Association, worked for the Atlanta Braves and was hired by the U.S. Open to work with guests before the tournament opted to continue without fans due to the pandemic.
"She found all of that out herself. She had a lot of inner drive and strength, and she's always had that," Olney said. "You can't make somebody have that."
Originally, doctors told White the earliest she could return to school would be Fall 2020. She returned a full year earlier and quickly launched her personal blog chronicling her return to school, then started writing for UF Athletics.
A fall return also meant a return to Gator football.
"Football games will never be the same without Mariel," said Danielle Murphy, White's sorority sister. "She's so attentive and catches every little thing. She doesn't just watch. She's very analytical, always looking to see what could have been done better, and never really satisfied even if we were winning. I think she loved the Gators more than anyone I know."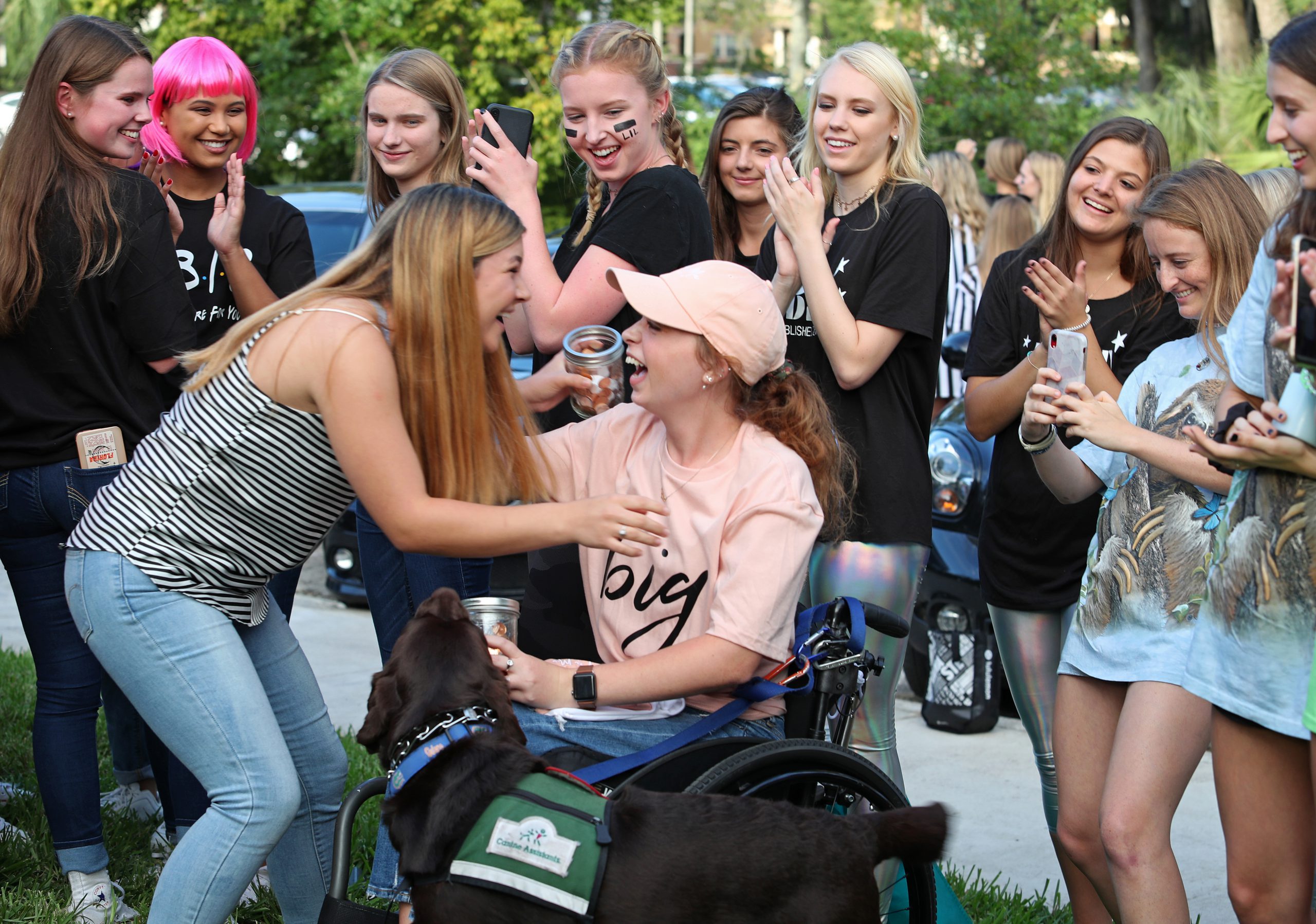 Murphy and White bonded over their mutual upbringing in Atlanta and the fact that Murphy's dad and White's uncle played together in a classic rock band called Desperate Measures. Seeing the community White formed with her sorority is what inspired Murphy to join.
"I felt really connected to her because we were from the same place, and I admired how inspiring she was. She was incredible and tough and never complained," Murphy said. "Anyone that met her, remembered her because she was always so kind to everyone. She was always at the house, and she was so happy to sit by anyone new at lunch, to let people love on Lassie. I think she really, she put things in perspective."
Almost a year after her diagnosis, the Tim Tebow Foundation W15H program hosted White and her family in Gainesville for the Louisiana State University vs. Florida football game. Mariel's VIP treatment included attending practice with the team and being Tebow's guest on ESPN's "SEC Nation."
At the Florida-Georgia game in 2019, Tebow was at one of the pre-game shows. Someone from the Tim Tebow Foundation recognized White, and she and Murphy met his then-fiancee Demi-Leigh Nel-Peters, who insisted Tebow would want to see White. That day, Murphy also met Tebow.
At Friday's ceremony, Murphy also graduated, earning her bachelor's degree in biology.
"I'm really, really proud of [White], we are all really proud of her," Murphy said. "She worked so hard to graduate, and that's honestly all she ever wanted."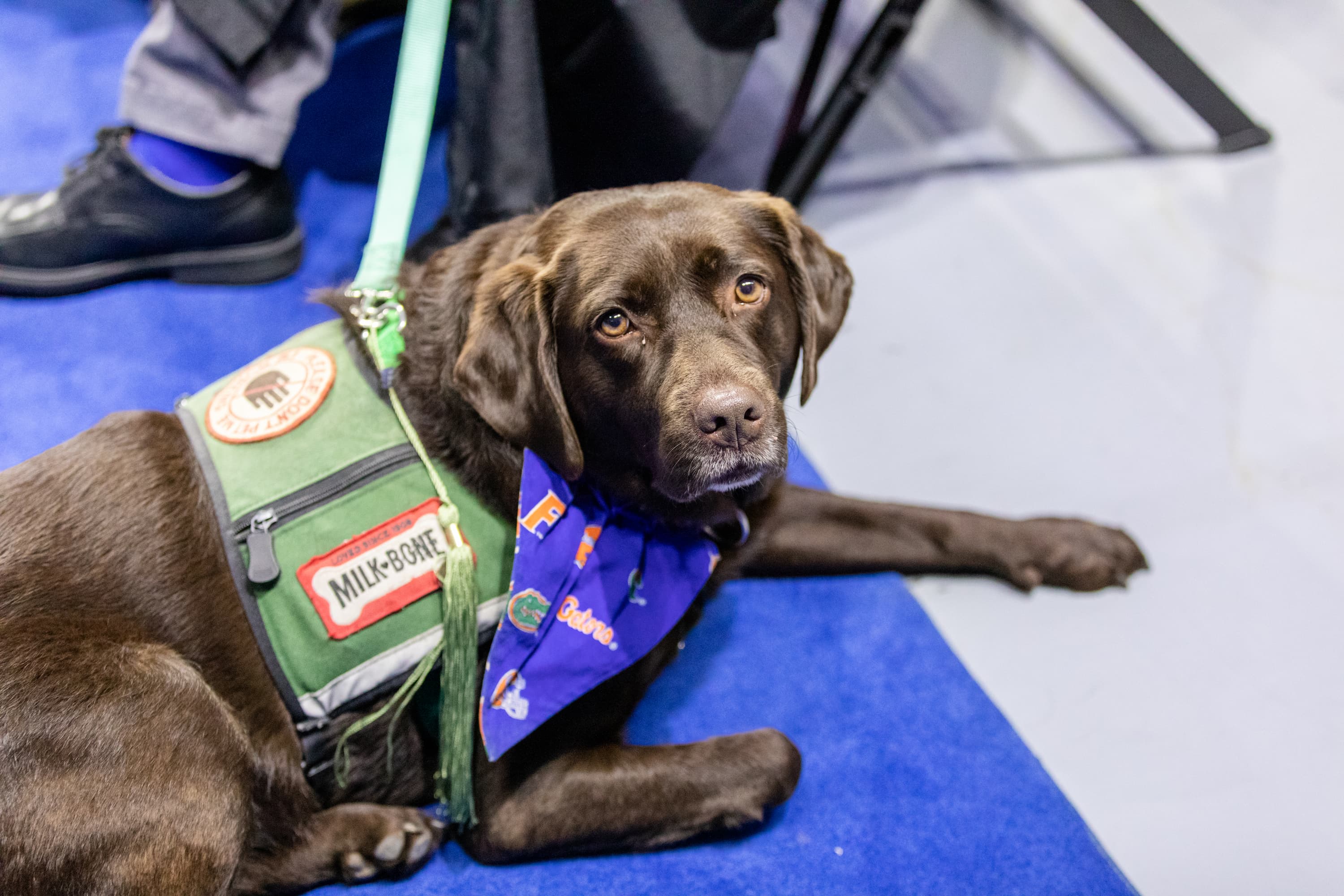 This fall when Mariel was in hospice care at home in Ponte Verde, Florida, Tebow visited to present White with a certificate showing she had completed enough requirements to graduate from UF. He stayed with her for a while, talked football and prayed.
They talked about if dogs go to heaven.
Two days before White died, her diploma was ready and was presented to her at home. Mariel got to feel the UF seal embossed on the parchment paper that bore her name and accomplishment.
"I do believe she knew it was here in her home," Olney said. "It is both good and bittersweet. It was so important to all of us that she knew she completed it on her own merit. She met the goal of graduating, and that was such a huge goal for her."