Our rise to Top 5: A conversation with President Fuchs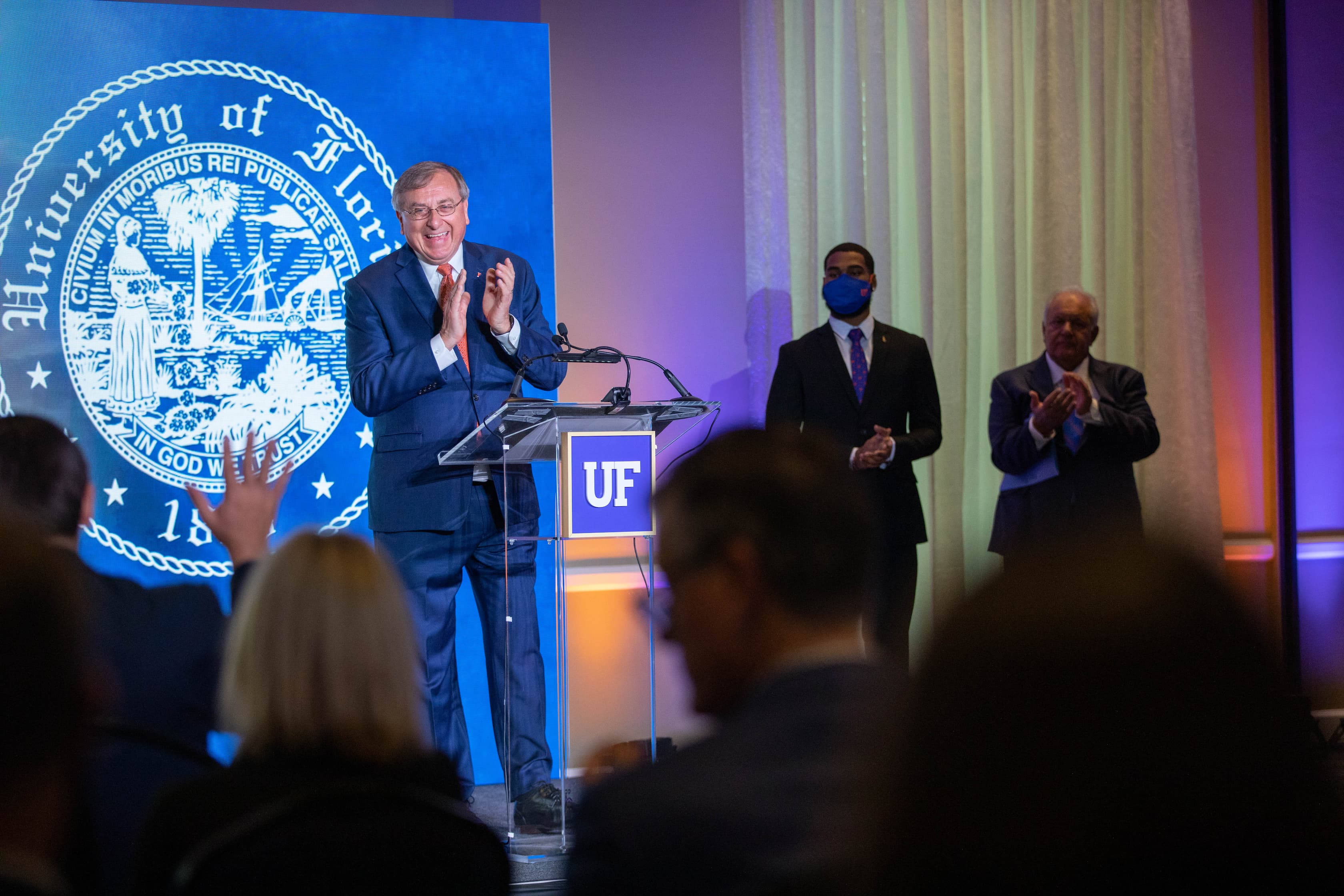 Welcome to From Florida, a podcast where you'll learn how minds are connecting, great ideas are colliding and groundbreaking innovations become a reality because of the University of Florida.
At his inauguration in 2015, President Kent Fuchs set an ambitious goal for the University of Florida: Become one of the nation's Top 5 universities. Mission accomplished! President Fuchs shares why he didn't hesitate to set that goal, what has made the university's rise possible and what's next – including his thoughts on a day of celebration.
Transcript:
Nicci Brown: Welcome to From Florida, where you'll learn how minds are connecting, great ideas are colliding and groundbreaking innovation is becoming a reality, because of the University of Florida. I'm your host, Nicci Brown, and we have a very special guest today — University of Florida President Kent Fuchs, who's going to share his thoughts about our university and its rise to a Top 5 ranking. Dr. Fuchs became the 12th president of the University of Florida in January 2015. He previously was provost of Cornell University and had served in academic leadership positions and as a faculty member of electrical and computer engineering at Cornell, Purdue and the University of Illinois.
In addition to his doctorate from the University of Illinois, President Fuchs holds a master of divinity degree from Trinity Evangelical Divinity School. He is a fellow of the American Academy of Arts and Sciences, the American Association for the Advancement of Science, the Institute of Electrical and Electronics Engineers and the Association for Computing Machinery. Welcome, President Fuchs. It's terrific to have you as our guest today.
President Kent Fuchs: Thank you, Nicci. It's great to be here.
Nicci Brown: Now, you set the University of Florida on a path to a Top 5 ranking at the start of your presidency in 2015. In fact, during your inauguration speech, you challenged us to think of a University of Florida that, and I quote, "Has the same acclaim in academics as athletics" and that, "the nation looks to for leadership in both areas." You did not hesitate in stating the goal: "We will be among the nation's Top 5 public research universities." What made you believe UF could rise to this level?
President Fuchs: The university for a number of years had a goal of being amongst the nation's Top 10 universities all the way back to President J. Hillis Miller, who in 1948, in his inauguration address, said that, "The nation deserved a university in the state of Florida that was amongst the top 10 to 12 universities in the nation." It took us a number of years to get to that point, to be amongst the Top 10. And indeed, before I was recruited to come to the University of Florida, the university had already made a lot of progress in establishing metrics that it believed would indeed be important to achieve and to make progress on, to be amongst the nation's Top 10, and so I had the privilege of riding on that momentum.
When I was interviewed and did my own assessment, and then in my first year, just decided that Top 10 wasn't ambitious enough. We were going to get there probably within a few years and we needed a goal that would be more aspirational. So indeed we looked at the metrics. We looked at other universities that would be considered amongst the Top 5, and we felt that we could get there. And the state, again, deserved it and the nation deserved the university in the state of Florida that was considered amongst the Top 5. So we indeed established that as our new goal even before we had moved into the Top 10 of university rankings.
Nicci Brown: Well, speaking of aiming high, you have a great partner in Mori Hosseini, chair of the Board of Trustees. How has Chair Hosseini helped develop and drive this vision?
President Fuchs: Mr. Hosseini is just truly unique, I think nationally, in just how he has worked so hard on behalf of higher education for the state of Florida. He was the chair of the Board of Governors for the state university system before he was on our board and then was appointed to our board and then was vice chair and now is, indeed, chair. So, he spends an enormous amount of time with our elected officials. I know this past week he was in Washington, D.C., working on behalf of higher ed broadly and specifically for the state of Florida and certainly for the University of Florida, as well as other universities, including Embry-Riddle University, from which he actually graduated in the area of aeronautical engineering. He has done several things.
Not only does he make the case for higher ed and the University of Florida with those that are supporters of the university, particularly elected officials, but he also holds us within the university accountable to making progress on metrics that we decide on that are important — important for the student body, important for faculty, important for, indeed, the reputation of the university. So he is really, really focused on the University of Florida and just continuing to make progress on what we broadly call its stature — this combination of its excellence and its reputation nationally. He's just laser-focused on that. He spends more time than anyone I've ever met, on a volunteer basis, working on behalf of higher ed, in addition to all the companies that he's responsible for during this day job.
Nicci Brown: So, can you share a little more about the specific things that the university did to make a difference in its ranking evaluation?
President Fuchs: The University of Florida is really metric driven, more so than any place I've been, and I'm an engineer by background so I love numbers and trends and graphs and tables and charts. But we track over a 100 different metrics across the institution. Some of them are inputs to the university. Examples of that would be the size of the endowment of the university. We also have outputs. So an output, an example of that would be the prestigious awards that our faculty may achieve on an international or a national basis, things like graduation rates, students that have financial need, what percentage of those that start at the University of Florida actually get a university degree. So, we have about a 100 of these different metrics that we measure.
We would do that, regardless of whether there were any rankings based on that, because we believe it's important to see how we're doing and the progress or lack of progress that we're making. And secondly, to be able to compare ourselves to others. And much of this information you can get from public databases, some of them federal. So we're able to measure ourselves against other institutions, doing our own internal rankings. It's natural for us to take those metrics and look out at how different rankings are established and then to measure our progress against those metrics — not only the ones that we've already been measuring, this 100, but also how those then map into rankings.
Nicci Brown: So, a degree from the University of Florida not only has high value, but importantly is incredibly affordable, which of course translates to students being better positioned to capitalize on their education. What can you tell us about the partnership with state leaders that has made this possible?
President Fuchs: The state of Florida is, I believe, one of the most generous of the states in terms of the state government and the citizens of the state investing in higher education. And because of that, we're able to keep our tuition incredibly low, lower than any universities outside of the state of Florida. So to get a degree from the University of Florida typically, as an undergraduate, it would take four years or eight semesters. An academic year of tuition is about $6,800 in terms of tuition and fees. And that's about, about roughly 10% of what it would be in terms of tuition at a private university, like where I was before I came to the University of Florida. So that is just incredibly affordable.
And then on top of that, there's state financial aid. There is financial aid from the university itself that we've achieved through philanthropy and our endowment. So, coming to the University of Florida and getting a degree from the University of Florida, we believe should never ever be limited by a person's financial needs. And if you have the ability to be admitted to the University of Florida, then we're going to work our hardest to make sure that you actually graduate and that you graduate with almost no debt. Only a third of our students have any debt of any kind when they graduate. And of those third that have a debt when they graduate, it's less than $20,000 that they have on average. So our students in general have no debt. I know I went to college many, many years ago, graduated in 1977, and when I graduated, the equivalent debt that I would have today, adjusted for inflation, is about $50,000.
So, it's so different here at the University of Florida than it is at most other universities outside of the state of Florida. And it is indeed due to the generosity of donors that assist with financial aid and sustain the programs at the university, and then indeed the financial resources that the state invests. And then we demonstrate, in return, a return on that investment.
Nicci Brown: So, it is wonderful to be able to say we're a Top 5 university and we have this ranking and the students were so excited about it. But what does it actually mean for students, staff, faculty, researchers and our alumni?
President Fuchs: You know, what I tell our alumni and our current students — it means that their degrees or the degrees they're going to get are more valuable because when people think of the University of Florida, they see that on your diploma, they're going to realize that you achieved that degree from a university that was one of the very best in the nation, and recognize this. So the ranking is really just the recognition of the quality of the institution. It also does several other things. One, it's a reflection of real metrics that are meaningful. For example, social mobility, the graduation rate, the selectivity in terms of the rank of students in their high school that come to the University of Florida, your peers. You'll be networked for the rest of your life with people that are just incredibly, incredibly talented.
It also has benefits for the state and for the state of Florida in terms of attracting companies that want to be in a state where higher ed is valued or higher ed is incredibly high quality and rankings affect the perception of companies that may want to be here.
And then lastly, I believe it actually affects the perception of people that want to move here and live in the state of Florida. They want to live in a state where their children or they themselves will have the ability to go to a university or a college that is equal to any others around the nation. So, in some sense, we're changing the perception that people have about higher ed. Our state is a relatively new state, the state of Florida, and we don't have the history of a lot of other parts of our nation that are a couple hundred years older than we are, but we're rapidly making a progress across the state in all of the public universities, with the University of Florida leading that mission.
Nicci Brown: You touched upon this a little bit, but we are, of course, a comprehensive land-grant university. Do you think that people have a strong understanding of what it means to be a land-grant and how that benefits people in the community?
President Fuchs: Yeah, we have this heritage, that the university was created as part of the nation's land-grant initiative to be a place where people from any economic need could come and learn skills, get an education that would benefit them in their career. And that started out in agriculture in what, then, was called the mechanic arts. We would call that today engineering. So those indeed are our roots and we focus on that. We have one of the very, very best and largest agriculture programs, for example, in the entire nation. That just makes a huge impact on natural resources and the ability to feed the world, much of that coming from the state of Florida. But in addition to that we're a truly, truly comprehensive university, one of the most comprehensive in the nation. Sixteen colleges spanning not just agriculture and engineering, which were our roots, but the fine and visual and performing arts, medicine and then everything else you might imagine in between.
We also are an academic health center here at the University of Florida. We actually own our own hospitals. We have one of the largest hospital systems that are centered right here in the University of Florida and associated with that would be programs such as in public health or in pharmacy or dentistry and nursing. And then we have veterinary medicine with animal hospitals here in Gainesville and then programs across the state. So, when a student is looking for a place to study, I almost always am certain that we're going to be able to offer that program because of how comprehensive we are. Or if there's some grand challenge that's facing our state, our nation or, indeed, our world, we're going to have faculty that have expertise in addressing that. They've dedicated their lives to working on it. Anything from a pandemic to an issue in, say, political science, world peace or anything else you could imagine we have faculty working on that.
And I find that exciting, not just from, say, a faculty perspective, but also from a student perspective, that they have a passion, if a student has an interest, there's going to be a faculty member that is going to be one of the world's experts on that.
Nicci Brown: So really a driver of innovation.
President Fuchs: Absolutely. And I would say innovation that obviously affects the economy and we have some of the most incredible incubator and startup facilities in the world right here associated with the University of Florida. But innovation in the other areas, the humanities and the social sciences, as well as areas of what are thought of as STEM, the science and technology and engineering and math.
Nicci Brown: You mentioned the state of Florida and, of course, Gainesville, but the Southeast — how do you think having a Top 5 public university benefits the Southeast?
President Fuchs: Well, having lived in the Midwest for many years, in Illinois, and actually having gone to graduate school there and been a faculty member, both in Chicago and Urbana-Champaign, and then having lived in and been an academic leader in the Northeast and in the state of New York, and then spent a fair amount of time out in California. I know there is a national historical perception that maybe the Southeast, and maybe the South in general, just doesn't value higher ed as much as say, a New England or maybe the Midwest. One of our goals is to change that perception, that indeed the universities in the Southeast and the South compete heads up with those and other parts of our nation. The rankings can influence that perception and indeed the accomplishments of graduates can influence that perception and indeed the work of the faculty and others that make a difference nationally will change that perception.
I think the hardest part is to indeed change a reputation or perception, but we're making progress and I'm proud to say that University of Florida is one of those national leaders that is changing the perception of higher ed in the Southeast.
Nicci Brown: Well, speaking of perceptions, how are the public universities that are ranked above us —so UCLA, UC Berkeley, University of Michigan and the University of Virginia — different from UF? And what do you think it will take for us to rise even higher in the rankings of public universities?
President Fuchs: Yeah, those five universities have been ranked amongst the Top 5 from the very beginning of rankings, so many decades. And they're all excellent as are dozens and dozens of just wonderful universities across the United States. I think our greatest asset, and I'm biased, but I think our greatest asset as a nation is the quality of its colleges and its universities. There are 4,000 colleges and universities and we're talking about the ranking of research universities, of which there are a couple of hundred of those. So for the University of Florida, we do have some distinctive attributes. I would say the most obvious would be how comprehensive we are. Those other universities do not have, for example, agriculture programs, what we call our Institute for Food and Agriculture Sciences, and extension programs that we have in every one of our counties and the natural resources that those faculty work on and work to develop and sustain.
And the fact that our 16 colleges span all these different areas makes us fairly distinctive. All those universities are comprehensive, but we have a distinctive characteristic to them. The second characteristic would just be how low our tuition is. We're dramatically lower than all of the other universities in the Top 10 by any metric and that is a distinctive attribute. But then thirdly, the investment by our state. We're the only university in the nation over the last few years, the last couple of years, that has grown its faculty by 500. Not just hired 500 back, but actually grew the faculty by 500. And we're adding another 100 faculty in the next year, year and a half, around artificial intelligence. And so that gives you the distinctive nature of this trajectory that we're on that will indeed be one of excellence, but also what I would call stature, it's comparative excellence.
So I don't wish any university to slip in the rankings, but we are committed as an institution to sustain our Top 5 ranking and to move up in the perception, in the mind's eye of everyone, the broad public, as well as our peers nationally.
Nicci Brown: I think when it comes to AI, it's important for us to recognize that it is infused across the curriculum as well. This is not just a standalone and that's probably another distinction as well.
President Fuchs: Our initiative on artificial intelligence is one in which we're not trying to compete with those universities that for many decades have led in artificial intelligence, narrowly focused say, on computer science. Examples of that would be a Carnegie Mellon University or Stanford or MIT. We want to compete and actually lead in having, as you said Nicci, artificial intelligence embedded in our curriculum across every one of our 200 academic departments, every one of our 16 colleges, so that every graduate, no matter whether they're undergraduate or a master's or doctorate degree or another professional degree, will have had AI as part of their curriculum. And they will be, as we're describing, enabled to be a part of the workforce that realizes and actually develops AI in their field and understands it, the risks and the opportunities around AI. It's exciting to see the College of the Arts recruiting faculty in AI or the College of Public Health and Health Professions. Every one of those 16 colleges is, as we speak, interviewing and hiring faculty in AI specific to their discipline.
Nicci Brown: Terrific. The University of Florida is now ranked 28 amongst both public and private universities. Why do you think it's important to be competitive with both types of institutions and what's your goal for UF's status in the combined public/private ranking?
President Fuchs: Yeah. I don't think I'm ready yet to announce a new ranking goal because we're still celebrating just all the progress of the past 10 years or so. But it is important, when we think of students or our employees including faculty, most of them don't distinguish between a public university versus a private university. Again, I came to the University of Florida from a private university, although it was still land-granted, had agriculture and had the same heritage. Therefore, since we're competitive, we are competing with not just with publics — that Top 5 ranking is amongst the nation's very best public universities — but those that are private. And some of the privates are quite different than the University of Florida. Probably the obvious would just be the size of the student body. If you're a student at Princeton or Yale, at Princeton, the number of students is less than 10,000 total. At Yale, it's slightly more than that.
So there, you're going to have a student body that's, say, 20% the size of our student body. And some of the rankings, actually, are normalized by the number of students. So in other words, for example, the resources you have per student. And so if you have 55,000 students, like we do, compared to maybe eight or 9,000 at Princeton, it's hard for us to have the same amount of resources. And it's hard, not just for us, but for any public university because you almost always are going to have a larger student body. But even though some of those metrics don't work as well for public universities we still have to compete for students. We compete for faculty, we compete for employees, we compete for grants, philanthropy, just heads up with all those, the most prestigious privates as well as the publics.
Amongst the publics, rarely are they ranked in the Top 20. I believe this year the highest public was ranked No. 20. We were 28th amongst the privates and publics. That is one of those areas that I believe the publics have opportunities to have reputations that are equal to the very best privates and that's one of our aspirations. So, to be specific, it is to move up in that ranking of privates and publics combined.
Nicci Brown: Well, see, we did get you to make a goal for us! But we'll stand by for a few more. So speaking of celebrating and setting ourselves goals, in 2019, you tweeted a "note to self" in which you said you'd asked the faculty if you could cancel classes for a day-long celebration if the University of Florida reached the Top 5. Well, we're there now and I understand there's something in the works. So for those who may have missed it, can you update us?
President Fuchs: Yes, that tweet has been repeated back to me by our students. I'm not sure. I didn't know they noticed it from a couple of years ago, but they did. And as soon as the rankings came out, the next day, they were hoping that classes would be canceled that week. I think some of them must've had exams or papers due that week. It turns out that the university president can close the entire university, send the employees home, cancel classes, if there's an emergency like a hurricane or, if we were up north, a snowstorm. But, for discretionary reasons, such as celebrations, I can't do that. I don't have that sole power. So, I do have to, by our university policy, consult with the colleges and the Faculty Senate, which we are doing, and we've picked a date in February. The end of the first week of February, beginning actually at the second week of February, in which we will have a day of celebration and a day also of gratitude, just gratitude for all the contributions of everyone. We're at that point, nearly two years of the pandemic, so gratitude to our healthcare workers, our employees, our students, for the success we've all had as an institution and individually over the past two years.
And I am going to the Faculty Senate and asking them to cancel classes on that day. It'll be a Wednesday, the second Wednesday in the month of February. We're also going to roll into that a reflection on our university's values, which have not had as much visibility as I have wanted. So a couple of years ago, we established a set of values around excellence and curiosity and support of one another. And we're going to work that in as well. So reflection, gratitude and, hopefully, a lot of fun with food trucks and maybe a concert and other things. And with any luck, no classes on that day.
Nicci Brown: Well, it definitely sounds like something to look forward to. I have one final question, if you're open to it. Rankings are important. They're certainly not everything. With the UF community and Gator alumni having just celebrated homecoming, I would love to know what you most appreciate and cherish about the University of Florida.
President Fuchs: One of my favorite things to do when I give a talk to members of our community, including alumni, is to start with what are the things that they would like not to change at the University of Florida? Because often presidents talk about things we want to change and make better or make new. And there's a long list of attributes at the University of Florida that alumni and those of us that are here today cherish.
I think that the most important one for me that I very much and am working hard that we not change, is to avoid us becoming competitive with one another in a negative way as we indeed enhance our reputation and our stature. So, to say it another way, this is an institution that has been thought of historically as one where people support each other, care about each other, a place where we work hard but yet have a lot of fun. And to me, I want to continue that and, if anything, double down on it as our stature increases.
Nicci Brown: Sounds wonderful. That joy of discovery and I guess it's always great to be a Florida Gator.
President Fuchs: That's right.
Nicci Brown: Well, thank you so much, President Fuchs, for being our guest. We do appreciate it and we very much value your leadership of the university we love.
Listeners, thank you for joining us for an episode of From Florida, where we share the stories of faculty, researchers, students and administrators whose thought leadership is moving our state, our nation and our world forward. I'm your host, Nicci Brown, and I hope you'll return for our next story of innovation From Florida.