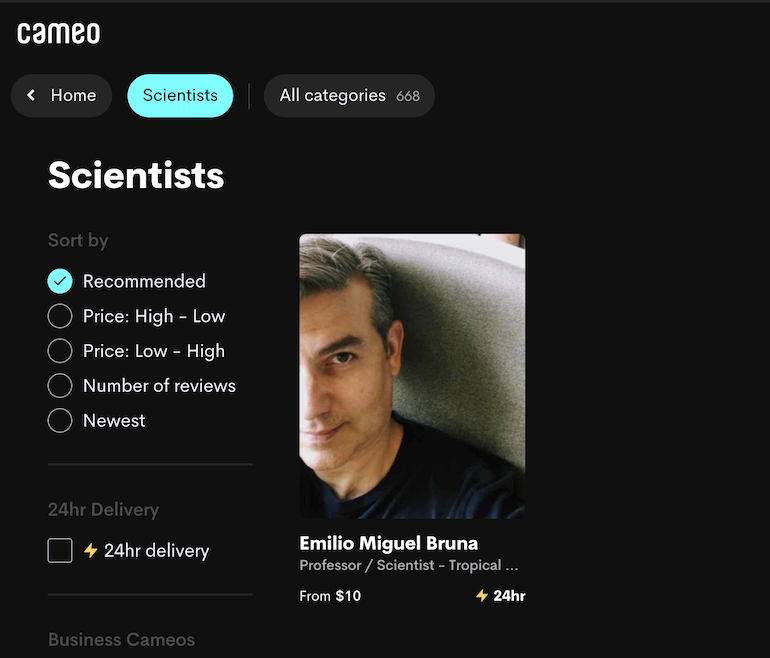 Actors. Musicians. Scientists?
A new kind of talent joins the celebrity-message service Cameo
Tropical biologist Emilio Bruna is in his back yard recording a request from Cameo, the service that lets people hire celebrities to deliver personalized messages to fans. In late April, Bruna, a University of Florida professor, convinced the platform — more commonly associated with A-listers like Snoop Dogg — to include scientists on its talent roster. Just a week after his profile went live, he's shooting his first request from a stranger, a pep talk for a post-doc in need of some encouragement.
Bruna, Ph.D., donates his Cameo earnings to the Association for Tropical Biology and Conservation, which helps fund graduate research around the world. His goal, though, isn't fundraising but visibility.
Do a Google image search for scientist, Bruna explains, and you'll probably get someone in a white lab coat "or a mad scientist like Dr. Doofenshmirtz from 'Phineas and Ferb.'" That doesn't do justice to the spectrum of science careers or types of people in them, he says.
"Any opportunity for people, especially young people, to see people who look like them doing science for a living is a great thing. It tears down misconceptions about how scientists work and who they are," Bruna said.
The idea struck Bruna while he was browsing Cameo for someone to promote his Fall semester class about rainforests. While shopping for an actor from a rainforest B-movie, he saw an opportunity for scientists on the platform. He tweeted at some Cameo staffers with the idea and the next day became Cameo's first scientist.
His first video request, from a high school classmate he hadn't spoken to in years, was directed at "his fifth-grade daughter loves science and feels like a weirdo."
"Her mom sent pictures of her reacting to video, and it was the coolest thing ever," Bruna said.
Want me to tell your kids to clean their room or do their homework? No prob. Does your Dean need to hear their decision was terrible? Let me do it. Your dog's birthday? Woof. Congrats to friend for a cool paper or gant? I am so there for you...in English, Spanish, or Portuguese.

— Emilio M. Bruna (@BrunaLab) April 29, 2021
Bruna stresses that he's not trying to duplicate larger-scale efforts like Skype a Scientist or the UF-based Scientist in Every Florida School, but to diversify the ways people can engage with real scientists.
"I'm not trying to make scientists celebrities," he said. "We're at a point where there's all this skepticism about science. Any opportunity to have contact with people who do science for a living helps demystify the profession."