UF Innovate names new director of incubation services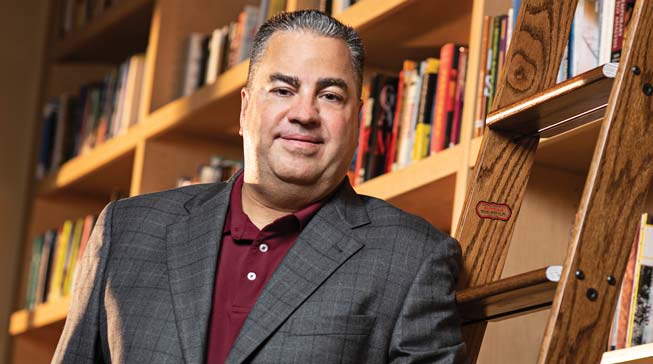 UF Innovate is pleased to welcome Karl R. LaPan as the incoming director of incubation services. He will join the team May 3 and work alongside current Director Mark S. Long, who will retire this summer. LaPan comes to the position with more than 20 years of experience in business incubation.
"There are very few people in the country with the experience to fill Mark's shoes," said Jim O'Connell, assistant vice president of technology commercialization at the University of Florida. "When you've had a leader who has put our incubators on the map internationally – for good reasons – and you know the field of candidates to replace him is limited, I am thrilled to have someone of Karl's caliber and experience join our team. I am confident he will step into the role and keep building on Mark's successes."
In his role as director, LaPan will lead both of UF Innovate's award-winning incubators, Sid Martin Biotech in Alachua and The Hub, a mixed-use incubator, in the Gainesville Innovation District, located between campus and downtown Gainesville. The facilities together offer 150,000 square feet of labs, office space, conference rooms, and scientific equipment, and are home to more than 60 startup and growth companies.
UF's two incubators provide a place and a program, coaching and connections for young companies to give them the best chance for ongoing success. Startups that have resided at the incubators have generated more than $10 billion in investments and created nearly 8,000 jobs, most in the local economy. The incubators play a crucial role in Alachua's and Gainesville's innovation landscapes, and the director is integral to their success.
"The incubation industry is a small community, and it is very difficult to find people with extensive experience in entrepreneurial education, marketing, mentoring, and other facets of startup development," said Long, who started at UF in 2014. "I am personally thrilled to welcome Karl LaPan to the UF Innovate community. I know he can take UF Innovate | Incubation Services to newer and greater heights, continuing the legacy of global award-winning programs established over the past several years."
LaPan has served as president and CEO of the NIIC, a non-profit entrepreneurial support organization in Fort Wayne, Indiana, since its inception in 2000. Like UF Innovate's incubators, the NIIC supports entrepreneurs as they plan, launch, and grow successful business ventures so companies can "move ideas into action."
Under LaPan's direction, entrepreneurs through the NIIC have launched 499 products, applied for 196 patents (most have been granted), and created 2,351 jobs. Companies have attracted more than $1 million in grants and capital. The International Business Incubator Association awarded the NIIC Mixed-Use Entrepreneur Center of the Year and the Dinah Adkins Award in 2020. Entrepreneur Magazine named the NIIC one of the five best "under the radar" incubators in the United States.
The NIIC established a Women's Entrepreneurial Opportunity Center to serve women business owners more effectively. It built a portfolio of inclusive support grants to give underrepresented groups greater access to entrepreneurial services, and it launched a Kiva hub in collaboration with the City of Fort Wayne and two other organizations to fund inclusive and diverse entrepreneurs in Northeast Indiana.
"This is an exciting time for me to join the UF Innovate team and lead Incubation Services," said LaPan. "With a team of talented incubation professionals at two world-class incubation facilities, a vibrant Gainesville Innovation District and a growing entrepreneurial ecosystem in Alachua, we are poised to 'build, drive, and support the spirit of entrepreneurship' so our companies can 'feed, fuel, and heal the world.' Combine that with UF's world-leading resources to move promising research discoveries from the lab to the market, and we're on our way to being a top-energized tech community in the Southeast."
Prior to his work at the NIIC, he was president and CEO of NBS Imaging Systems, Inc., an advanced biometrics identification company in Fort Wayne.