Distinguished Professor Rob Ferl to co-chair National Academies space research group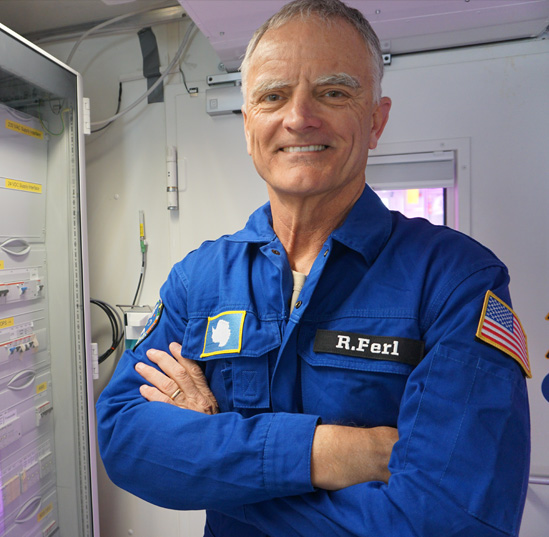 The National Academies of Sciences, Engineering, and Medicine have appointed University of Florida Distinguished Professor Rob Ferl to co-chair a group tasked with mapping space-related biological and physical research for the next 10 years.
Ferl and Massachusetts Institute of Technology Professor Krystyn J. Van Vliet will chair the Decadal Survey on Biological and Physical Sciences Research in Space 2023-2032. The survey was commissioned by NASA to "review the state of knowledge in the current and emerging areas of space-related biological and physical sciences research and generate consensus recommendations for a comprehensive vision and strategy for a decade of transformative science at the frontiers of biological and physical sciences research in space," according to an Academies release.
"Decadal surveys are community-driven, bottom-up studies that aim to formulate a consensus on the most compelling science questions for the decade ahead," said Ferl, a horticultural sciences professor in UF's Institute of Food and Agricultural Sciences. "Sponsoring agencies and Congress view surveys as the considered statement of priority by the U.S. space science community and have repeatedly stated their intent to give highest priority to the missions/objective identified in the survey."
Ferl, who has been involved with the survey for a dozen years and chaired a mid-term assessment of the previous decadal survey, says participating in the survey gives scientists the opportunity to influence policy in meaningful ways.
"We don't have to just sit and wait for a call for proposals that we find interesting," said the long-time researcher in how plants grow in space. "We can influence science policy, and that puts us scientists in an active, forward-thinking, influential role in the development of science."
The 2011 survey, titled "Recapturing a Future for Space Exploration," was written during a critical period in the evolution of science in support of space exploration. The research agenda in space life and physical sciences had been significantly reduced in the previous decade, just as the International Space Station was nearing completion in 2011.
"The goal of this report is to lay out steps whereby NASA can reinvigorate its partnership with the life and physical sciences research community and develop a forward-looking portfolio of research that will provide the basis for recapturing the excitement and value of human spaceflight," according to the executive summary of the 2011 survey.
And that's exactly what NASA has done, Ferl said.
"Ten years ago, we didn't have a deep idea of what a biological response to being in space was like," said Ferl, who with collaborator and fellow UF researcher Anna-Lisa Paul has studied the impacts of little or no gravity on plants on airplanes, the Space Shuttle and the ISS. "Now we have a robust data set that scientists can share through GeneLab, an open-access resource of data from spaceflight and corresponding analogue experiments."
UF Vice President for Research David Norton called Ferl "an amazing scientist," and added: "Future missions in space exploration will benefit greatly from Dr. Ferl's leadership, talent and insights."
Ferl says he knows he won't be an active scientist when the next decadal survey comes around, so he considers this opportunity "my chance to have a lasting effect on an area of science that I have come to appreciate and love enormously."
For more information about Rob Ferl and his research, see the following stories: