UF Chief Marshal looks to first in-person commencements after a year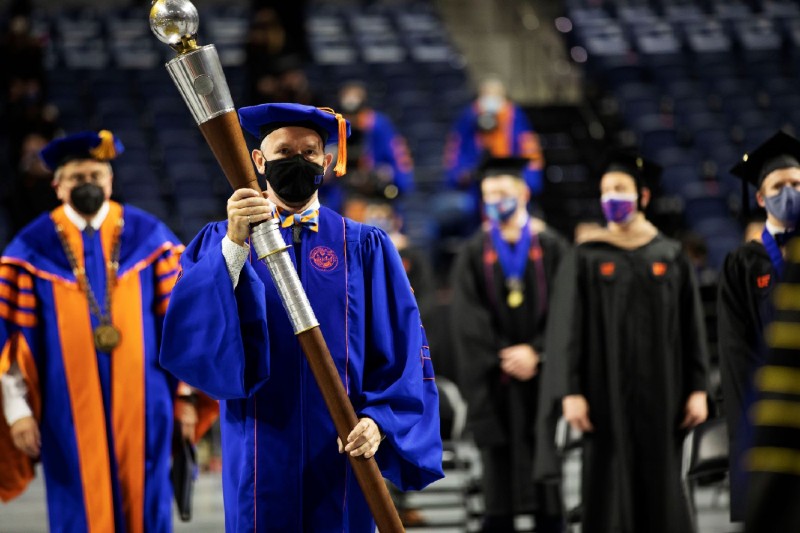 For many years, Hans van Oostrom, Ph.D., said he felt something was missing from his role as a professor.
At the end of each semester, he said he "checked the box" that said his students were done with their courses and ready to graduate.
And that was it. Off they went.
But that was long ago. Now, van Oostrom serves as chief marshal at UF's commencement ceremonies, an assignment he accepted in Summer 2018, in addition to his day job as founding chair and associate professor at the Department of Engineering Education at the Herbert Wertheim College of Engineering.
In the coming week, he will be front and center, carrying the university's ceremonial mace (the university's ornamented staff) and among dozens of UF faculty and staff members who are helping organize and run 31 commencement ceremonies to accommodate for physical distancing.
And he can't wait.
"It's a privilege," van Oostrom said of his role in the ceremonies. "Also, it's an important endpoint for students. It's great to work at an event where everybody is happy."
Commencement will be a larger operation than usual this spring. It will be the first time that UF holds in-person ceremonies in more than a year after the university suspended them in 2020 due to the pandemic.
The Stephen C. O'Connell Center will be restricted to 20 percent capacity to allow for physical distancing. The restriction limits the number of guests per candidate to two. That adds up to about 551 students at each ceremony.
Further, because of the limited capacity, no more than three ceremonies will be held each day to allow for the O'Connell Center to be sanitized between each event. Masks will be required of all participants and guests. Also, hand sanitizer stations will be available on site.
Van Oostrom admits it has been a big undertaking for staffers to organize such a large number of graduations. But it's something they all prefer over virtual graduations.
"It gives more of an authentic experience that students are looking for," van Oostrom said. "We've worked really hard to keep the experience as identical as possible to previous ceremonies."
Of course, there will be some changes. Students will be spread throughout the O'Connell Center as opposed to on the floor before the stage. Though their deans will be there, they will not be shaking hands with graduates.
But it's a process that will all be worth it, van Oostrom said.
"It's a very special event," he added. "I think it's a great tradition; the robes we wear, the music. It is a special thing that we don't do all of the time. And I enjoy being a part of that."
******************************
FOR MEDIA: Members of the news media are encouraged to attend the ceremony scheduled for Friday, April 30 from 2 to 4 p.m., when UF's media team will be available to assist with access and coverage. To request credentials, contact Brittany Wise at brittany.alana@ufl.edu.