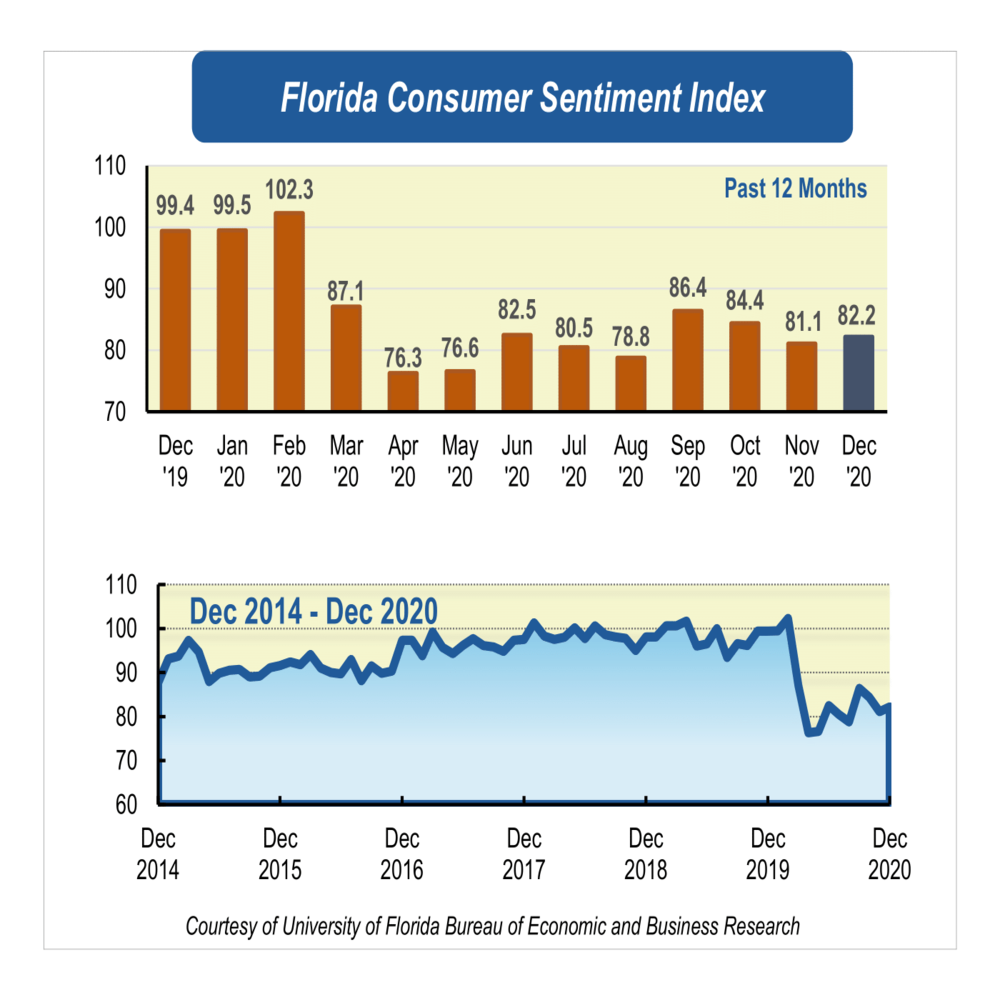 2020 ends with slight uptick in consumer confidence; 2021 uncertainty looms
Consumer confidence among Floridians ticked up 1.1 points in December to 82.2 from November's revised figure of 81.1 though consumer sentiment ends 2020 far below the levels recorded before the coronavirus pandemic.
Among the five components that make up the index, three increased and two decreased.
Floridians' opinions about current economic conditions were mixed. Views of personal financial situations now compared with a year ago decreased nine-tenths of a point from 69.2 to 68.3. On the contrary, opinions as to whether now is a good time to buy a major household item like an appliance increased 1.9 points from 76.6 to 78.5. Despite moving in opposite directions, opinions were consistently split across sociodemographic groups. Men, people younger than age 60, and people with annual income above $50,000 expressed less-favorable views while women, people age 60 and older, and people with annual income under $50,000 expressed more-favorable views.
Outlooks about expected economic conditions were also mixed. Expectations of personal finances a year from now increased 3.6 points from 91.6 to 95.2. Anticipations of U.S. economic conditions over the next year decreased 1.6 points from 83.3 to 81.7 while expectations of U.S. economic conditions over the next five years increased 2.7 points from 84.7 to 87.4. Future outlooks were also split by demographics, with people older than 60 and with income under $50,000 consistently reporting more pessimistic views.
"The gain in December's consumer sentiment reading comes from Floridians' expectations about their personal finances a year from now and expectations about the economy in five years. However, the pessimism coming from consumers' opinions about the national economic outlook in the next year suggests that Floridians anticipate gloomy economic prospects ahead in 2021," said Hector H. Sandoval, director of the Economic Analysis Program at UF's Bureau of Economic and Business Research.
2020 was an unprecedented year for the economy and consumer confidence. After reaching its highest level in 19 years in February, consumer sentiment experienced two of the sharpest month-to-month declines in record in March and April due to the economic shutdowns brought by the pandemic. Consumer confidence bottomed out in April and has since then slightly trended upwards.
"As the year ends, the difference between February and December is a remarkable 20.1-point gap, which can take a while to close. For instance, it took around four years to regain 20 points after consumer confidence collapsed during the Great Recession," Sandoval said.
"Looking ahead, as vaccination efforts are rolled out to put an end to the pandemic, January's consumer sentiment reading will be important to gauge Floridians' views about their economic prospects for 2021. Nonetheless, we expect consumer confidence to recover slowly in the year ahead," Sandoval said.
Conducted December 1-30, the UF study reflects the responses of 239 individuals who were reached on cellphones and 98 individuals reached through an online panel, a total of 337 individuals, representing a demographic cross section of Florida. The index used by UF researchers is benchmarked to 1966, which means a value of 100 represents the same level of confidence for that year. The lowest index possible is a 2, the highest is 150.
Details of this month's survey can be found at http://www.bebr.ufl.edu/csi-data