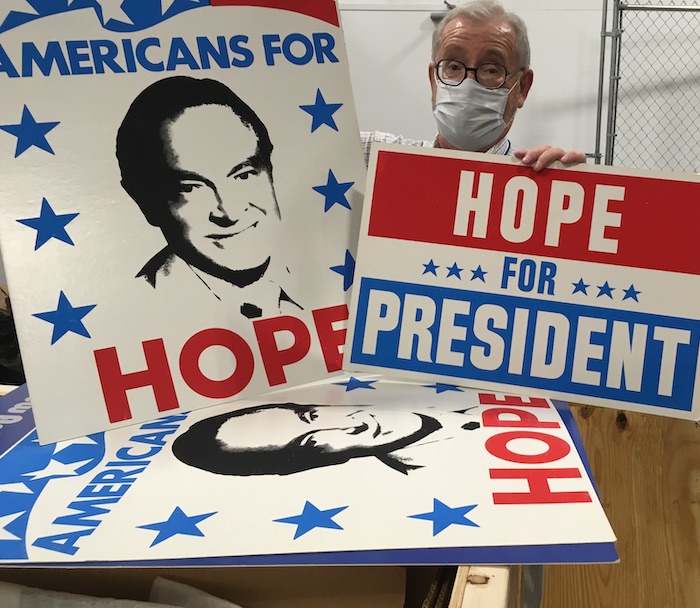 From cue cards to river water, "Bob Hope saved everything"
A new collection showcases decades of memorabilia
A chicken in a sweater. An oversized boxing glove. Boxes of birthday cards from celebrities and fans. Whimsical, sentimental or poignant, Bob Hope kept it. Now a trove of memorabilia from the entertainer's 80-year career is enshrined in the Popular Culture Collections at the University of Florida's George A. Smathers Libraries, where it will be cataloged and made available for students, researchers and the public.
UF's popular culture curator Jim Liversidge spent his quarantine lockdown poring over the first shipment of boxes, which arrived in March. A second shipment of costumes, awards, cue cards, photos and other memorabilia followed in October.
The items, given by the Bob and Dolores Hope Foundation, had been housed at the World Golf Hall of Fame in St. Augustine, but the curator there wanted to place them where they'd be available for research. When the museum initially approached UF, Liversidge thought he'd decline, since he usually doesn't accept artifacts. Then he saw the collection.
"It was really an emotional moment," he said. "I couldn't say no. It's Bob Hope!"
View this post on Instagram
Hope, who died in 2003 at age 100, was a Hollywood icon who appeared in more than 50 feature films as well as 60 years of radio and TV shows. He is especially well remembered for entertaining troops overseas from World War II to Operation Desert Storm.
Along with film and television props, it includes memorabilia from 50 years of USO tours and Christmas shows, Hope's work with the Olympics, and his friendships with 11 presidents.
Liversidge is creating an online finding guide and digitizing many items for online access, with an exhibition coming in spring 2022.
The significance of some memorabilia, like programs from 19 years as host of the Oscars, is obvious. Others confound, like a capsule of Missouri River water gifted by a 5th grade class in South Dakota nestled in a box with mysterious canisters and bottles, one partially full of a murky liquid. Liversidge is undaunted. "Check back with me in a few months and I'll tell you what it is," he said.
Similar efforts are happening around the country. The cache at World Golf Hall of Fame was so vast that it was divided between several new homes, with theater memorabilia going to the New York Historical Society and wartime memorabilia to the National World War II Museum in New Orleans. Hope's joke file went to the Library of Congress, other items to a permanent exhibition coming to Pearl Harbor.
Hope performed at UF several times, but that wasn't the impetus for the gift.
Hope performing at UF in 1966.
Housing part of the collection at a university, where Hope's work would be more accessible to young people, appealed to Hope's daughter Linda, Liversidge says.
"She understands that young folks might not be aware of Bob Hope, but she wanted it where it could be shared with future generations."