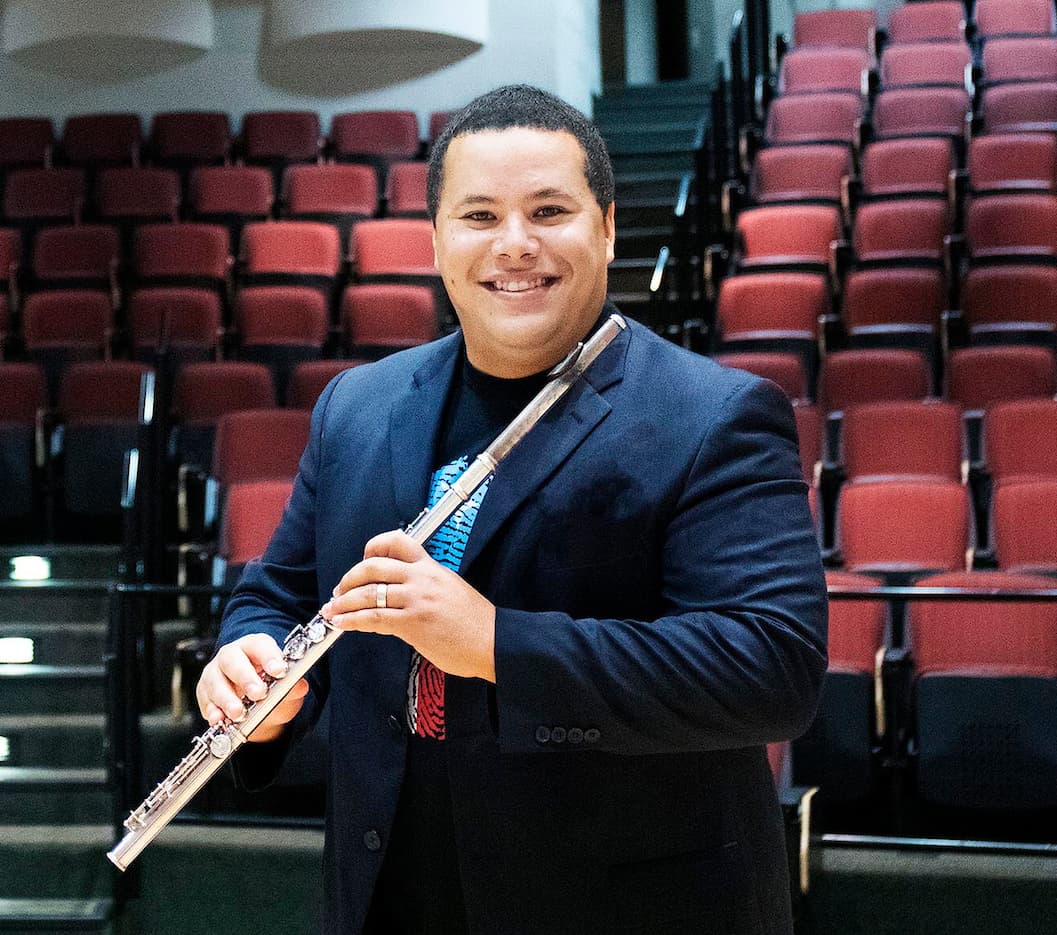 The message behind a UF professor's Grammy-winning song
For Grammy- and Emmy-winning University of Florida professor José Valentino Ruiz, Ph.D., the flute is more than an instrument: It's a window into global cultures and a tool for healing.
Ruiz, who performs as José Valentino, won his second Latin Grammy Nov. 19. After taking home the trophy as audio engineer and flutist on "Todo Pasa," 2019's Best Christian Album (Spanish Language), the music business and entrepreneurship professor won for Best Classical Contemporary Composition for the song "Sacre" with co-composer Carlos Fernando López.
In the song, Ruiz's flute and López's piano intertwine and alternate, symbolizing the need to leave room for others to be heard — a particularly relevant message during a divisive time in America.
"There's a need for us to be able to listen and to be attentive, to be able to sit down and just have conversation with one another," Ruiz said. "There's sort of a mutual reverence that is occurring when we're playing so that it's not merely a showcase of virtuosity, but more of a dialogue. I think it serves as a great representative model, even though it's just two instruments, of what democracy could look like."
We asked Ruiz about the meaning behind the song and how he plans to follow up his fourth Grammy nomination.
How does "Sacre" relate to the current moment?
The composition advocates for unity and equity and the celebration of everything that makes us beautiful as human beings. It is a call for us to preserve those things that we deem as sacred: life itself, relationships, our cultural representations, who we are and our ability to express ourselves with one another.
Your flute playing on "Sacre" spans different cultures and influences. Can you describe the flute's significance in Latin music specifically?
The flute has been used to create sacred moments of worship to celebrate fellowship and festivity all around the world, especially in Latin America. We have the kena from Peru, the zampoña or pan flute from Colombia: It's almost as if you're able to experience a taste of what that culture is all about just by the way the flute sounds.
As a Puerto Rican, one of the things that I absolutely love is to utilize the flute to help create celebratory moments with vivacious rhythms that are reflective of my culture. But then I also love to play it in kind of a meditative fashion that can be traced back to the Inca and the Aztec Indians from Central and South America. It's just really awesome to be able to implement those elements and inspirations into our composition.
What's next for you?
Here at the University of Florida, we have such an incredible group of faculty and an unbelievable cohort of students who are eager and hungry to learn, discover and innovate. We have a new certificate and graduate certificate program in music, business and entrepreneurship underway where we'll be teaching music production, multimedia production and innovative strategies for establishing creative enterprises that will positively impact the global economy.
I'm also so excited to be collaborating with some of the finest faculty in the world on different albums. There's a flamenco album that I'm producing with one of the best guitar professors in the world, Silviu Ciulei, and working with Scott Wilson on developing a new genre of music, Dance Bop, which fuses global and generational expressions of dance music while maintaining fervent integrity to the Afro-diasporic traditions of bebop and hip hop music.
I also produced two new children's albums with 80 musicians in 15 different countries, with songs such as "Put on that Mask" and "Cooped up and Creative." There's some social justice songs, too.
I want my students to know that, even in the midst of us being quarantined and with all the different transitions that are happening, don't stop innovating. You really can be cooped up and creative.
Note: This article was updated Nov. 20 to reflect the 2020 win.