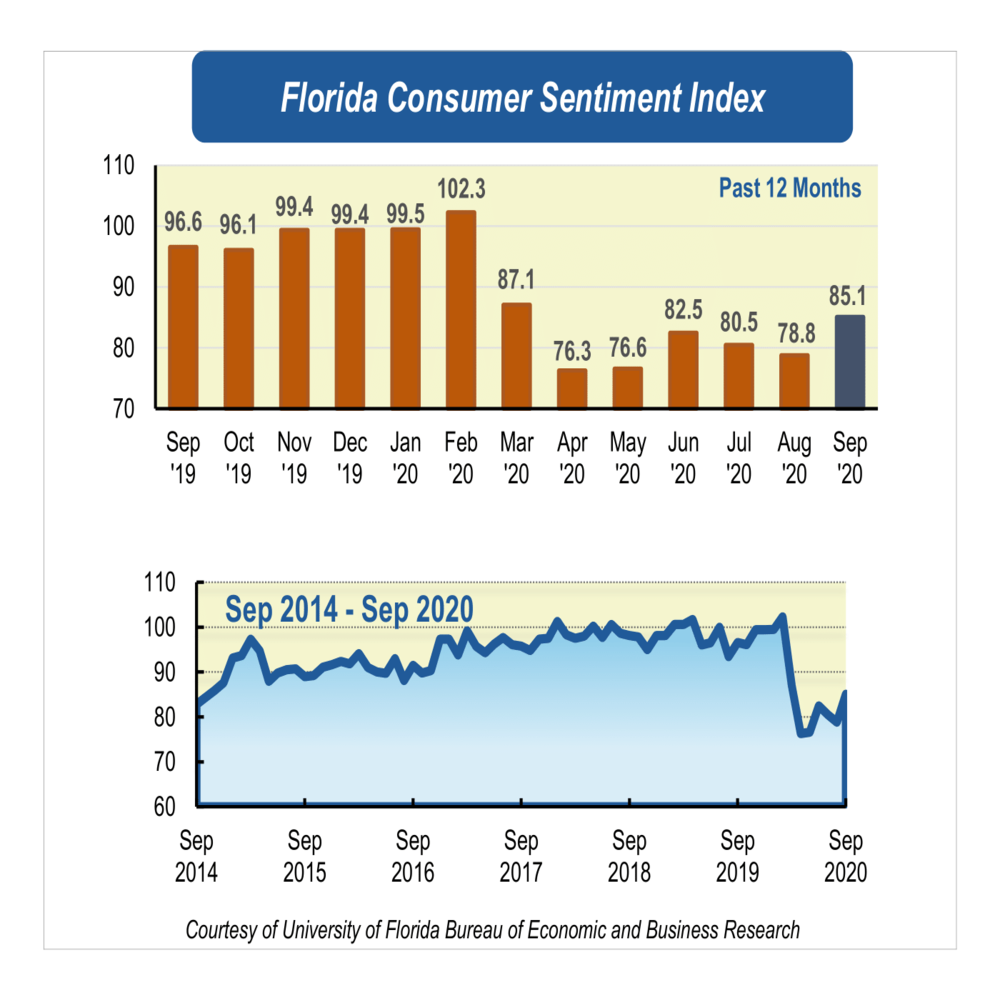 September consumer sentiment signals rise in public's economic attitude
Consumer sentiment among Floridians surged in September 6.3 points to 85.1 from August's revised figure of 78.8. Similarly, national consumer sentiment increased 4.8 points.
"September's reading shows the largest increase in consumer sentiment since it bottomed out in April. Nonetheless, the index has only recovered to about half of the levels observed before the economic downturn due to the pandemic," said Hector H. Sandoval, director of the Economic Analysis Program at UF's Bureau of Economic and Business Research.
Of the five components that make up the index, four increased and one decreased.
Floridians' perceptions about current economic conditions were mixed. On one hand, perceptions of personal financial situations now compared with a year ago decreased two-tenths of a point from 68.3 to 68.1. Notably, these opinions are split across gender, with men reporting less favorable views. On the other hand, opinions as to whether now is a good time to buy a major household item such as furniture or a car showed a sizable increase in this month's readings from 71.8 to 80.2 a change of 8.4 points. The latter opinions are shared by all Floridians across sociodemographic groups but it's particularly stronger among women, those age 60 and older, and those with an annual income above $50,000.
"Consistent with Florida's recent economic trends, opinions about current economic conditions have largely improved among Floridians in September," Sandoval said.
Views of future economic conditions improved across all sociodemographic groups and portrayed a more optimistic outlook in September. Expectations of personal financial situations a year from now increased 5.2 points from 90.5 to 95.7. Outlooks of U.S. economic conditions over the next year showed the biggest increase in this month's reading from 77.5 to 88.9, increasing 11.4 points. Similarly, expectations of U.S. economic conditions over the next five years increased 6.8 points from 85.9 to 92.7.
"The gain in September's confidence came mostly from consumers' future expectations about the national economy. Overall, Floridians are more optimistic and are anticipating greater economic prospects in the medium- and long-run," Sandoval said.
The labor market in Florida has continued to recover. Florida's unemployment rate went down by 4% and moved back to single-digits in August, reaching 7.4%. Similarly, weekly claims of unemployment benefits have maintained a downward trend and September marked the first time new jobless claims were lower than the peak week of the Great Recession during the pandemic.
"With most of the tourism industry still far from pre-pandemic levels, economic activity in Florida is expected to increase in the short-term as the State moves into Phase 3 of reopening, lifting all restrictions on restaurants and businesses. Although it is not uncommon to see an impact on consumer sentiment from the presidential election, looking ahead we expect consumer confidence to continue increasing as restrictions on businesses are lifted," Sandoval said.
Conducted September 1-24, the UF study reflects the responses of 152 individuals who were reached on cellphones and 230 individuals reached through an online panel, a total 382 individuals, representing a demographic cross section of Florida. The index used by UF researchers is benchmarked to 1966, which means a value of 100 represents the same level of confidence for that year. The lowest index possible is a 2, the highest is 150.
Details of this month's survey can be found at https://www.bebr.ufl.edu/sites/default/files/csi/csi_2020_29_september.pdf.