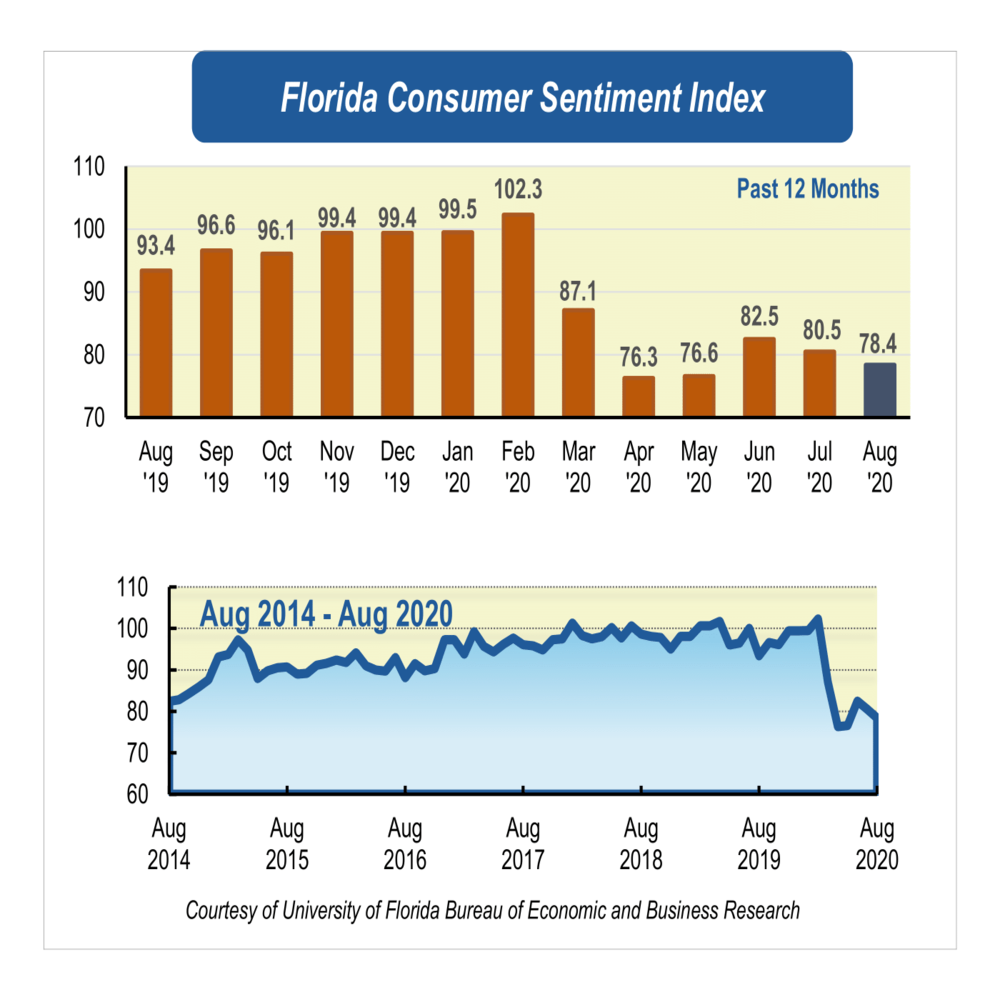 Florida's consumer sentiment falls again in August
Consumer sentiment among Floridians dipped for a consecutive month in August to 78.4, dropping 2.1 points from a revised figure of 80.5 in July.
Among the five components that make up the index, two increased and three decreased.
Floridians' opinions about their personal finances now compared with a year ago decreased 5.7 points from 73.4 to 67.7, the steepest decline in this month's reading. Similarly, opinions as to whether this is a good time to buy a major household item like an appliance dropped 3.8 points from 74.5 to 70.7. Both downward readings were divided across different sociodemographic groups; however, people with income levels of $50,000 and over reported considerably more pessimistic views.
Floridians' expectations about future economic conditions were mixed. On one hand, expectations of ones' personal financial situation a year from now decreased 4.9 points from 94.9 to 90. Notably, this trend was shared across all demographic groups for Floridians. On the other, outlooks about expected national economic conditions showed a positive change. Expectations about the U.S. economic conditions over the next year increased 3 points from 74.7 to 77.7. Similarly, the outlook of U.S. economic conditions over the next five years inched up nine-tenths of a point from 85.2 to 86.1. These upward readings were split across sociodemographic groups, but with no discernible pattern.
"Most of the pessimism in August stems from Floridians' views about their current economic conditions, particularly from opinions about their personal financial situation now compared with a year ago. Notably, this component of the index reached its lowest level since February 2014," said Hector H. Sandoval, director of the Economic Analysis Program at UF's Bureau of Economic and Business Research.
"The decline in consumer sentiment, particularly in Floridians' views about their personal finances, comes as no surprise. The resulting loss of tourism business from the pandemic has continued to severely impact Florida's economy. The state's unemployment rate remained at historically high levels in July; coupled with the expiration of the weekly $600 in enhanced unemployment benefits from the federal government at the end of July, the economic situation deteriorated for those out of work," Sandoval said.
"Nonetheless, the labor market in Florida has shown signs of recovery in August. The noticeable downward trend in weekly claims of unemployment benefits and continued claims experienced in August describes an improved economic situation. However, both indicators remain well above pre-pandemic levels, signaling a slow recovery pace," Sandoval added.
"Overall, Florida's economic prospects remained depressed, but important signs of an improved labor market appeared in August. Looking ahead, as Florida applies for the $300 in enhanced federal unemployment benefits, we anticipate an improvement in the financial situation for those out of work and a slight increase in consumer confidence. Nonetheless, we expect consumer sentiment to remain far from pre-pandemic levels for a while," Sandoval said.
Conducted August 1-27, the UF study reflects the responses of 180 individuals who were reached on cellphones and 252 individuals reached through an online panel, a total 432 individuals, representing a demographic cross section of Florida. The index used by UF researchers is benchmarked to 1966, which means a value of 100 represents the same level of confidence for that year. The lowest index possible is a 2, the highest is 150.
Details of this month's survey can be found at https://www.bebr.ufl.edu/sites/default/files/csi/csi_2020_1_september.pdf.