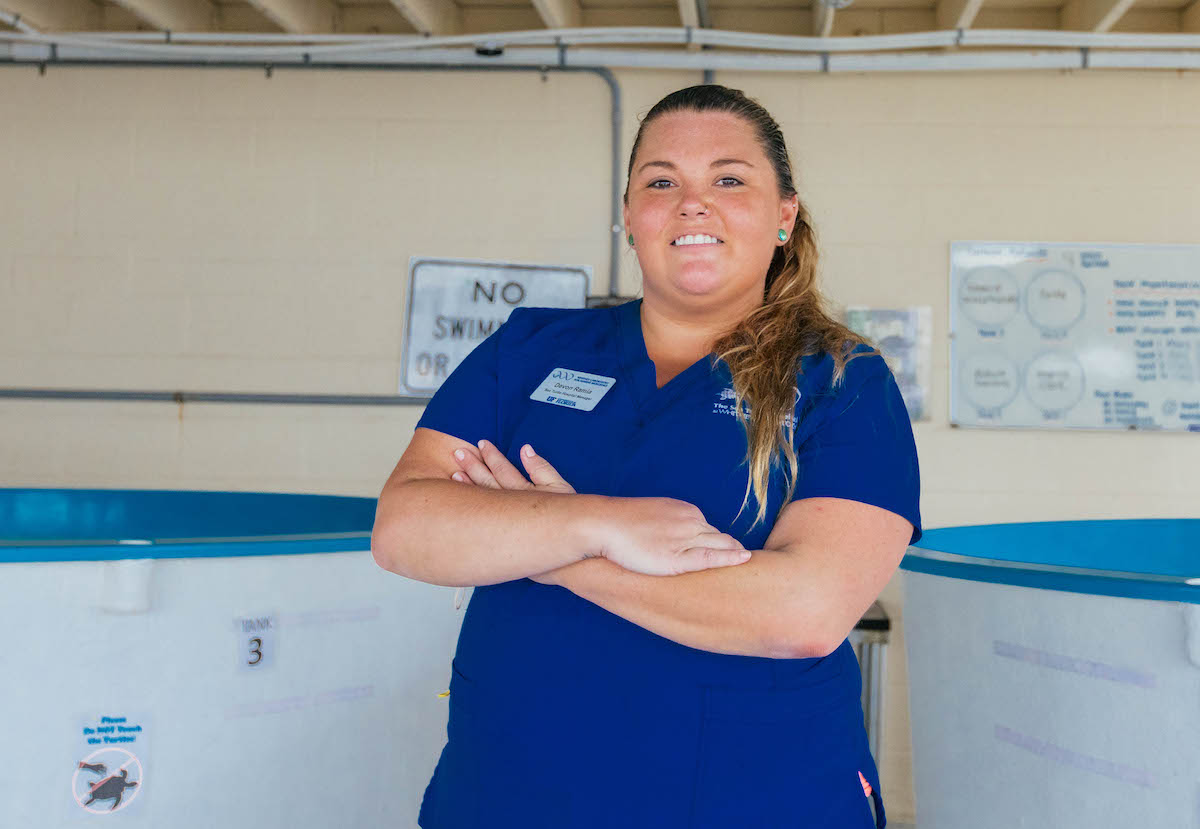 "Closed, but still caring"
How the people of UF's Whitney Laboratory for Marine Bioscience protected their animals — and each other — during COVID-19.
In an open-air nursery on the Matanzas River, biologist José Nuñez looked after his babies. When the threat of COVID-19 forced most University of Florida personnel to work remotely, everyone at the Whitney Lab for Marine Bioscience had reason to be concerned. Nuñez had 3 million of them.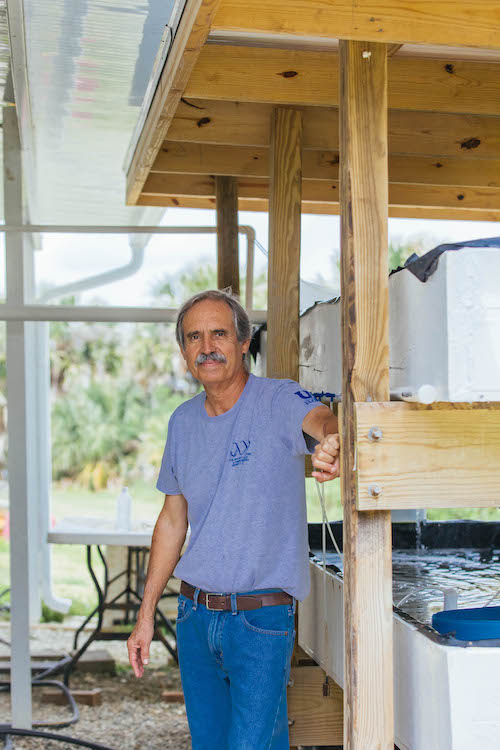 Marine biologist José Nuñez
Nuñez is a biologist at the UF lab, on a thin strip of land between the Atlantic Ocean and the wooded islands of the Matanzas River just south of St. Augustine. Here, he raises clams for release in Florida's Indian River Lagoon, where they'll help purify the water by eating excess nutrients and algae.
While the Whitney Lab is known for the sea turtle hospital it opened in 2015, it has drawn scientists on the cutting edge of biomedical and environmental research since 1972. When its classrooms and offices cleared out as UF followed social distancing guidelines, director Mark Martindale faced a challenge. The sea turtles in the hospital's care required daily tending, as did the clams in the restoration project, which ranged from babies as tiny as grains of sand to irreplaceable adult "super clams," survivors of the lagoon's algal blooms, brought here to spawn future generations.
There were also creatures in the researchers' labs. The sea anemones Martindale and his team study are the product of careful breeding for traits that reveal the workings of the nervous system and the origins of muscle cells. To lose those anemones would set this research back by over a year.
"If they all died," he said, "It would be like your house burned down."
Prefer to listen? Hear the article in audio:
A sea turtle named Edward Scissorhands reached up out of the water, flapping a flipper as if to say hello as Devon Ramia tested the water in its tank. Normally, the Sea Turtle Hospital would be full of people: volunteers preparing mackerel, shrimp, squid and veggies for the turtles, school groups filing through to learn about turtles and their environment, and staff caring for the hospital's residents. COVID-19 sent the volunteers home, canceling tours and splitting the staff into two teams that rotate throughout the week.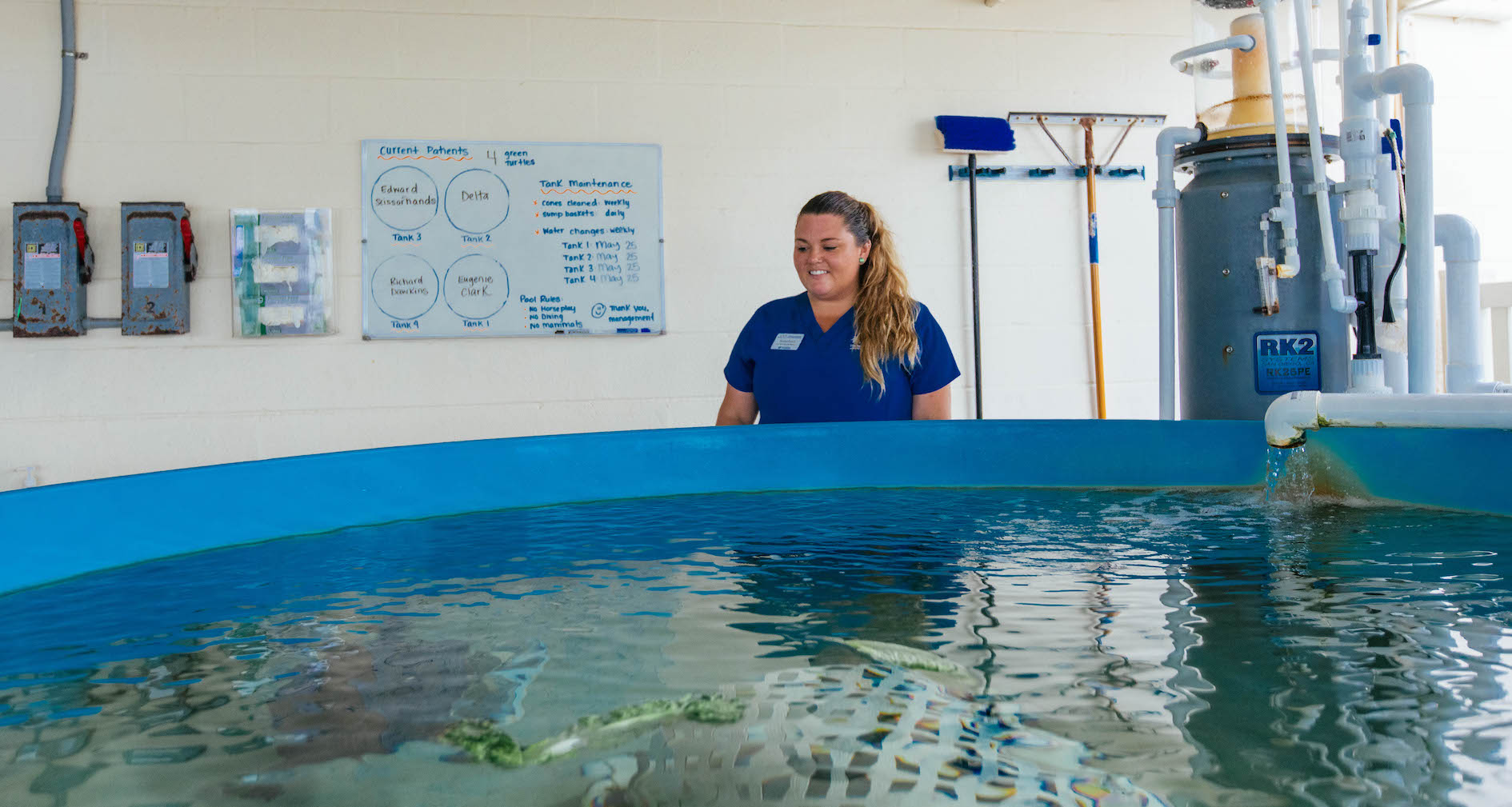 Losing 27 volunteers meant extra duties for Ramia, the hospital manager and lead veterinary technician. On top of examinations and surgeries, charts and medication, she and her staff took on laundry, tank cleaning, food prep and lots of extra social media content to keep people engaged with the hospital while it was closed to the public.
"Everybody loves these animals just as much as we do, so we definitely want to let people know we're closed, but still caring," Ramia said. "These animals are still getting the absolute best care that they can possibly get."
Ramia calls Edward Scissorhands "the Labrador of the hospital," an outgoing turtle that's always on the move and eats anything — including plastic litter, which landed Edward here. Three other young turtles, Delta, Eugenie Clark and Richard Dawkins, paddled in the hospital's tanks. All of them have fibropapillomatosis, an increasingly common turtle disease that the hospital treats with laser surgery, giving turtles a second chance to live in the wild.
The staff sometimes works through the night to stabilize a patient, even during the pandemic, Sea Turtle Hospital program coordinator Cat Eastman said.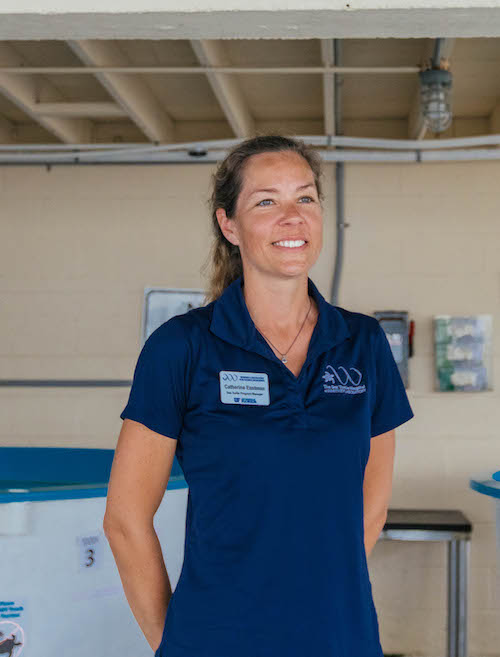 Eastman fought back tears describing her staff's dedication, recalling a recent case where veterinarian Brooke Burkhalter slept next to a turtle recovering from surgery so she could monitor its progress.
"All of the team has their own lives and pets and partners and kids and stuff like that at home," Eastman said. "To see them really dig deep when it's hard right now: It's moving. It's really moving."
The pandemic didn't slow the influx of turtles needing care. But with tours canceled and most of the lab's researchers working remotely, the 8-acre campus felt strangely quiet. Many marine labs come to life in the summer but drop to a skeleton staff or close entirely the rest of the year. Whitney Lab is one of the few that bustle with activity year-round, courtesy of its location and weather. During the COVID-19 shutdown, however, other visitors started to appear.
"We were here one day and we heard splashing around and we came out and people were swimming in the fish pond," maintenance supervisor Adam Pacetti said. "Especially when the beaches were closed, we get the occasional person that decides to go swimming or try and catch the lobsters or the fish. I basically just told them to leave and they were pretty good about it."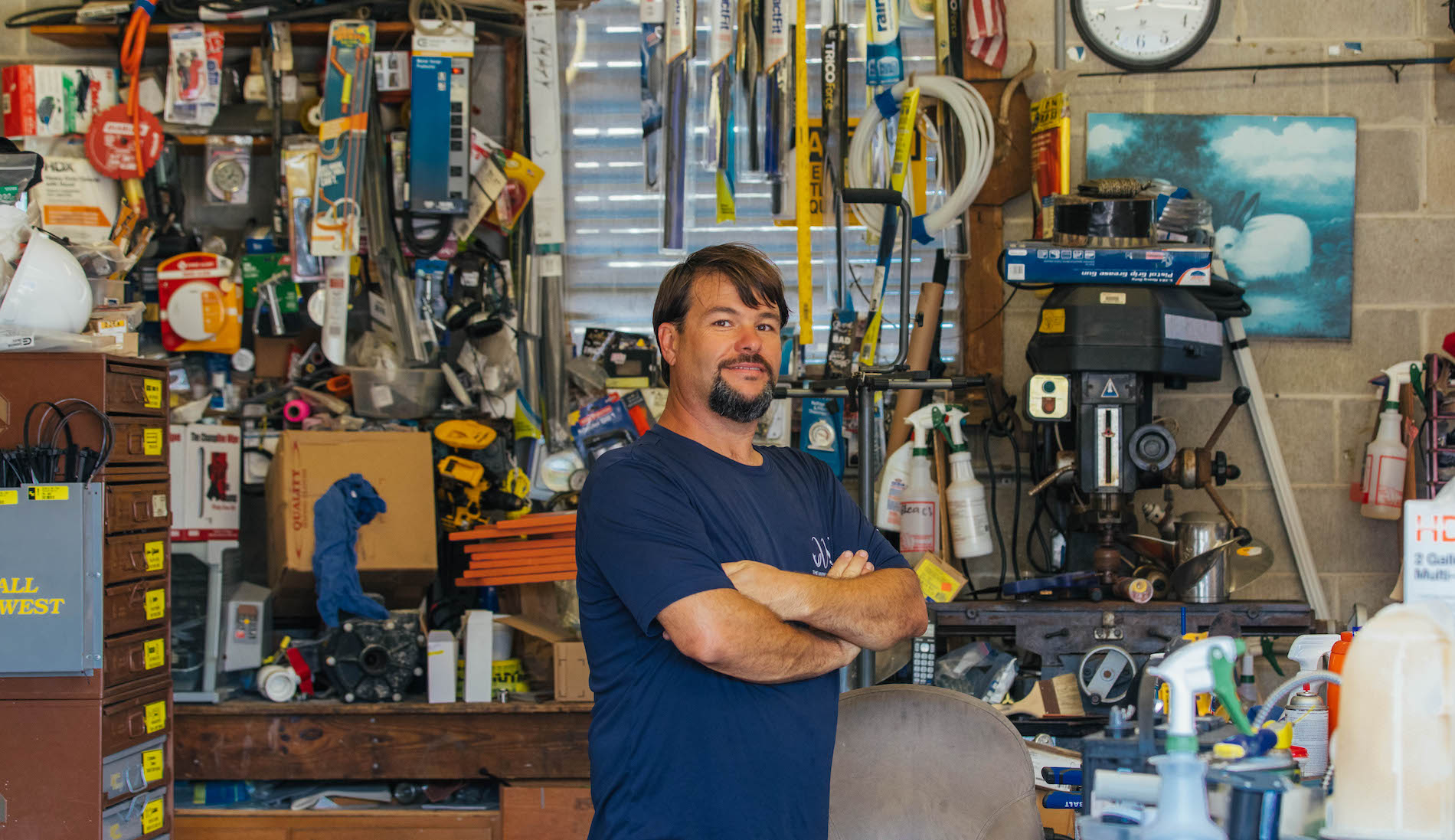 Pacetti keeps all of Whitney Lab's critical systems running, making sure there's a 24/7 supply of fresh sea water flowing through the labs and hospital, fixing the generators and microscopes. No two days are the same, which he loves. But fish aren't great conversation partners.
"I just miss the people," he said. "I always enjoy those new students and young people trying to learn about science. There's always something exciting going on, something new to learn every day."
Whitney's population can boom to up to 90 in the summer, when visiting researchers gather and the National Science Foundation's Research Experience for Undergraduates is in full swing. This year, the 34-year tradition of students from around the country spending 10 weeks at the seaside lab had to be canceled. The dorms, cottages and apartments aren't vacant, though: A few faculty members who recently joined Whitney have been living on campus, including married researchers Sandra Loesgen and Jim Strother, whose arrival from Oregon State University coincided with Category 5 Hurricane Dorian and was then complicated by the pandemic.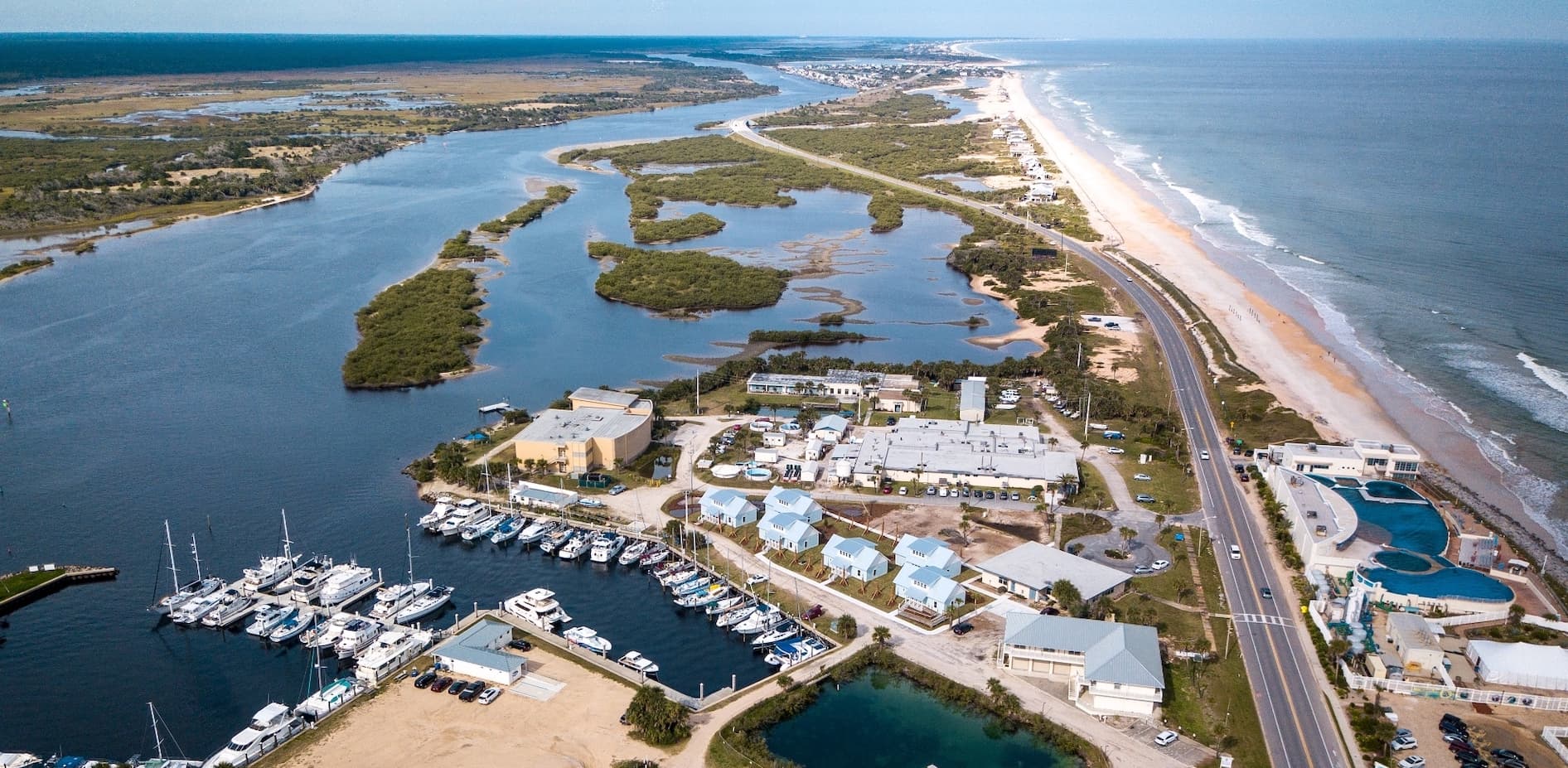 "Fortunately, there's really nice housing," Strother said. "We live just a couple of hundred meters away from the lab space."
That's convenient, since Strother has to do twice daily visits to care for the zebrafish he studies. An integrative biologist, Strother looks at the effects of stress on neurocircuits that control processes in the body, systems that also exist in humans.
"I don't think I've done quite so much animal care since I was a graduate student," he said. "I have a better appreciation for what my lab tech has been doing."
With their regular work turned upside down, faculty and staff looked for creative ways to help out. Loesgen, a chemist who identifies compounds produced by microorganisms that could fight cancer, bacteria and viruses, worked with her lab members to make and donate hand sanitizer to local health-care workers. Pacetti and the hospital staff built a sea lettuce farm that will provide their patients homegrown meals that are easier to digest than land lettuce. Some projects had no choice but to go on as usual: If Nuñez wasn't here every day to tend to his baby clams, he'd lose a generation of them, immeasurably slowing the restoration of the Indian River Lagoon.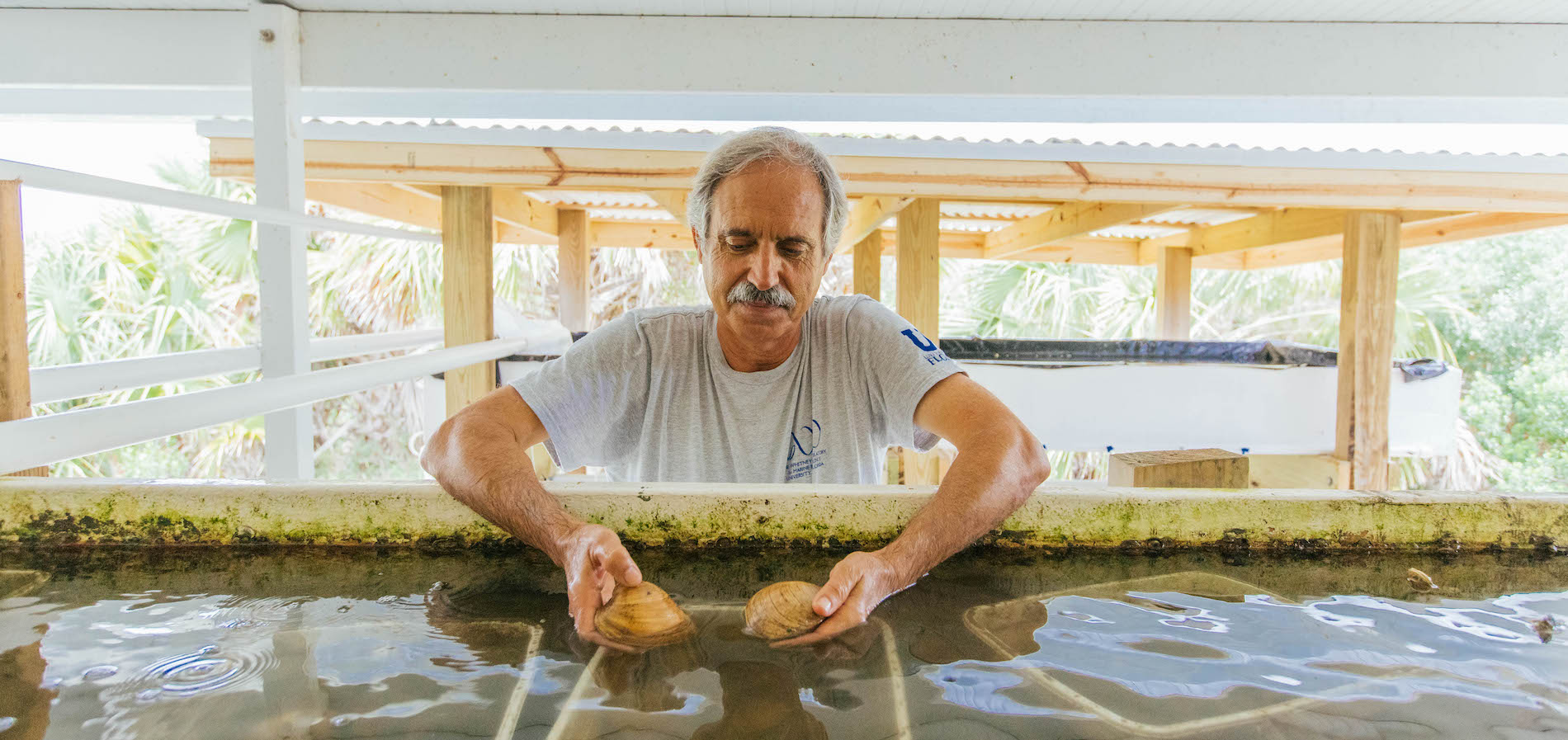 Nuñez gets help on the weekends sometimes, but he prefers to be here himself.
"Just one mistake, the pump goes off or something like that, these clams won't make it," he said.
When the clams spawn, they're incredibly tiny and vulnerable: 1.5 million would fit in a tablespoon. In a year, they'll grow to the size of a walnut. When they're big enough, the clams will graduate from the lab nursery to mesh bags in the Matanzas River, a milestone Nuñez calls "sending the kids to college." There, they'll continue to grow until they're ready to move to the Indian River Lagoon.
"Then I can relax a little," he said.
Until then, pandemic or not, Nuñez and his fellow essential workers will keep showing up each day, tending to the Whitney Lab and its creatures.