In all kinds of weather, these pets helped UF grads on their journey
The Class of 2020 had a challenging final semester. A global pandemic ended their time on campus early, postponed their graduation ceremony and complicated their post-college plans. They drew on the support of their friends, family and the Gator Nation — and in the case of the grads highlighted here, the love of an animal that cheered them up when times were tough.
Cecilia Lepa and Lenny the leopard gecko
Master's in forest resources and conservation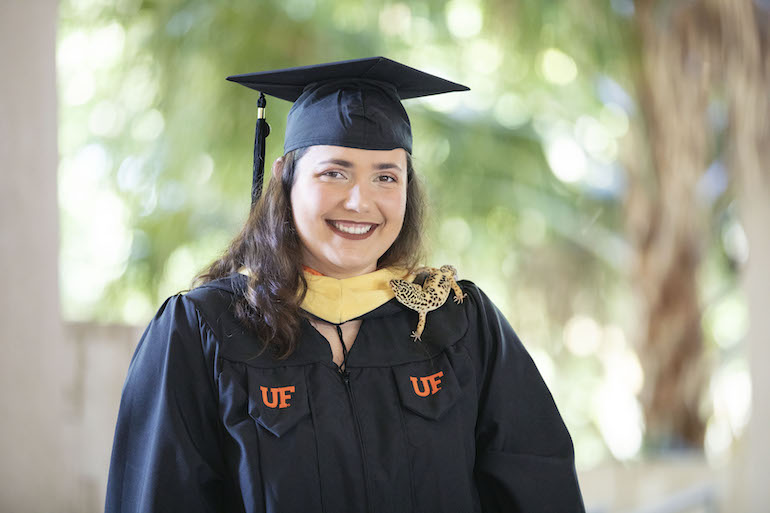 "Lenny has been my best pal since my sophomore year and I love him dearly. I didn't realize I could bond so closely with a reptile. When I was struggling, I would look over at Lenny and he would be there smiling at me. Lenny is always down for a chill night in and is especially helpful for me in hard times. Caring for an animal has helped me so much in preparing for life."
Maria Moriyon and Malibu the Australian Shepherd
Doctor of Veterinary Medicine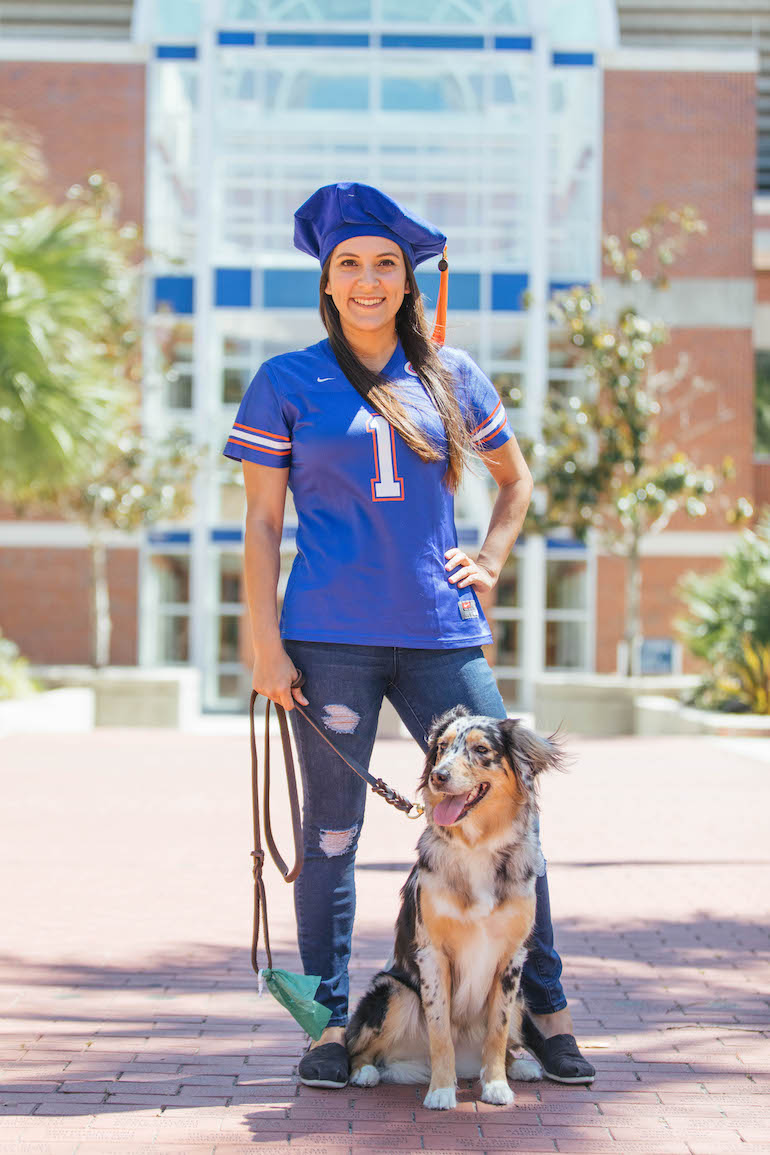 "Liza, my very first puppy, was my partner in crime through all of my schooling, including my four years of undergraduate at UF. I even got her her own cap and gown. I was hoping she'd make it to my white coat ceremony, but she passed away a couple months before. I truly believe that Liza brought Malibu into my life a year later to make sure someone continued her legacy. Malibu has taken over and has taught me new things. She's participated in wet labs at school and I even got the chance to perform her spay all on my own! I could never replace Liza and what she taught me, but Malibu's got some lessons to teach me as well, and I can't wait!"
Christian Javier and Ollie the Maltese
Bachelor's in mechanical engineering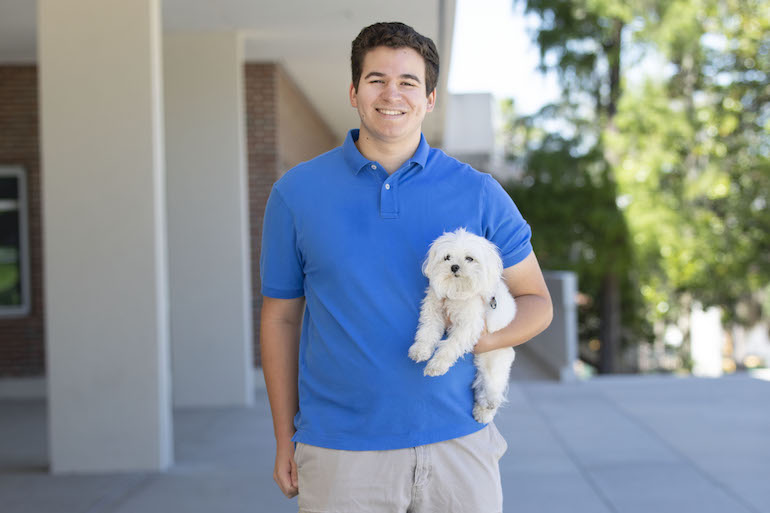 A mountain bike injury in his freshman year left Javier with head and neck injuries and memory loss. "It made school really hard," he said. "I had originally gotten Ollie as a companion for my childhood dog who was a senior dog at the time. But he also became sort of a therapy animal for me and really helped me focus in recovery. He always wanted to make sure I was okay. He's just permanently happy."
Cindy Jara and Maisie the mixed breed
Bachelor's in public relations and criminology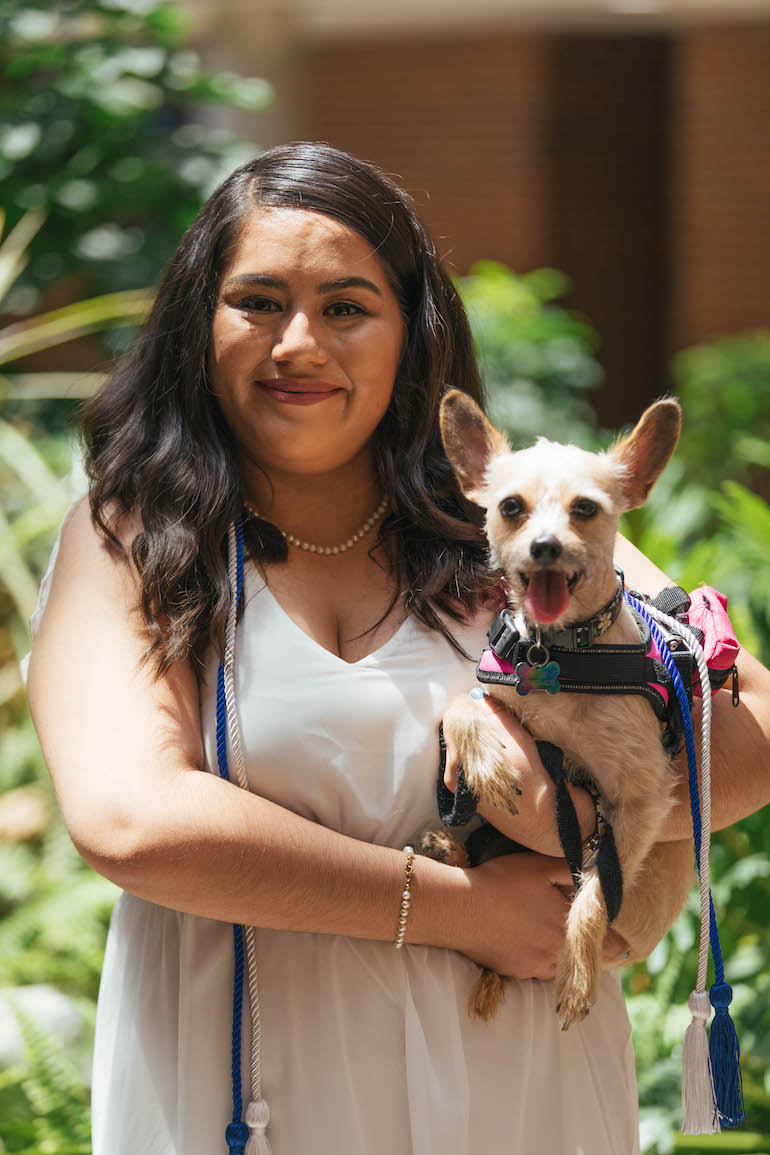 "In the middle of my sophomore spring, my mom got really sick. I kind of had to drop everything, go back home and be with her. And after she passed away, it was really hard. That summer, I just couldn't get out of bed. Getting Maisie literally gave me a reason to get up every single morning. Having Maisie here with me has helped me realize that while my mom may be gone, I am not alone — she is with me every step of the way. This degree belongs to Maisie just as much as it belongs to me, but it belongs even more to my mom."
Elif Portakal and Felix the cat
Bachelor's in applied physiology and kinesiology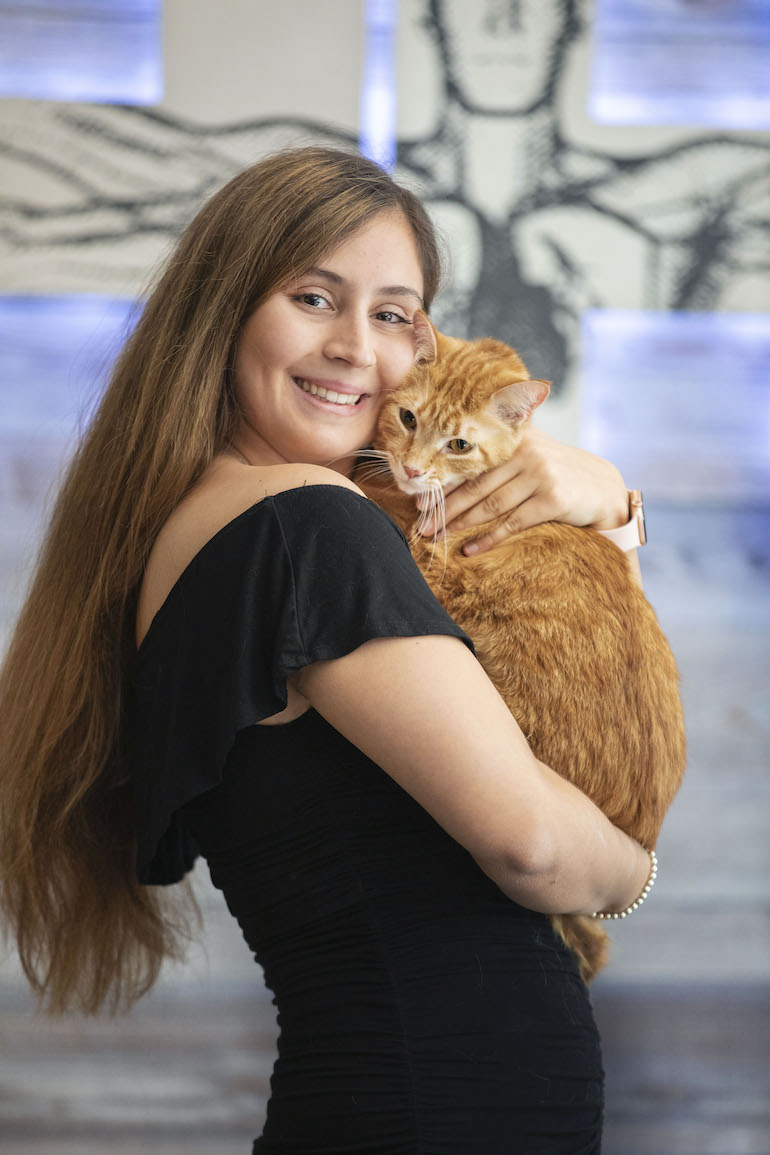 Portakal came to UF from Turkey to play basketball for the Gators, but a career-ending injury her sophomore year upended her plans. "The only goal in my life was taken away from me. I didn't know what I wanted to do. Felix helped so much with my loneliness and depression. Since there is a dramatic time difference between here and back home, I barely get to talk to my parents. They love that I have Felix with me and I'm not alone."
Philip Shirk and Conan the opossum
Doctorate in zoology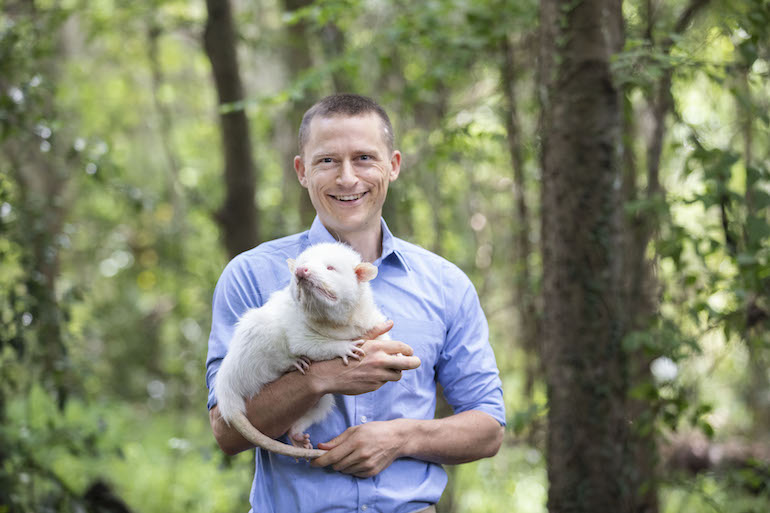 Shirk met Conan when the albino possum tried to raid his friend's chicken coop. "He's almost completely blind, so he wouldn't have had a good shot at surviving in the wild," said Shirk, who had to secure a permit from the Florida Fish and Wildlife Conservation Commission to keep him. "My research is with lizards in East Africa, so he doesn't have much direct influence on that. But one way that owning Conan has influenced my view of biology is having more respect for the common backyard wildlife that most of us just ignore. He was an enormous help through the stress of finishing my Ph.D. I cannot imagine this last year and a half without him."
Madeleine Morin and Gatsby the Labrador
Doctor of Pharmacy, Orlando campus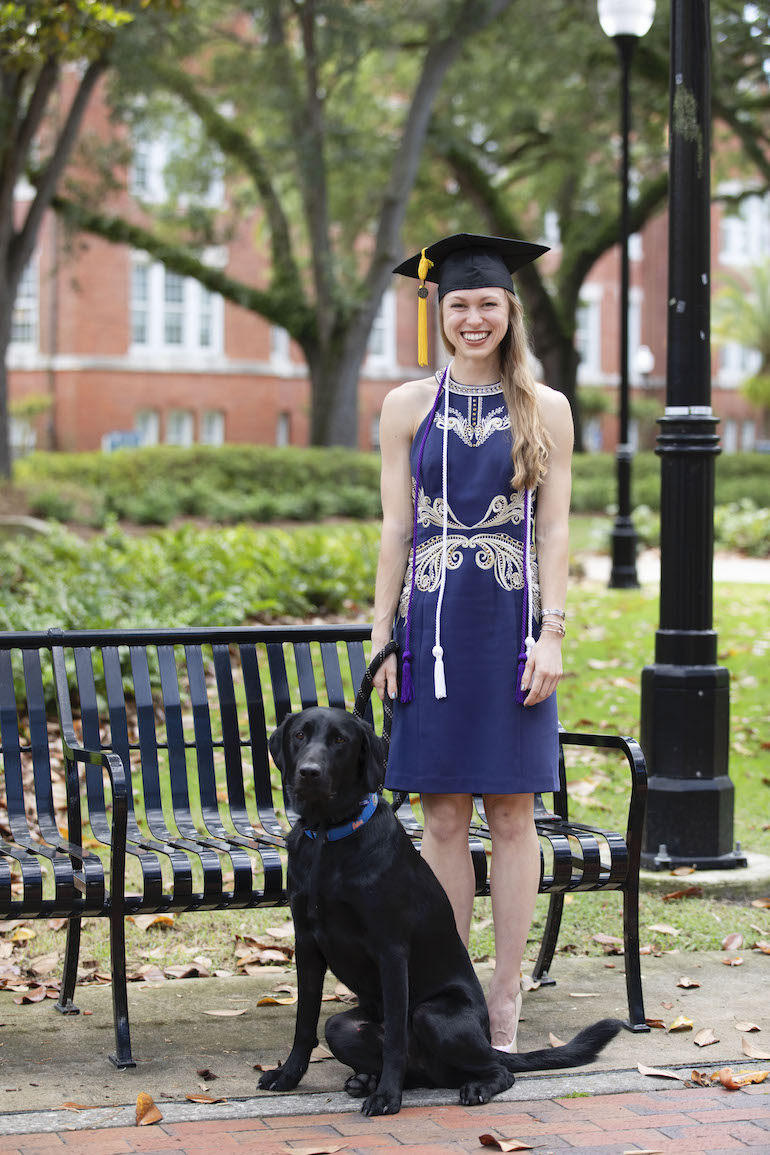 Shortly after she adopted Gatsby, Morin encountered some neighbors who had just lost their beloved dog. "They hugged him and cried, all the while Gatsby sat there calmly and patiently, occasionally licking the tears off their faces. I knew immediately that I would train him to be a therapy dog." Now she takes Gatsby to the Ronald McDonald House at the Nemours Children's Hospital to cheer up patients and staff. "I'm always inspired by his ability to adapt to different patients — soothing those who are anxious and cheering up those who are sad. I'm so excited to carry those traits with me as I graduate from the UF College of Pharmacy, and I will always continue to bring Gatsby to patients who need him the most."