UF class turns campus into an interactive game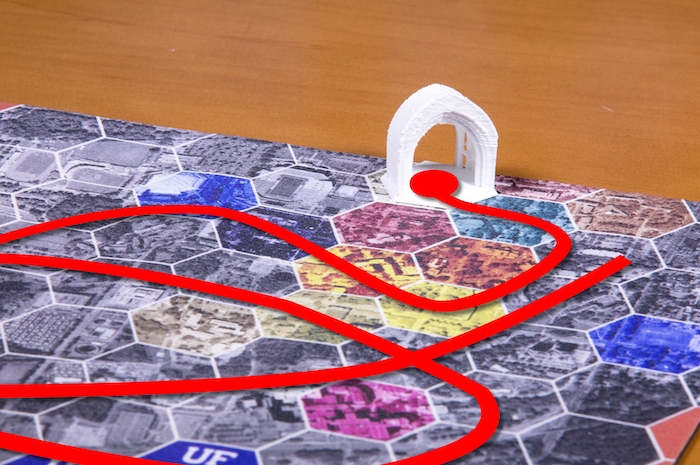 In the humanities class "Imagineering the Technosphere," homework isn't based on a book chapter, but an adventure through campus guided by the GPS-powered Time Traveler app.
Sisters Christine and Reyna Mae Cuales, both taking the class this semester, followed the prompts on the app, which steered them closer to their destination. So far, they've visited the Harn Museum of Art, the McKnight Brain Institute, the Baughman Center on Lake Alice and the Digital Worlds Institute in Norman Hall, among others. Today, they're closing in on a location near the historic central campus. When students successfully navigate to the mystery location using the app, a screen pops up that tells them they've arrived, offers some background about the place, and poses a reflection question about the place and its use over time.
Professor Angelos Barmpoutis says the intention of the app — and its corresponding board game — is to get students to see their surroundings in a new way.
"These places are deeply connected to the past and tied to the future," he said. "I'm trying to get them to think about the things they pass every day."
When students followed the app to the Norman Gym, for example, they saw a facility originally used for basketball, its wood floors still visible, hosting a weekend-long video game design competition. The experience gave them an opportunity to reflect on how not only the space but the nature of sports and competition evolved, Barmpoutis said.
Barmpoutis is one of seven professors who team teach the class, tackling fields that range from anthropology to historic preservation. Each professor's lesson includes the hunt for several of the game's 22 3D printed pieces, which students collect after finding the location and submitting video responses to the questions posed in the app.
Walking north on Buckman Drive, the Cuales sisters can see that they're getting closer to today's location. Then they cross the street, and app tells them they've arrived. It's Dauer Hall, an Collegiate Gothic brick building from 1936 with arches, bay windows and stained glass that once served as the student union. They record their video response about connection and continuity in historic places, then check the app for their next destination.
Reyna Mae, a pre-health student, and Christine, who's studying sustainability and the built environment, both say they have discovered academic interests they wouldn't have known about without the course.
"When you're just focused on your major, you don't get to explore other classes," Christine said. "Getting to know all of the professors and fields in this class opens up your eyes."