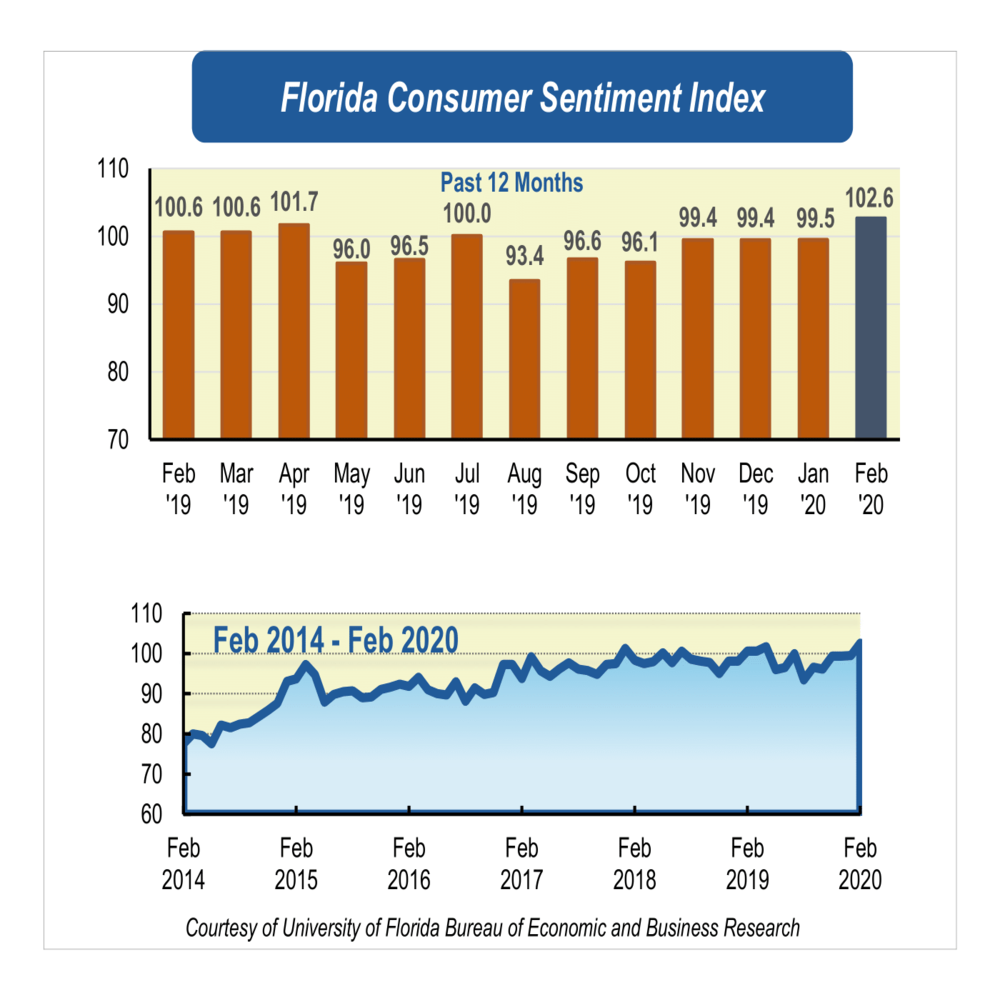 February consumer sentiment surges ahead of possible coronavirus impact
Consumer sentiment in Florida reached its highest level in almost 20 years, increasing 3.1 points in February to 102.6 from a revised figure of 99.5 in January. These levels of confidence have not been observed since November 2000 when consumer sentiment reached 104.2 points.
This pattern in Florida also tracks the national figures released by the University of Michigan, with the national index of consumer sentiment increasing to 101 points in February, nearly matching its more recent peak of 101.4 set in March 2018.
All five components that make up the index increased.
Floridians' opinions of their personal financial situations now compared with a year ago increased 6.9 points from 88.8 to 95.7, the greatest increase for any reading this month. Floridians across all sociodemographic groups share this view, but it is particularly stronger among men and those with income under $50,000. Opinions as to whether now is a good time to buy a major household item like an appliance also increased 2.9 points from 106 to 108.9. However, these opinions are divided by gender with women reporting less-favorable views.
"Consistent with Florida's current economic outlook, these two components showed that opinions regarding current economic conditions improved among Floridians in February," said Hector H. Sandoval, director of the Economic Analysis Program at UF's Bureau of Economic and Business Research
Similarly, the three components corresponding to Floridians' expectations about future economic conditions improved. Expectations of personal financial situations a year from now increased slightly by two-tenths of a point from 105.5 to 105.7. The outlook of U.S. economic conditions over the next year went up 3.4 points from 99.1 to 102.5. Finally, expectations of U.S. economic conditions over the next five years increased 2 points from 98.3 to 100.3. Almost all Floridians share these expectations; however, women again reported less-favorable expectations to each of the three components.
"Out of the five components, women reported more pessimistic views in four of them. Despite the differing opinions by gender, Floridians overall are more optimistic in February. The gain in February's reading stems mostly from consumers' personal financial situation now compared with a year ago, which is the only component with views shared by all Floridians," Sandoval said.
Economic indicators in Florida have been largely positive during the last year. In particular, job gains in Florida have remained strong. With the exception of one month, Florida's over-the-year job growth has exceeded the nation's rate since April 2012. As a result, the unemployment rate reached a record low of 3% in December. However, the last week of February was the worst weekly decline for stocks since 2008 due to the potential negative impact of the coronavirus outbreak on supply chains and manufacturing operations, which in turn can potentially hamper economic growth around the world.
"Despite Florida's current positive economic outlook, consumer confidence might change its current trend as the global economy slows down as a result of potential economic disruptions and travel restrictions associated with the coronavirus outbreak," Sandoval said.
Conducted Feb. 1-27, the UF study reflects the responses of 422 individuals who were reached on cellphones, representing a demographic cross section of Florida. The index used by UF researchers is benchmarked to 1966, which means a value of 100 represents the same level of confidence for that year. The lowest index possible is a 2, the highest is 150.
Details of this month's survey can be found at http://www.bebr.ufl.edu/csi-data